Bob "The Beast" Sapp enters ONE Fighting Championship's circular cage two months shy of his 10-year anniversary competing in mixed martial arts. A star staple of the Japanese scene, "The Beast" (11-9) adds Jakarta, Indonesia to his lengthy list of fighting stops across the globe when he faces off with the legendary Gracie family's heavyweight representative, Rolles Gracie (5-1), at ONE FC 2: Battle of Heroes on Saturday February 11.
Of course, Sapp's inclusion makes this big man clash unfettered from the boundaries of heavyweight's 265-pound limit. The Seattle-based American will boast nearly 100 extra pounds versus the Rio de Janeiro-born Brazilian, who operates his cousin Renzo's Garden State affiliate school in Holmdel, New Jersey. The immense size advantage Sapp carries into the bout fails to intimidate if the 38-year-old's mental game remains uncorrected from his previous 10 bouts. He's posted seven losses in his last 10 MMA contests and just one victory in his last 10 overall fights including kickboxing. With a framed muscled well over 300-pounds, Sapp's key to victory is having the fortitude to forge his angry face.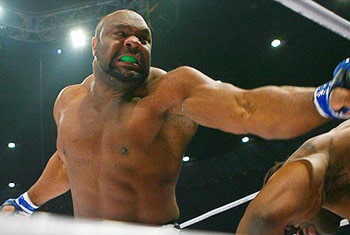 Nearly a decade removed from the most high profile performance of his career—a dramatic submission loss to Antonio Rodrigo Nogueira in front of over 90,000 fans in Tokyo—Sapp's opportunity to add a Gracie to his win column is a notable mark for any international star. Losing to Jan Norte at a hometown Strikeforce event in February 2008 downgraded the larger-than-life position Sapp once held. Recently, Sapp went winless in three 2011 outings.
Scheduled to fight a month following Gracie versus British brawler James Thompson in India, Sapp needs to emerge from his tangle with the 33-year-old unscathed and victorious to breathe life into the later half of his career. Scoring a win in his first 2012 bout gives Sapp an 11-month advance on his Christmas present.
A longtime Asian MMA staple, Sapp's career can find new life as a regular ONE FC attraction if he appears invested in the fight game. If he focuses his physicality, any night is subject to Sapp time.
Experience is the biggest obstacle for Gracie as Sapp possesses nearly 50 fights between MMA and kickboxing. The K-1 veteran calls his style "NFL" for the all-out blitz he employs to blind his opponents with overwhelming size and resulting lights-out power. However, the Colorado-born fighter never picked up catch wrestling's submissions the way fellow pro wrestler and PRIDE heavyweight Josh Barnett famously trained him to do, opening the gate for Gracie to ply his trade.
Gracie's ground prowess poses a stellar threat to Sapp—a stand-up based fighter whose majority losses came by way of tapout. All five of the third degree Gracie Jiu-Jitsu black belt's career wins are via submission. Every fight starts standing; Gracie must close the distance. Thus, confidence in his stand-up, no matter how rudimentary it may be, is paramount in clinching up with Sapp and dragging the fight to the ground. Like Sapp, Gracie's key to seeing his hand raised at night's end is demeanor.
Renowned conditioning coach Martin Rooney's backing is an integral part of the three-time Pan Am champion's strategy versus Sapp. He requires all the cardio necessary to subdue "The Beast." A black belt in judo bodes well for Gracie, but the likelihood of throwing Sapp decreases with every miscalculated attempt due to sheer exertion. More importantly, keeping Sapp down once the fight hits the mat prevents depleting his gas tank with repeated takedowns.
Gracie's intermittent career features six fights in five years, best known for a lone UFC appearance in February 2010 Renzo Gracie called "embarrassing." Less than seven minutes against a 228-pound Joey Beltran saw the no-gi champion tired, unable to cope with the deep waters of a serious contest. He's 2-0 since although his opponents have been sub .500 competitors. Sapp is the biggest name to stand across from the no-gi champion. Victory against the 1997 Chicago Bears draft-pick creates a starting point for Carlos Gracie Sr.'s grandson to take the Gracie family's modern mantle, which remains unclaimed in MMA.
The appeal of Sapp-Gracie is in their distinct roles. Sapp is the bull and Gracie is the matador—a fighter relying on the accuracy of technique after accessing his opponent's straight-line attack.
The battle pits a PRIDE and K-1 combatant versus UFC veteran in a classic striker-grappler showdown. Short and sweet is the expectation, and whichever fighter demonstrates the slightest hesitation, will have a long flight home to America from Indonesia.