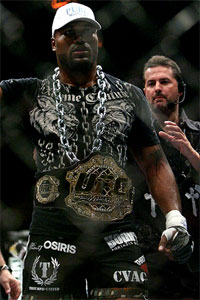 There is no evidence that this ever happened, but back in the early 80's when Quinton Jackson was just a Lil' Rampage with a tiny chain around his neck and a prepubescent howl, he was probably picking up other kids and slamming them in the sandbox or the ball pit in Showbiz Pizza or something. Rampage Jackson was born to slam, this much is known. Even people who don't like or have barely watched MMA have seen Rampage Jackson knock out Ricardo Arona, or pick up and bring down half the Pride roster with great force. Few acts satisfy Rampage more than picking up a man and dropping him on his head.
Let's go back to Rampage's high school days, when he donned the singlet and took to the wrestling mat with one clear purpose aside from winning…
Thanks to the dudes over at Reddit for the find.