Before any fight begins, UFC ring girls walk and announce the fight to additionally heat up the atmosphere. A festival of beauty is usually then continued by the festival of violence which mostly turns into a bloodbath war. Top 10 most beautiful MMA ring girls definitively bring competitions to a new level, creating one of the biggest contrasts in the world of sports.
Some ring girls definitively draw more attention than the others when it comes to their physical look and show time performances. Here is our choice of the top 10 most beautiful ring MMA girls. These girls are the reason why some of you love this sport so much!
10. Jhenny Andrade
Known as one of the most beautiful Brazilian girls of all time, Jhenny Andrade has more than deservedly earned her place in top 10 most beautiful MMA ring girls. Jhenny currently lives in Sao Paulo, Brazil. She is 5 foot 6 inches tall and weighs 103 lbs. Her beauty started shining at the age of 6 when Jhenny became famous by acting a double in a local TV show for kids.
During her life, she was a member of many fashion shows and lingerie photo shoots. Jhenny Andrade earned a chance to write in Sao Paolo for one of the most prestigious VIP magazines, and her column "The Perfect Girlfriend" is worldwide known. The column talks about the most desirable features a girl should have so the man can see her as "a perfect woman". Jhenny knows how to change electric shower, make a barbecue, and even play a soccer.
Her column lasted more than 6.5 years, and at that time, UFC picked her for the octagon girl. As much as it was a new thing at the beginning, Jhenny Andrade is a part of delicious adrenaline and a huge lover of fighting today.
According to her, the most handsome fighter is Lyoto Machida but she prefers watching Jose Aldo fights because she trains Muay Thai in her free time. She claims the perfect man needn't be pretty.
9. Lee Ji Na
Lee Ji Na is a popular model who lives in Seoul, South Korea. She weighs around 100 lbs, and she is 5 foot 4 inches tall. Ji Na started her modeling career with a victory in the Maxim bikini contest, and then she appeared in multiple men's magazines and motor events all-around Asia.
Ji Na was studying Accounting, Law, and Economics at Andong National University South Korea. She started working at Shinhan Bank but then she was discovered by one of the famous Korean modeling agencies. Ji Na earned her place in top 10 most beautiful MMA ring girls because of her bright smile, shining personality, and spreading positive energy.
She started working for ONE promotion in 2016, and today she spends a lot of time traveling around Asia and leaving crowd breathless between the rounds. She speaks English, Mandarin, and Korean. Her hobbies are dancing, gym, and reading.
8. Eun Ji Ye
ONE-FC is a Singapore based MMA promotion, which is known for extremely beautiful Asian MMA ring girls. Eun Ji Ye is probably the most beautiful Asian girl among top 10 most beautiful MMA ring girls. A famous Korean modeling superstar started her career as an air hostess but she was swiftly convinced to try herself out at modeling.
Eun has a nice personality, and she has earned the respect and hearts of many fans due to her friendly attitude and positive stance. She was a model for many famous brands – Samsung, Lotte, and LG at many famous business expos. Eun is 5 foot 6 inches tall, and weighs around 105 lbs.
She also worked as a ring girl for motocross and car-race events. Eun was also filmed by high-profile international photographers.
7. Luciana Andrade
Luciana Andrade comes from Curitiba, Brazil. Luciana graduated the Law school, and she worked nine years in a judicial area. She has a lot of years working as a model too. Luciana is 5 foot 6 inches tall and she weighs 120 lbs.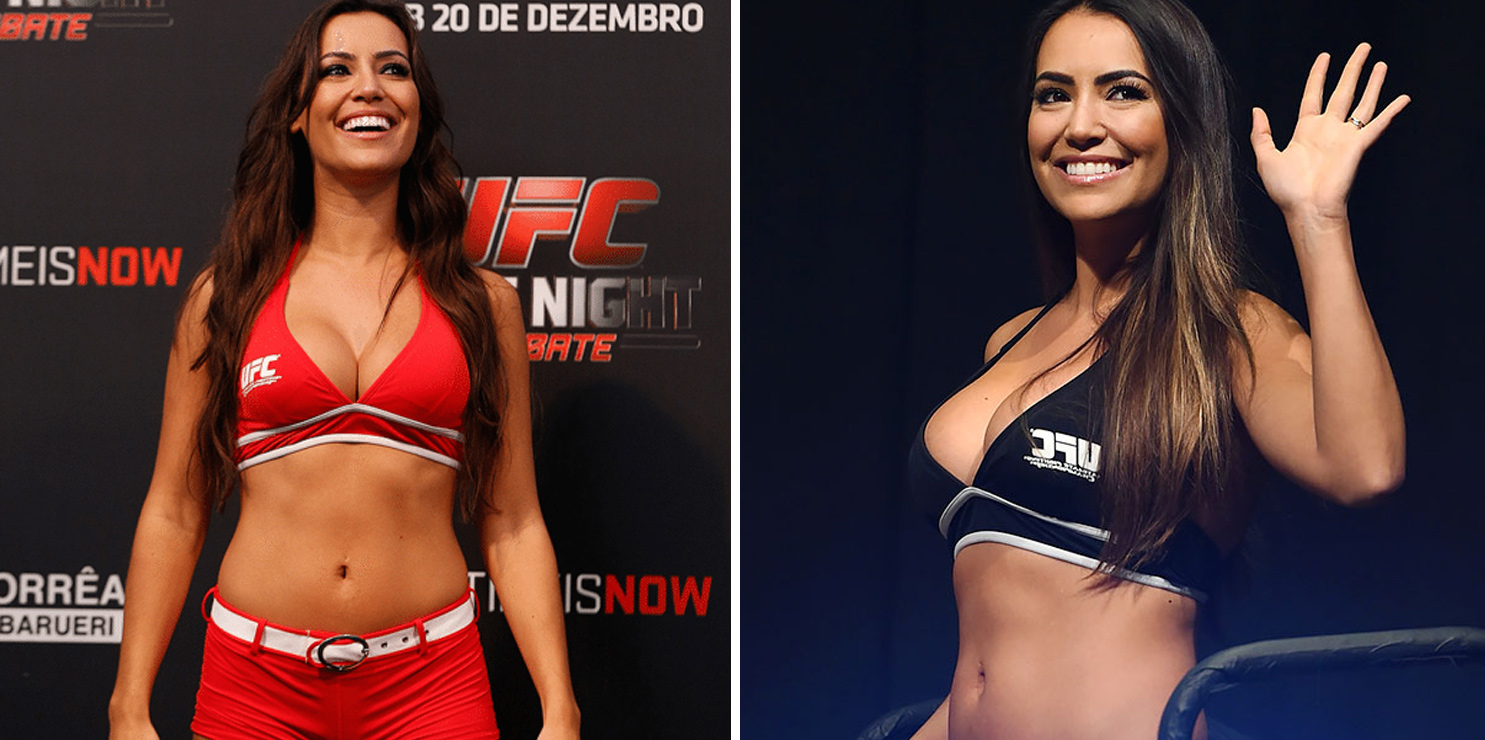 Luciana is a part of UFC girls for a solid period of time, and she hopes to get more chances in the artistic area. She has the heart of a lion, and she is always ready to accept any opportunity and perform it with maximum desire and dedication. The Brazilian beauty is also known as a fitness and gym guru, who maximally pays attention to her nutrition. Her main motto is "Healthy body, healthy mind!".
Luciana Andrade loves pets. She believes her biggest support throughout the life were her parents and her two sisters.
6. Arianne Celeste
Arianne Celeste became octagon girl through her modeling career. She had her octagon debut in 2006 in Las Vegas, and life was everything but ordinary for her since the beginning. Arianne is 5 foot 5 inches tall and weighs 110 lbs. Her city of residence in Los Angeles, California.
Arianne claimed she was scared for the first time but it turned to cool as the time went by. She is one of the sexiest Latina girls that ever appeared inside the octagon. Her transformation from a regular to diehard MMA lover is worldwide known. Arianne also claims that the best part of her job is constantly traveling and watching amazing fighters.
Her favorite hobbies are singing, dancing, Kickboxing, and Muay Thai, and she prefers striking over grappling. She likes to train and eat healthily. Her favorite foods are pineapple, mango, sushi, fish, and dark chocolate.
5. Carly Baker
Carly Baker is the only girl from Great Britain among top 10 most beautiful MMA ring girls. She is 5 foot 7 inches tall and weighs 120 lbs. Carly comes from London, United Kingdom. She started modeling at the age of 14 but her career suddenly exploded after signing for Japanese Record Company Fuji International.
She was appearing on various TV shows – Disney Channel, MTV, Nickelodeon… She later signed for BMG Records and London Records. Carly was the superstar of many commercials – Playstation, Sony TV, Sports Tonight, We Buy Any Car, Guitar Hero, Daily Star… Carly also appeared in many modeling events – Daily Mail, Daily Star, OK Magazine… Carly Baker is also a professional dancer.
Carly was a beauty queen for Miss Great Britain, and she is currently a TV presenter. She was also a cast for Sonya Blade for Mortal Kombat. Carly studies fitness and nutrition, and she is known to be a fitness fanatic. Her hobbies are Kickboxing, Muay Thai, Pilates, swimming, aerobics… When it comes to food, her favorite choice is sushi and spicy foods.
4. Camila Oliveira
Camila Oliveira is the smallest girl who earned the place in top 10 most beautiful MMA ring girls. She is only 5 foot 4 inches tall and weighs 105 lbs but her attractiveness is outstanding. Camila started her modeling career at the age of 16 when she posed for famous brands in television commercials.
Camila started her UFC career in 2013. She remembers her first appearance in UFC with a bitter taste. Camila cried when Anderson Silva lost his belt at UFC 162 from Chris Weidman. Her main motto is "Helping people is something wonderful".
Camila Oliveira claims the most handsome UFC fighter is Luke Rockhold and states that there is no a perfect man. The only thing she strives is a man with an attitude. She is a fan of stroganoff food, and keep her shape by training in the gym on a regular basis.
3. Mercedes Terrell
Mercedes Terrell is a member of top 10 most beautiful MMA ring girls with one of the highest popularity in social networks. She is single and works as a ring girl for Bellator MMA. Mercedes is 5 foot 6 inches tall and weighs 115 lbs. She is a mixture of Welsh, Sicilian, Mexican, and German ancestry, and a current model for Monster Energy too.
Despite her dream was to become an artist, she ended up as a model. Mercedes is a resident of Yorba Linda, California. She claims her life is like a rockstar and travels constantly all around the USA. Mercedes gives her best not to take anyone or anything for granted.
Mercedes says her main feature when looking for a man is a sense of humor and some good topic to talk to. She likes to smile and looks for someone to make her smile. Despite she accepts that she might be kinky sometimes, Mercedes claims that a man would have to know how to let her go and trust her because she is absent at least four days per week. Mercedes Terrell also declined to pose for Playboy.
2. Brooke Lynette
Brooke Lynette has shocked many MMA lovers when she became the leading girl of Cage luWarriors. She is probably the prettiest-looking European among top 10 most beautiful MMA ring girls. Despite this beauty doesn't have a long career, she has become an internet sensation in a record time. She is 5 feet 7 inches tall, weighs around 110 lbs, and her breast size is 34d. She had her Cage Warriors debut in April 2011.
Her modeling career started in 2008, and she is a close friend of Irish controversial superstar and potential prison bird Conor McGregor. Brooke has made to keep her private life out of the public eye. Despite she is one of the most desirable octagon girls in many websites, Brooke has made to stay aside and didn't publish any photo with boyfriend on Instagram or Facebook. Brooke is not married but she receives marriage proposals on a regular basis.
Brooke Lynette left Edinburgh, Scotland when she was 18 and moved to London, United Kingdom. She is the most popular octagon girl when it comes to social networks. The blonde has turned the heads and won the hearts of many fans. Brooke models lingerie and runs her own company.
1. Summer Daniels
Summer Daniels is probably the most attractive when it comes to top 10 most beautiful MMA ring girls. She has visible abs, trains on a regular basis, and she has been on the cover of many magazines – Racer X, Malibu Times, Hustler, Monster Energy, Night Guide, Transworld Motocross… She is 5 foot 6 inches tall and weighs 110 lbs. This girl is also an actor and spokesperson/host.
Summer Daniels was promoting Strikeforce and Elite XC competitions before joined Bellator MMA in 2015 after the retirement of Jade Bryce. Summer has also worked as the ring girl for marquee pro-boxing matchups. She has big dreams when it comes to her music career too – Summer Daniels is an avid singer and songwriter. Currently, she is the most popular of all Bellator MMA ring girls.
Summer won the hearts with her almost perfect look and cool attitude. It is believed you can't see her in a bad mood when the fighting event is promoted. One thing is certain – Summer is one of the girls with world-class experience!
Join our list
Subscribe to our mailing list and get interesting stuff and updates to your email inbox.