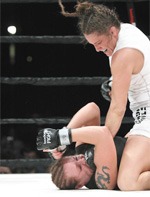 Only Google the term 'Lara Croft cosplay' if you feel like brushing aside all of your daily obligations for the next two hours. This Tomb Raider outfit — there are so many variations, and all of them involve a brunette showing off as much cleavage as socially acceptable. There's even steampunk versions of Lara Croft which gets just a tad ridiculous at times. Granted, if any of you want to own a relic of steam punk, visit our bud Thin Gypsy Thief. The guy even made a steampunk MiddleEasy vaporizer.
But back to Lara Croft. Cleavage. Digital cleavage. The company has been criticized about their depiction of a female protagonist for over a decade now, and only recently did they realize placing a cup size that could support Jupiter's moon on an action hero is a really dumb idea. In 2014 Lara Croft actually looks like a human, and this infograph by HalloweenCostumes.com breaks down the history of the Tomb Raider character nicely.
Join our list
Subscribe to our mailing list and get interesting stuff and updates to your email inbox.