Dustin Poirier is the rising star of the UFC Lightweight division known for tremendous hand speed.
Athlete Statistics
Full Name: Dustin Glenn Poirier
Born Name
Nickname
Age & DOB
Dustin Glenn Poirier
The Diamond
Dustin Poirier is currently 34 years old according to his date of birth January 19, 1989.
Fight Stats
Height
Weight
25 Wins // 6 Losses // 0 Draws // 1 No Contest
5 ft 9 in or 175 cm
155 lbs (70 kg)
Reach
Fighting Style
Association
72 inches (180 cm)
MMA, BJJ
UFC, Team: American Top Team
Nationality
Net Worth
Born Place
American
$1.72 Million (approximately)
Lafayette, Louisiana, United State
Profile
Dustin Poirier is one of the best barrage specialists ever in the Lightweight division. He is known for attractive and extremely fast combos. His favorite attack is left cross followed by a right hook. The Diamond likes to press an opponent against the fence and deliver five or more attacks in a row which are almost impossible to defend. He has excellent low kicks and an outstanding left teep kick to the body.
In the clinch, Poirier likes to deliver a knee to the head or body but sometimes he wraps his arms around the opponent's neck setting him up for the right uppercut or left hook off the clinch. If the opponent is against the cage he sometimes tries right slashing elbow. He counters opponents' punches very effectively via double leg takedown.
On the ground, Dustin Poirier mostly attacks the opponent via strong right hooks to the head. He is a BJJ black belt so his submission game is tremendous. Poirier's most efficient submissions are D'Arce choke and armbar. His biggest advantages are hand speed, footwork, and cardio.
The Road To The Top
Dustin Poirier had his MMA debut versus Aaron Suarez on USA MMA 7 – River City Rampage on May 16, 2009. He won the fight via KO after only 1:19 in the first round.
The Diamond joined the UFC with the score of 8-1. He earned the fastest victory of his career against Ronny Lis, whom he finished after an impressive 51 seconds into round one.
Dustin Poirier – UFC Featherweight Career
Poirier started his UFC career as a Featherweight competitor, making his debut at UFC 125 on January 1, 2011, versus Josh Grispi. Dustin Poirier won the fight via unanimous decision after 3 rounds.
In his next fight, Gaethje defeated Jason Young via unanimous decision at UFC 131 on June 11, 2011.
The Diamond demonstrated the brutality of his submissions against Pablo Garza at UFC On Fox 1, whom he finished on November 12, 2011, via D'Arce choke.
Despite being an underdog, Poirier shocked the world at UFC 143 on February 4, 2012, when he won Max Holloway via mounted triangle choke, earning his first Submission Of The Night award.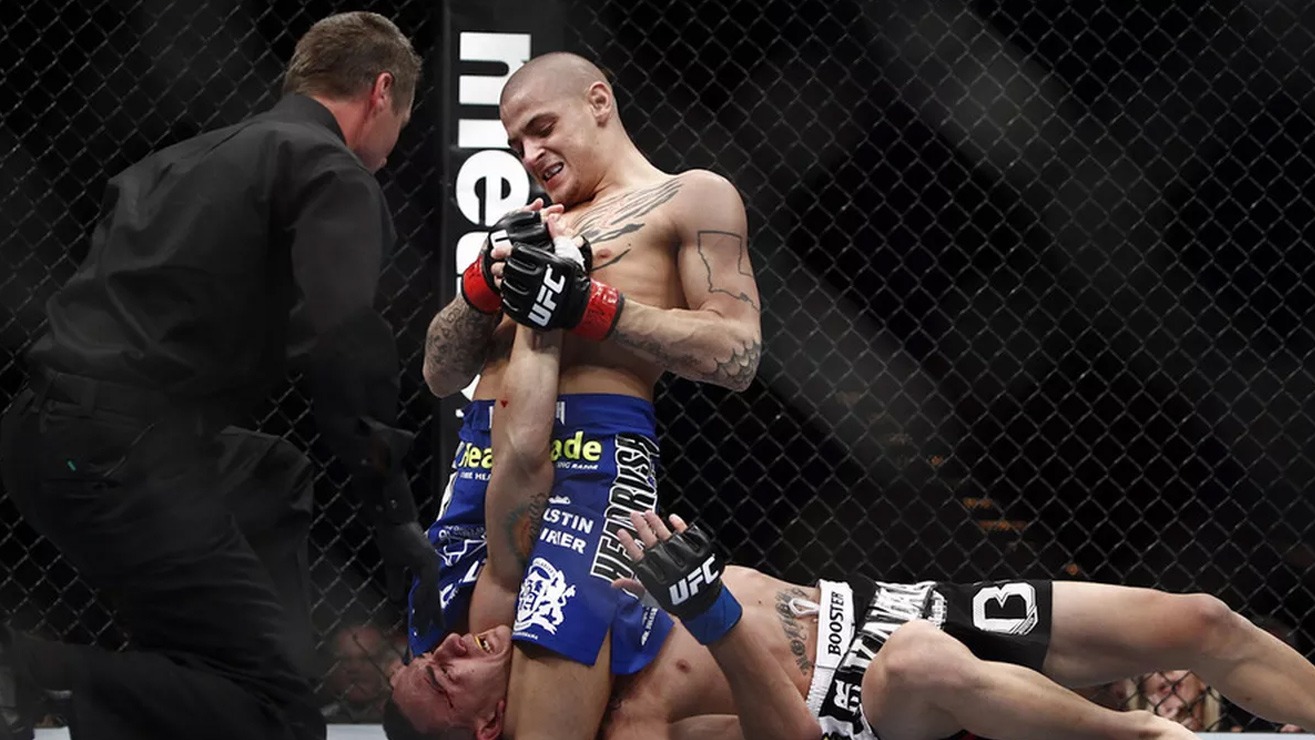 At UFC On Fuel TV 3, he is defeated by Chan Sung Jung via D'Arce choke. The fight took place on May 15, 2012, and Dustin Poirier earned his first Fight Of The Night bonus. It was later declared The Fight Of The Year 2012.
Poirier then submitted Jonathan Brookins at The Ultimate Fighter 16 Finale on December 15, 2012, via D'Arce choke in the first round.
Cub Swanson defeated Poirier via unanimous decision at UFC On Fuel 7 on February 16, 2013.
In the pretty much close game, Dustin Poirier won Erik Koch at UFC 164 on August 31, 2013, via unanimous decision.
The Diamond won Diego Brandao on December 28, 2013, at UFC 168 via first-round knockout.
At The Ultimate Fighter Nations Finale, Dustin Poirier was better than Akira Corassani, earning a second-round TKO victory, and his second Fight Of The Night bonus.
Dustin Poirier Vs Conor McGregor
The two legends fought at UFC 178 on September 27, 2014. The fighters had a heated altercation at the weigh-in and threatened each other. Before the fight, Conor assumed weird stance, smiled, and pointed at Poirier to irritate him.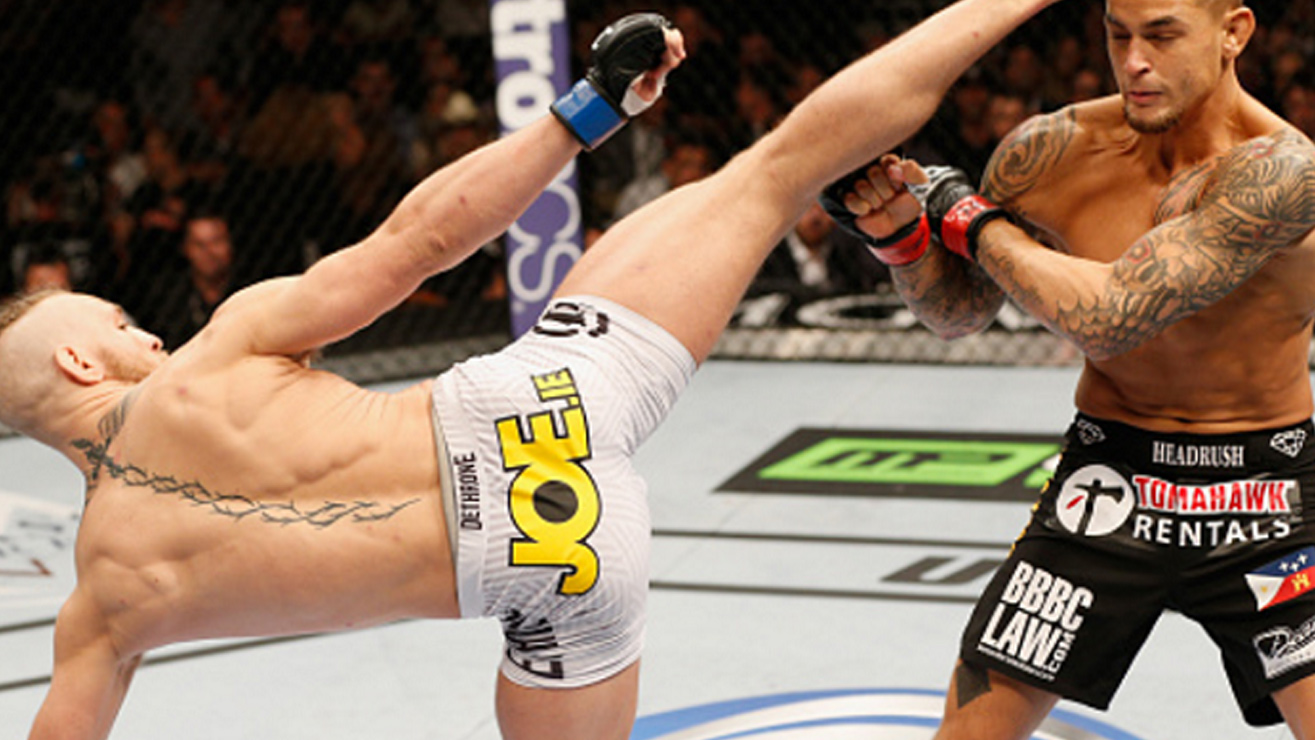 Dustin Poirier had no solution for Conor's left spinning back kick to the body and explosive punches and movement, and landed only a few strong left crosses. Conor McGregor rocked him via left hook and ended the fight via hammer fists in the first round. After this match, The Diamond moved to Lightweight division.
Dustin Poirier – UFC Lightweight Run
Dustin Poirier defeated Carlos Diego Ferreira on April 4, 2015, at UFC Fight Night 63, via the first-round knockout, earning his second Performance of the Night bonus.
His next rival was Yancy Medeiros on June 6, 2015, at UFC Fight Night 68. The Diamond won via TKO in the first round but he previously knocked his opponent down with punches twice, earning his third Performance of the Night award.
Poirier was scheduled to fight Joseph Duffy at UFC Fight Night 76 but he had to withdraw when he sustained a concussion during a sparring. The fight was rescheduled for UFC 195. Poirier won via unanimous decision but he had to go to the hospital due to a broken nose.
The Diamond defeated Bobby Green on June 4, 2016, at UFC 199 via first-round knockout.
Dustin Poirier Vs Michael Johnson
The two fought at UFC Fight Night 94, on September 17, 2016, and it was Dustin's first fight in the main event of the evening. Despite even match was predicted, Michael Johnson won after only 1:35 in the first round via KO. This was Poirier's quickest loss of the career.
Poirier trash-talked him at the weigh-in, but Michael Johnson sent him to sleep with a right cross counter which was followed by the left cross. Johnson shouted out loudly "fuck you" while he was raining punches on the downed opponent.
Other Fights:
The Diamond earned a majority decision victory over Jim Miller at UFC 208 on February 11, 2017, and also a third Fight Of The Night bonus.
Dustin Poirier Vs Eddie Alvarez
The two faced at UFC 211 on May 13, 2017. Dustin Poirier rocked Eddie Alvarez hard in the second round. Alvarez delivered two illegal knees to Poirier's head while he was on his knees against the fence.
Texas commission did not operate under new unified rules, so the referee Herb Dean scored the fight as no contest since The Diamond couldn't continue. The situation was very controversial since there is a big question whether Poirier's both hands and knees were on the ground.
Dustin Poirier Vs Anthony Pettis
Poirier defeated Anthony Pettis on November 11, 2017, at the main event of UFC Fight Night 120. Showtime tapped out due to the broken rib at the third round as soon as Poirier mounted him. The fight was declared as a TKO victory for The Diamond, who received his fourth Fight Of The Night award.
Poirier defeated Justin Gaethje at the main event of UFC On Fox 29 via TKO in the fourth round, winning his fifth Fight Of The Night award.
Personal Life
Dustin Poirier is a huge tattoo lover – his arms and chest are covered in it. He is married to Jolie Poirier, and they got their first child, Parker Noelle, on August 20, 2016.
Dustin Poirier – Social Media Profiles