Max Holloway is the current UFC Featherweight champion and a former X-1 Lightweight champion. He is the only fighter who defeated Jose Aldo two times.
Athlete Statistics
Full Name: Jerome Max Kelii Holloway
Born Name
Nickname
Age & DOB
Jerome Max Kelii Holloway
Blessed
Max Holloway is currently 32 years old according to his date of birth December 4, 1991.
Fight Stats
Height
Weight
21 Wins // 6 Losses // 0 Draws
5 ft 11 in or 180 cm
145 – 150 lbs (66 – 69 kg)
Reach
Fighting Style
Association
69 inches (175 cm)
MMA, Muay Thai, BJJ
UFC
Team: Gracie Technics
Nationality
Net Worth
Born Place
American
$5 Million
Waianae, Hawaii, United States
Profile
Max Holloway is known for his aggressive fighting style. He constantly pressures the opponent and doesn't let him take the pace of the fight. Blessed is an amazing stand-up fighter with tremendous boxing, world-class right spinning back kick, excellent roundhouse kicks, and awesome knees. His flying knee is his trademark.
When he clinches up with the opponent, Max Holloway usually asks for a chance to deliver a strong knee to the head. Sometimes he looks for an uppercut. When Blessed feels blood, he delivers an endless barrage of hooks, both to the head and body, and sometimes combines a kick to the body. His strikes are almost impossible to defend since he is one of the fastest fighters ever in the history of the UFC.
On the ground, Holloway rather looks for a back control or a full mount position followed by an endless barrage of all kinds of punches. However, he is a purple belt in BJJ, so you can expect a guillotine choke or some other submission attempt. Holloway's submission defense is good.
The Road To The Top
Max Holloway had his MMA debut on September 11, 2010, when he was only 18 years old, versus Duke Saragosa at X-1: Heroes, as a Lightweight competitor. Blessed won via unanimous decision. Holloway joined UFC with the perfect score of 4-0.
Max Holloway – UFC Career
Max Holloway had his UFC debut, and his first Featherweight fight, versus Dustin Poirier at UFC 143, on February 4, 2012, in Las Vegas, Nevada. Dustin Poirier won the fight via mounted triangle armbar at 3:23 in the first round. This is Holloway's quickest defeat of the career.
Blessed next faced Pat Schilling at The Ultimate Fighter Finale 15 on June 1, 2012, and won the fight via unanimous decision.
His next opponent was Justin Lawrence at UFC 150 on August 11, 2002. Holloway won via TKO in the second round.
At UFC 155, on December 29, 2012, Blessed defeated Leonard Garcia via split decision.
Max Holloway is defeated by Dennis Bermudez via split decision at UFC 160 on May 25, 2013.
Max Holloway Vs Conor McGregor
They fought only once – at UFC Fight Night 26 on August 17, 2013, in Boston, Massachusetts. It was mostly a stand-up fight, and Holloway didn't have a solution for Conor McGregor and his cross kicks, which were followed by super fast punches. Conor was simply demolishing Max Holloway with a left cross during all three rounds.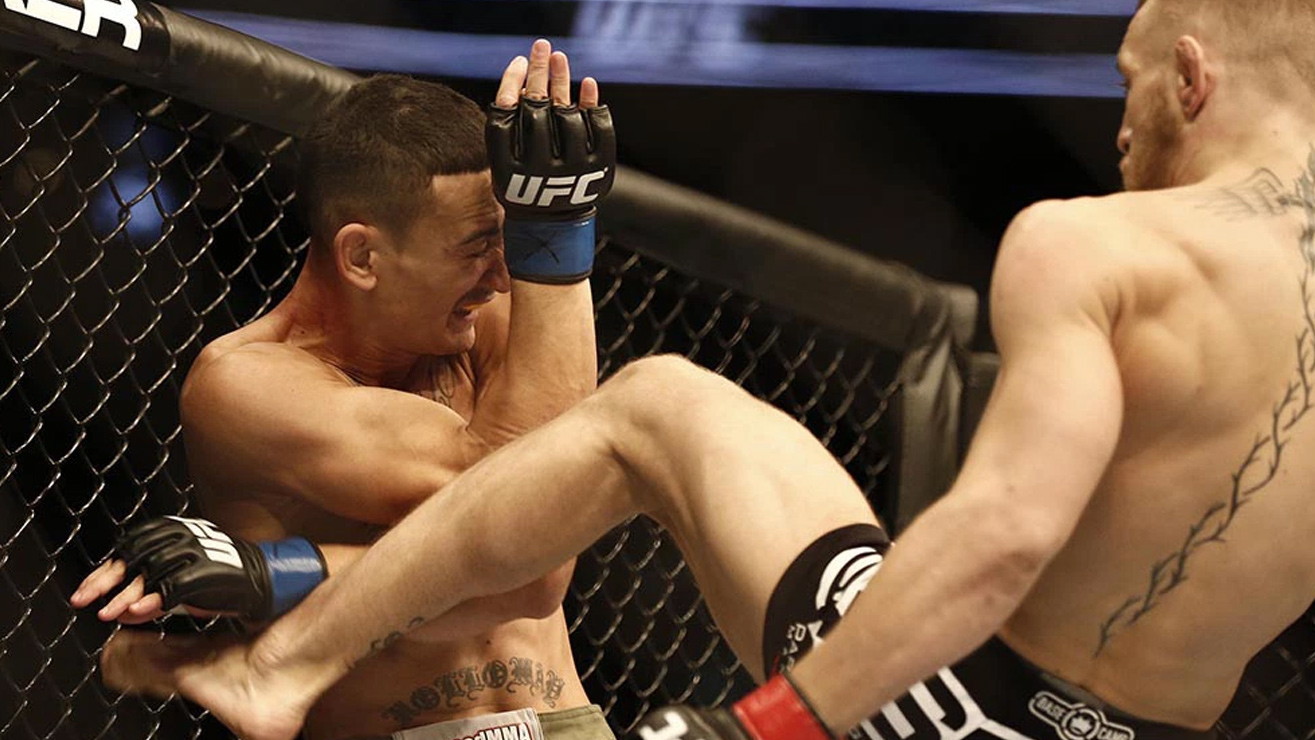 Holloway even tried the superman punch off the cage and woke the crowd up but Conor had many more various shots in his repertoire. The Notorious connected few times right uppercut with a left high kick. Conor had better reflexes, and he even took Holloway down in the third round and started raining punches. At the end of the match, Blessed rocked Conor with a right high kick. Conor McGregor won the fight via unanimous decision.
Max Holloway – Unstoppable Winning Streak
Holloway defeated Will Chope at UFC Fight Night 34 on January 4, 2014, via TKO in the second round, earning his first Knockout Of The Night award.
Blessed demonstrated the power of his submission when he defeated Andre Fili at UFC 172, on April 26, 2014, via guillotine choke.
Max Holloway had one more success at UFC Fight Night 49 on August 23, 2014. He defeated Clay Collard via TKO.
Blessed knocked Akira Corassani out at UFC Fight Night 53 on October 4, 2014, and earned his first Performance Of The Night award.
Cole Miller was a lot better opponent at UFC Fight Night 60 on February 14, 2015. Holloway won via unanimous decision after very tough three rounds.
His next victim was Cub Swanson at UFC On Fox 15 on April 18, 2015. After striking Swanson for three rounds, Holloway took him to the ground in the third and finished the fight with a mounted triangle choke, earning his second Performance Of The Night award.
Max Holloway got his first main event of the evening at UFC Fight Night 74, on August 23, 2015, when his opponent was Charles Oliveira. He is the only fighter who was taller than Holloway! Despite that, Oliveira suffered neck injury while defending a takedown, and Holloway won via TKO at 1:39 in the first round, and this was the fastest victory of his career.
Max Holloway than faced Jeremy Stephens at UFC 194, on December 12, 2015, and won via unanimous decision again.
Max Holloway – Lightweight Title Shot
Max Holloway fought for the title versus Anthony Pettis at UFC 206 on December 10, 2016, in Toronto, Ontario. During the whole match, Holloway was attacking via various strikes. At the end of the third round, he rocked Pettis via right kick to the body. Pettis fell down against the fence and Max Holloway started raining hooks and the referee stopped the fight. Blessed won via TKO and won the title. Pettis missed the weight (148 lbs), and Holloway earned his third Performance Of The Night award.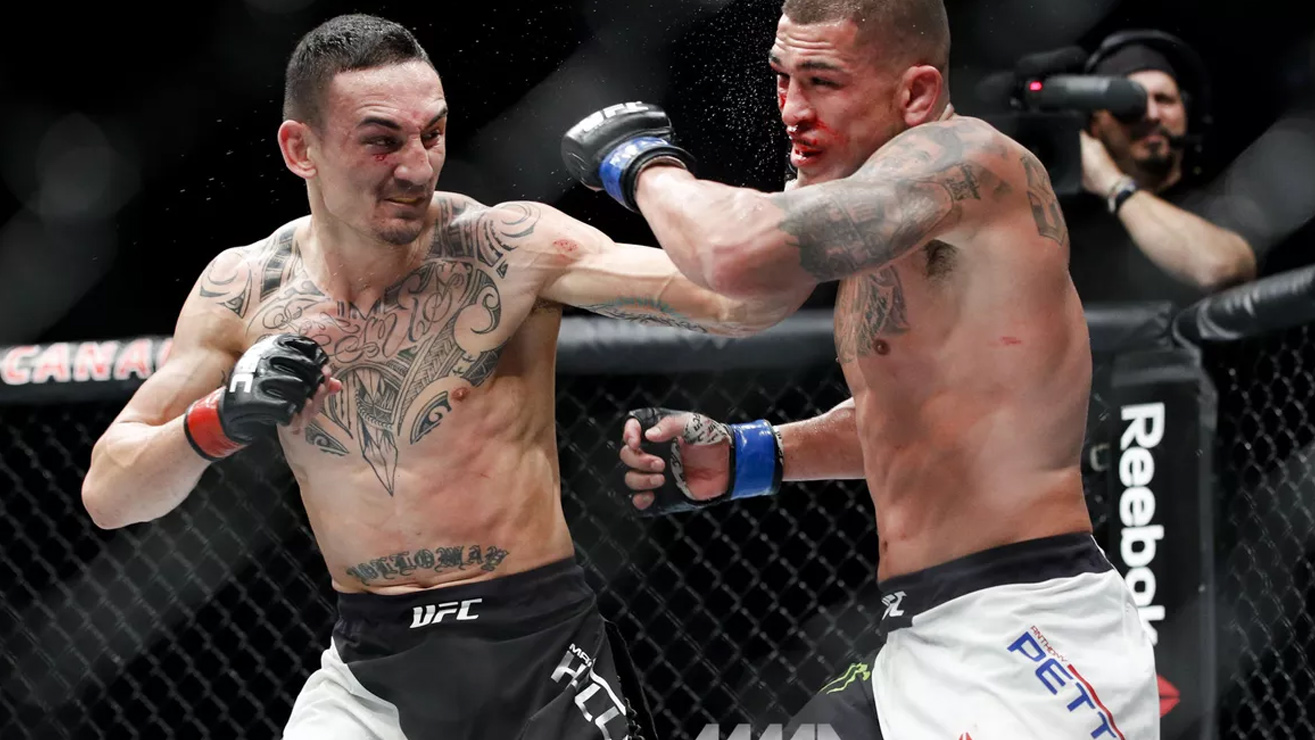 Max Holloway Vs Jose Aldo – Successful Title Defenses
Max Holloway fought Jose Aldo for the first time at UFC 212, on June 3, 2017, in Rio de Janeiro, Brazil. Despite the support of the home crowd, Aldo was defeated in the third round. Despite Aldo was winning in the first round, Holloway successfully recovered, mounted his back, and won the fight in the third round via TKO.
The two faced again at UFC 218 on December 2, 2017, in Detroit, Michigan. The fight was almost the same as the previous one, with slight adjustments both fighters made. This time, Max Holloway was able to put the pressure since the beginning and become dominant in the later rounds. At the end of the third round, Holloway dropped Jose Aldo and won the fight via TKO again.
Max Holloway Vs Conor McGregor – Round 2
The war between Conor McGregor and Max Holloway is far from over. Since Max Holloway threw a hint of the possible match with Conor, the two started their online war. Blessed even had a dirty comment about Conor's possible fight with Paulie Malignaggi. McGregor hurried to remind Holloway on his wounded eye, but Blessed's response was more than effective. Then Max Holloway claimed he is on Conor McGregor's mind, especially after their word exchange on Twitter.
This response by Max Holloway was more than epic. McGregor launched one more attack, this time versus Tony Ferguson and Max Holloway. However, Blessed revenged by mocking Conor over his Burger King ad. In the last statement, Holloway claimed he won't let Conor McGregor execute cyberbullying on him. One thing is certain – this war is far from over, and we will probably look round three soon!
Max Holloway – UFC 222 Withdrawal
Max Holloway was booked to fight Frankie Edgar in the main event of UFC 222 but he had to withdraw due to an ankle injury. Blessed stated it was a very tough pill to swallow. He claims he has never pulled out of the fight, even during his amateur days.
Max Holloway – Next Fight
Max Holloway jumped in as a replacement for injured Tony Ferguson, who tore his LCL. He will face Khabib Nurmagomedov in a Lightweight Title Fight at UFC 223 on April 7, 2018, in Brooklyn, New York.
Personal Life
Max Holloway was married to Kaimana Pa'aluhi, and the former couple has one son. He is an avid gamer who plays RPGs and first-person shooters. Holloway is extremely proud of his Hawaiian descent.
Max Holloway – Social Media Profiles