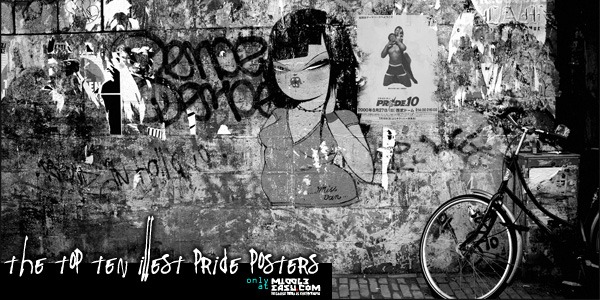 Before I get emails from people slamming me for not including the Pride 10 poster, I agree it's an amazing piece of art but it's just too obvious of a choice to be placed on our list of the Top Ten Illest Pride Posters. We've all seen it and we can all appreciate a topless Sakuraba getting rear naked choked by that hot Japanese chick. Truth is, if there existed a higher quality of the poster aside from the small version that has been floating around the internet then I probably would have included it. Instead, I chose to go with the best Pride posters with the highest quality. It's pointless to show a poster that's the size of a Bic lighter. Also, keep in mind that throughout the years of Pride, several ultra-rare posters have been uncovered by auctioneers (like this one) and it would be nearly impossible to have a full catalog of every Pride poster released. This is a collection of the greatest ones that we could find, perhaps you can find better in which case we'll make a 'Top Ten Illest Pride Posters That Some Dude Who Reads MiddleEasy Found'. Until that day, you're going to have to live with this list.
Without further ado (and Apu), check out our list of The Top Ten Illest Pride Posters' only at MiddleEasy.com – Because MMA is Everything.
Remember that time when Alistair Overeem was scrawny twenty-six year old middleweight? It just goes to show you what a steady diet of horse meat can do for the body. This event marked the second round of the Pride middleweight tournament and featured an array of match-ups that we all would still salivate over. Ricardo Arona vs. Sakuraba, Overeem vs. Igor Vovchanchyn, Shogun vs. Lil Nog, Pedro Rizzo vs. Kharitonov and of course your boy Wanderlei Silva vs. Nakamura. Apparently the stereotype in Japan of middleweights can only be depicted with little kids on the beach, hence the concept of this poster.
The concept for Pride 31's poster is a theme that we have seen repeated in FEG's more recent Dynamite!! posters and I personally approve of every single one of them. Pride 31 marked Jon Olav Einemo's last bout with the organization but everyone will remember this event from the Mark Coleman/Wanderlei Silva backstage beef that eventually transformed into the two starring in the same Japanese Schick commercial. Of course, the irony of the event being called 'Unbreakable' with Shogun Rua losing via TKO due to a broken arm is pretty remarkable.
Out of the nine bouts on Pride Final Conflict Absolute, seven of them ended in the first round. This event marked the semi-finals and finals of the Pride openweight GP, a tournament that we will most likely never see again. You had guys like Big Nog facing Zuluzinho, a dude that outweighed Nogueira by nearly 200lbs. Technically, you can call Dream's Super Hulk tournament our modern day Pride Openweight GP but if you did, there's a good chance people will point and laugh at you.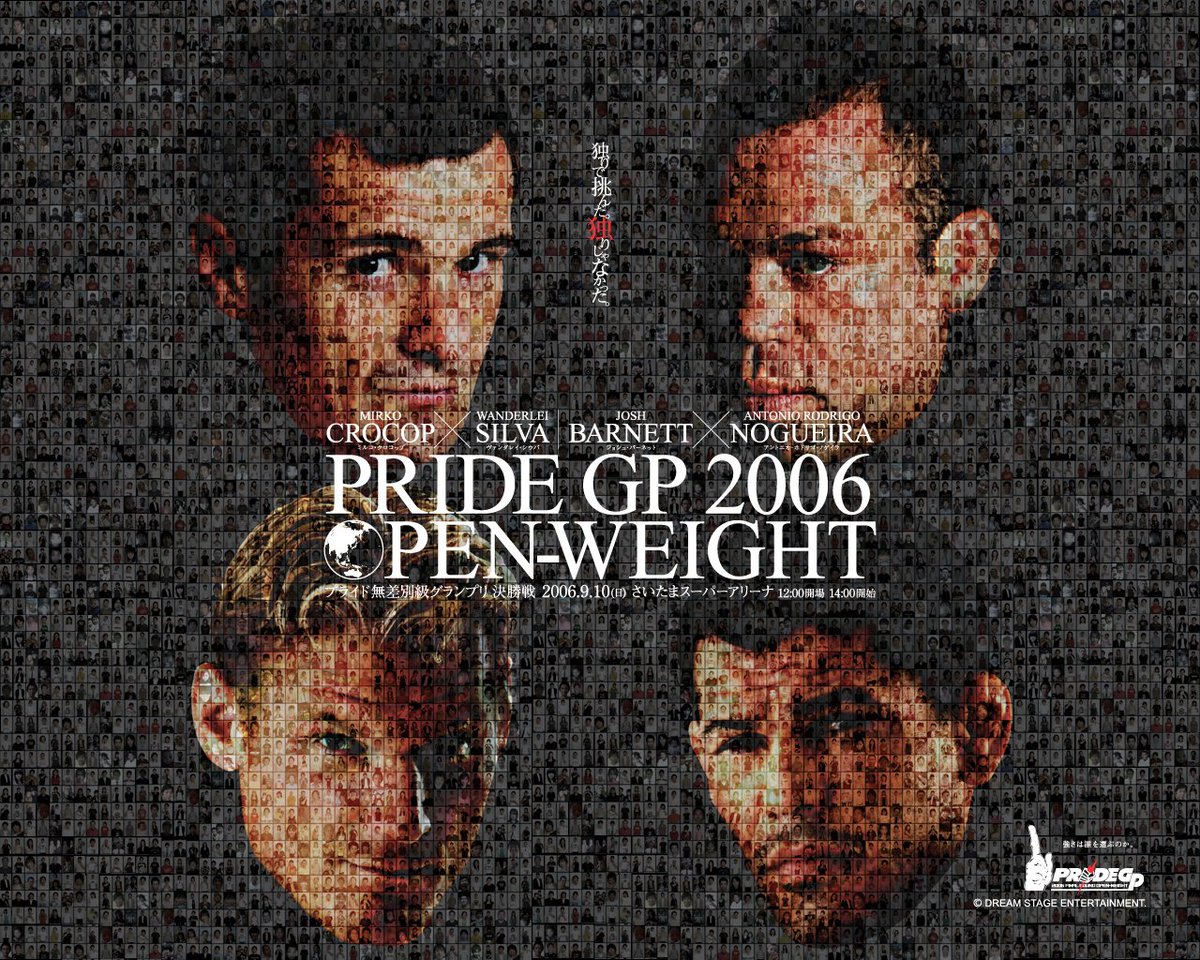 Let's get it out the way. Ninja Rua beat Rampage Jackson. We all know this. Even Rampage knows this. That's why immediately after the unanimous decision, Rampage offered his trophy over to Rua as some type of condolence for the embarrassing win. Out of the ten fights at Pride 20, eight of them were finished in the first round which sort of makes a poster filled with sharks a little bit more meaningful.
Someone should anonymously send every New York politician lobbying against the legalization of MMA a copy of Pride Bushio 9 and by the end of the day, they will most likely be soccer kicking their coffee table. With a total of fourteen bouts on the card, this was perhaps the greatest Pride event to ever be held on Japanese soil and the old-school comic book aesthetic of the poster puts the topping on an already irresistible metaphorical cake.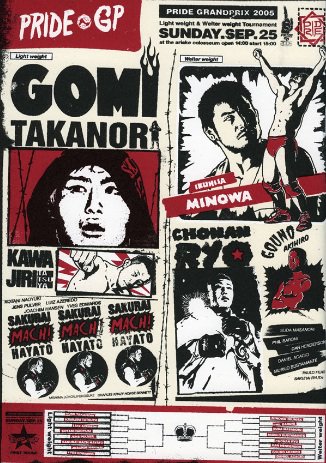 Around this time, Pride started releasing American variations of their Pride posters in order to give American cable companies something to sell besides…an infant holding an elderly person's hand. It's the cycle of life condensed in a snazzy Pride 30 poster. Love it or love it. In Japan, the event was titled 'Starting Over' but in an attempt to break grounds within North America, it was relabeled 'Fully Loaded' since, you know, we all love guns and explosions.

Kid Khaos vs. Kawajiri, Mach Sakurai vs. Olaf Alonso, Ryo Chonan vs. Joey Villasenor, Gono vs. Hector Lombard, Misaki vs. Baroni, Ninja Rua vs. Denni Kang…at what point in your life do you not miss Pride? Bushido Survival 2006 also marked the debut of former Strikekforce light heavyweight champion, Gegard Mousasi as he easily defeated Makoto Takimoto in the first round. It's a cold world out there, and this poster should you make realize that somewhere on this planet there's an indiscernible man walking across a frozen bridge and that should scare the hell out of you.
Props to the guy who convinced the executives at Pride to run with an image of a mother breast feeding her child as the official poster for Pride Final Conflict 2004. Seriously, we all need to give this guy a simultaneous round of applause. Just look at that thing. Where else would you ever see something like this? Pride Final Conflict marks the rematch of Big Nog vs. Fedor which ended in an anti-climatic no contest due to an accidental headbutt early in the first round. Four months later, Fedor met with Nogueira for a third time to claim Big Nog's Pride Heavyweight belt and the Pride GP strap, both of which look amazing.
Pride Bushido 9, so amazing of a card that they made a second poster. Look real close folks, those are paint strokes. That's right, a giant hand-painted Gomi existing in a realm of clouds and angelic beings, a place where he rightfully belongs. Gomi, Sakurai and Minowaman went on to advance in the grand prix while Ryo Chonan was knocked out by Dan Henderson in just twenty-two seconds. Bummer for the Anderson Silva slayer.
Of course you knew this was at the top of our list of the Ten Illest Pride Posters. Don't sit in your Wal-Mart swively chair and act like you're surprised. This is the poster for the first round of Pride's 2006 open-weight GP, otherwise known as the 'Sperm Poster'. I think we can all agree that it's the most innovative use of sperm in relation to sixteen guys fighting inside a ring. In the end, it was Mirko Cro Cop that was the metaphorical sperm that pierced into the egg and gave birth to a shiny metallic belt.