Numerous attempts to contact Zuffa's marketing department in regards to a last minute sponsorship of Chael Sonnen's mouthguard went unanswered. Apparently there's a waiting list to protect the most controversial mandible in MMA. We're merely a day away from one the most anticipated middleweight title defenses in UFC history and it would be irresponsible if we let you start gambling without Joey Karate's UFC 117 fight picks to counterbalance Cat Von C's 'lustfully biased' picks. Whether you're a man, woman or uncertain (our favorite), we hope these drastically different viewpoints will provide you with a fair and balanced perspective with your bookies. If they don't, you can still blame the BP oil spill and get away with it.
So it looks like we are having another 'menage a trois' of contributors this week: Bauzen, myself and an episode of Joey Karate. I'm digging the threesome action. Unfortunately, the times when my phone vibrates on my lap is really the only action I'm getting. FML.
Hallman Vs Saunders
For the love of all things Wu-Tang, Ben Saunders. The Killa Bee himself.
Struve vs Morecraft
Struve, because he's taller.
Hendricks vs Brenneman
Hendricks because he has the 300-style, Spartafied beard.
Davis vs Wallace
Wallace is like LL Cool J's clone. I might have picked him if he licked his lips like LL and broke out in a performance of 'Doing It'. I'm going with Mr Wonderful, Phil Davis.
Hazelett v Story
I think I'll stick with beards and pick Hazelett. I want to see Amish beard jiu-jitsu action.
Guida vs Dos Anjos
Clay Guida wore knee socks at the weigh-ins! Just for that I'll share another knee sock picture if he wins. I don't really want to do that, so I'm picking Dos Anjos.
Big Country vs Dos Santos
How am I supposed to make lustful picks with Roy Nelson rubbing his hands all over his belly? I think Dos Santos' striking will find a way to defeat Roy's giant, immovable belly technique.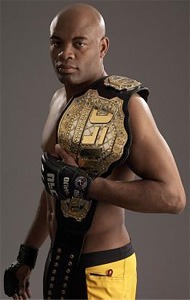 Almeida vs Hughes
My brain keeps flashing to visions of Roy Nelson rubbing his belly. It's disturbing. I can't focus. Hughes is still winning though.
Fitch vs Alves
I swear I have some panties that look just like the ones Thiago wore during the weigh-ins. He's a half-pound over, that's a half-pound more of man I get to look at. Those visions of Roy Nelson rubbing his belly have been replaced with Thiago wearing matching panties whilst I make him a protein shake.
Sonnen vs Silva
I can't wait for this fight. I get the chills when I think about it. I don't think Silva is going to play around this time. I hope Silva rocks shorts made of pink sweater material. I think he will dance his violent, murderous ballet on Chael Sonnen.