Yesterday, a hyped up Conor McGregor went on a rampage. Well, I wouldn't say hyped up, more like, McGregor was on bath salts and had an absolute death wish. After the early morning weigh-ins, he tried to puff out his chest to Tyron Woodley and Woodley would have none of it.
Woodley responded to Ariel Helwani's video he posted on Twitter of the moment and McGregor used this opportunity to call Woodley a 'bitch' over and over again. In almost an act of defiance, stupidity, self-promotion or all three, McGregor caught up to Woodley backstage and tried to G-check him in person.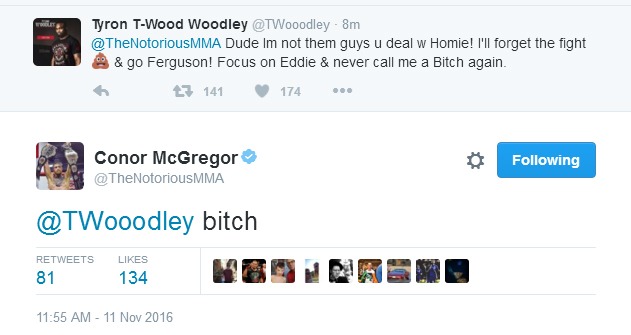 😱 antes de salir ya hay problemas atrás entre @TheNotoriousMMA y @TWooodley #UFC205 pic.twitter.com/sVu3DCF2dJ

— #UFC205 (@UFCEspanol) November 11, 2016
He didn't stop there either. McGregor also caught up to one of the top contenders in perhaps his new division. I don't know what Khabib Nurmagomedov did but he got the shite from McGregor as well. …Still nothing compared to the beer-throwing, n-word laced fiasco Nurmagomedov from the Diaz Brothers. But we ALL know that no one can riot like the Diaz Brothers. Will Irish Diaz always live in the shadow of his American counterparts?
Conor McGregor fighting with Khabib Backstage before Weigh-ins 😮😮#UFC205 #UFCNYC pic.twitter.com/S4iufsz8ij

— YoUFC #UFC205 (@_YoUFC) November 11, 2016
Conor McGregor officially has every UFC featherweight pissed off at him, a fight with UFC lightweight champion Eddie Alvarez tonight, beef with top lightweight and murderous wrestler Khabib, AND just got on the welterweight champions shit list. After all that bullshit, McGregor needed back-up. Enter middleweight Yoel Romero.
Either that or maybe he's already setting up the good ol' racism excuse in case he says something off-color about Woodley in the heat of the moment. Hey, some of my best friends are wrestlers with one punch power!