We love doing these lists on MiddleEasy, but this time we thought we would take it further by dropping the The 20 most historical UFC posters in all of MMA history on your little noggins. That's right, it's our first Top Twenty list in the site's history, making today historic by itself. In fact there's no need to check out the list we compiled. Just take our word for it and move on with your day.
Just kidding, let your eyes be amazed at The 20 most historical UFC posters in all of MMA history, only at MiddleEasy.
20.) UFC 158
Yes it's a bad ass poster, but most people don't know that this was the same poster used when Nick Diaz was originally scheduled to fight GSP, before his whole press conference fiasco. This poster was shown to a few members of the media before the original bout was signed, and it was a amazing then as it is now.
19.) UFC 45
A few years ago we made a list of The Top Ten Illest Pride Posters a collection of posters that were so exquisitely designed that the MMA world has yet to see something even approaching their caliber. However in 2003 when the UFC and Pride FC were competing for viewership, the UFC decided to borrow Pride FC's poster aesthetic — oh and look at that, Robbie Lawler was still fighting back then.
18.) UFC 147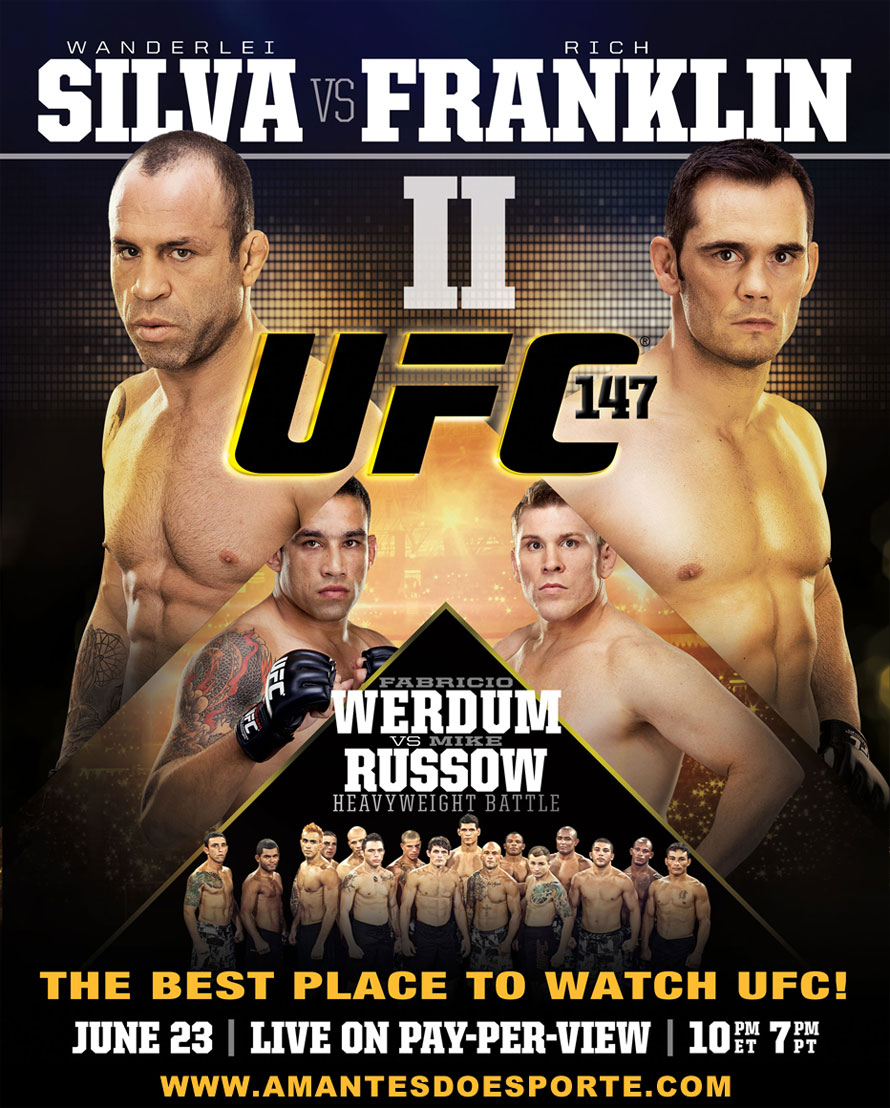 When this poster was released in 2012, people claimed that it clearly showed the entire UFC was part of the Illuminati due to the number of pyramids wedged inside the design. What, you didn't know — triangles equals reptilian overlords. Bet they didn't teach you in that geometry class.
17.) UFC 1
This was it, the poster that started it all — and it's uglier than this odd looking pet. Walk into any bar while the fights are on and some knucklehead will tell you they saw UFC 1 live. The truth is they didn't, no one did — especially most MMA journalists out there.
16.) UFC 19
Remember that time when Chuck Liddell, Tito Ortiz, Kevin Randleman, Guy Mezger, and Jeremy Horn were considered 'young guns?' Well this poster does, and it's one of the rarest finds in all of MMA history. It's also important to note that out of all the fighters on UFC 19, Tito Ortiz is the one that is still active (and on a winning streak). #GOAT
15.) UFC on Fuel TV 6
This was UFC's first venture into Macao (which is technically not even China) and the beginning of the promotion's obsession with Bruce Lee. Look, he even made it on the poster, making him the first person featured on a UFC poster that isn't a UFC fighter. Well, at least in EA Sports UFC he is.
14.) UFC on FOX 1
UFC's first historic fight on FOX. Entire city tours were assembled, weeks worth of video packages were made, cross-national promotions were paid for, a three-hour pre-fight hype show before the fight aired on national television — and Cain Velasquez vs. Junior dos Santos lasted 1:04 — and it was the only fight on the televised card. Ouch.
13.) UFC 118
This will be the first and last time you will see a boxer on the front (or back) of any UFC poster. Let's not forget this one, folks. The UFC hype train was so effective that everyone truly believed James Toney, equipped with his sidecheck kick, would defeat the former UFC heavyweight champion. Yeah, that actually happened.
12.) UFC 94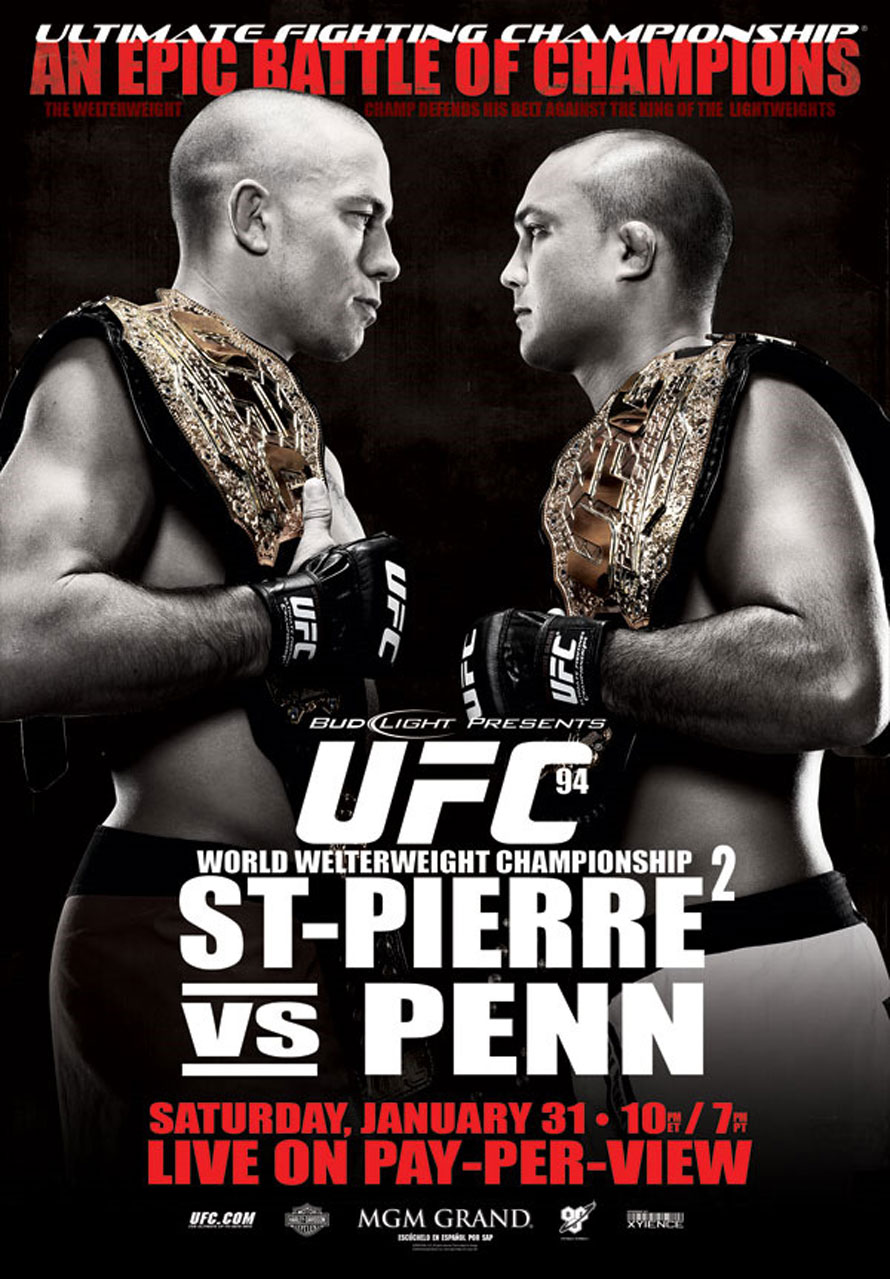 Greasegate, the biggest blemish on Georges St. Pierre's legacy. Everyone thought he was greasing, heck even Dana White claimed he greased after the bout in order for BJ Penn not to submit him. This poster marked the beginning of a conspiracy that has lasted for years.
11.) UFC 144
UFC tried something out of the box and it worked. Forget advertising a UFC Japan event in English for Americans. Throw some Kanji on it and make it a throwback to those Pride FC tournament posters we saw year ago. We need more of this in order to progress as a MMA community.
10.) UFC 143
I said this immediately after the poster for UFC 143 was released. Aesthetically and design wise, it's the greatest poster the UFC has ever made. My only suggestion would be to place the layer(s) that has Diaz's and Condit's body behind the actual text. Oh, and 1,2,5.
9.) UFC 9
The fact that at one point this was a legit question should make all of you feel warm and fuzzy inside. The truth is Dan Severn and Ken Shamrock are both GOATs in their own respective rights and they should be honored as such in the UFC Hall of Fame. They should also be compensated by UFC for the rest of their life out of sheer respect.
8.) UFC 157
Remember those days when Dana White vowed that women would never fight in the UFC? Well there you have it, Ronda Rousey and Liz Carmouche, the first female fight in UFC history, and it was tremendous. Ronda Rousey, making the impossible possible on a daily basis. She's the reason why women are even fighting inside the Octagon.
7.) UFC 141
Sure it wasn't for the title, but Brock Lesnar vs. Alistair Overeem was and still is the biggest UFC heavyweight match-up in history, and the 535,000 buyrate proved it. I attended this event cageside at the MGM Grand, hung out with the Diaz brothers afterward and then met Seanbaby walking around in the lobby. Amazing night.
6.) UFC 111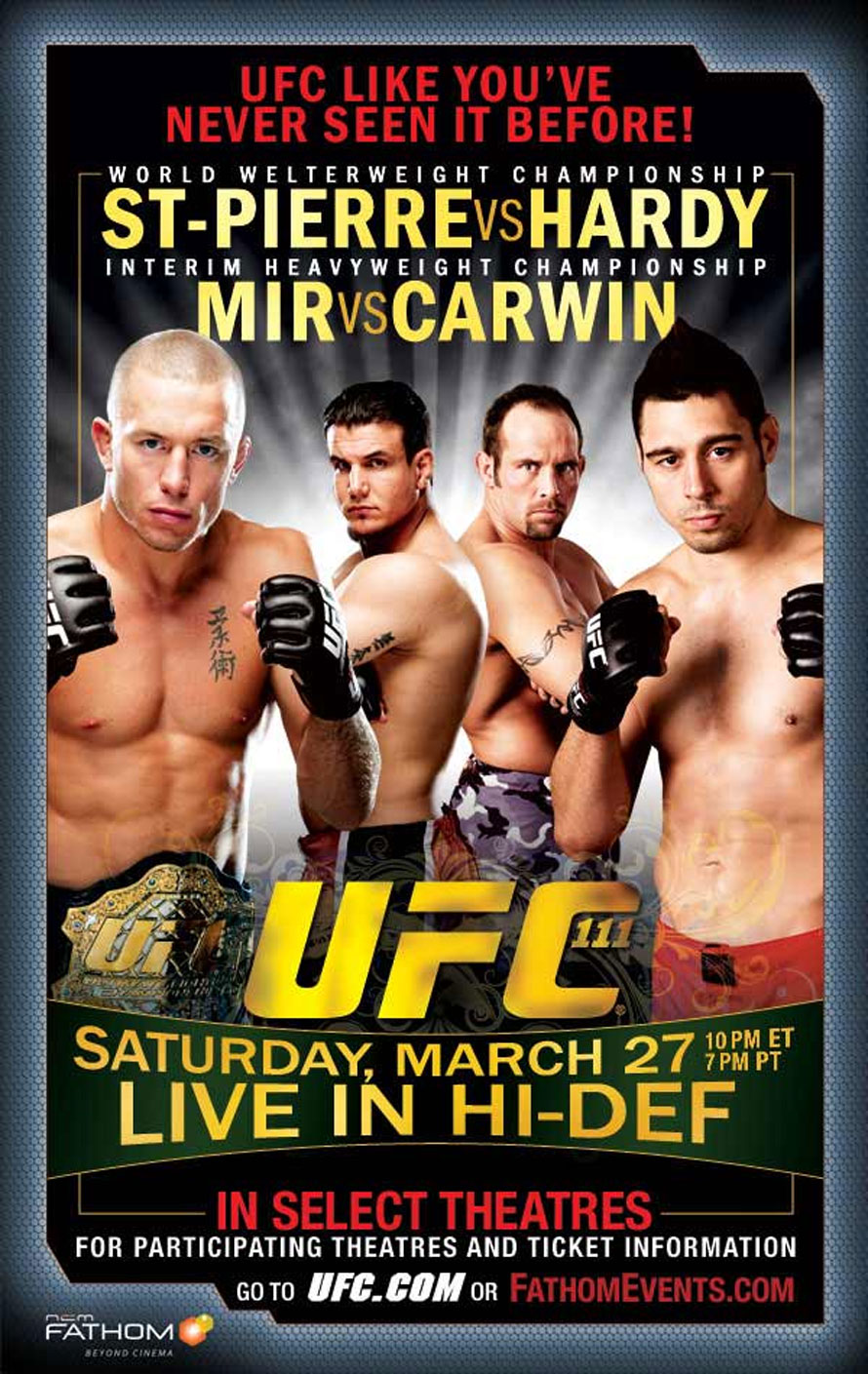 Notice Dan Hardy? Now notice Dan Hardy without his torso tattoos? The story behind this poster is that the UFC had to remove Hardy's sanskrit tattoos due to some beef China had with Tibet. Apparently the UFC wanted to break into the Chinese market and having one of their stars with Tibetan scripture was just a little too offensive to Chinese authorities.
5.) UFC 108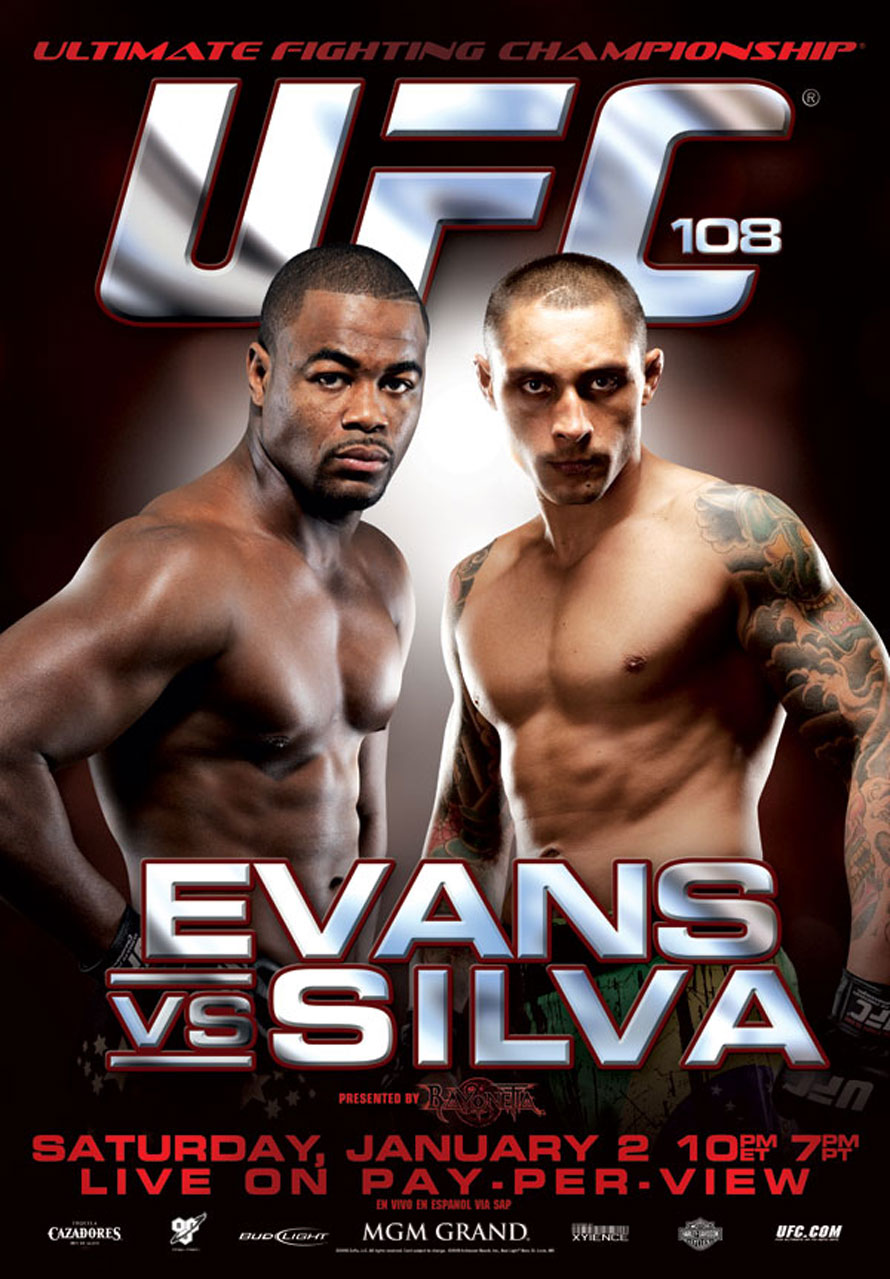 UFC 108, the most cursed event in history. Originally this card was supposed to be Anderson Silva vs. Vitor Belfort, until Silva had to drop out due to an injury. The UFC decided to place Brock Lesnar vs. Shane Carwin as a headliner, but Lesnar's health was still in question. Next the UFC wanted to place Carwin vs. Cain Velasquez, however Velasquez was dealing with some nagging problems that forced him out. Next up was Gabriel Gonzaga, who was pulled from the card. Carlos Condit had to withdraw from his fight against Paul Daley and a few days later Tyson Griffin was removed due to another injury. Sean Sherk replaced Griffin, but then he also had to pull out of the fight due to an injury. Rory Markham was also removed from the card along with a bout between The Janitor and Steve Cantwell. Damn.
4.) UFC 32
Twin friggin' Towers. Terrorists can't blow up this poster. Keep in mind this fight happened three months before September 11th, so feel free to develop whatever conspiracy theories you like. This event also marked the last show for UFC commentator Jeff Blatnick, the end of an era.
3.) UFC 76
UFC 76: Knockout — and it produced not a single knockout. This is probably the quintessential definition of jinxing your own card. Hopefully the UFC will call their next event 'Lackluster fights and confusing decisions.'
2.) UFC 37.5
That's right, the UFC actually went there. UFC 37.5 was a last-minute event assembled in order to promote UFC on Fox Sports Net's 'The Best Damn Sports Show Period.' It's also important to note that Steve Berger vs. Robbie Lawler was the first MMA fight broadcast on US cable television.
1.) UFC 151
The event that never was, making this UFC poster the rarest of the rare. Everyone pointed fingers, people were called 'sports killers,' but at the end of the day fans were robbed of seeing MMA greatness due to egos and contract disputes. Bummer.