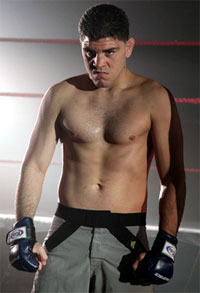 The last I saw of LayzieTheSavage, he sat next to me and said something along the lines of 'Man, [expletive] [expletive] [expletive] it's just [expletive].' As a community, I think we all need to collectively put him on suicide watch. I haven't seen him since the end of Diaz vs. Condit at UFC 143, but I do have his bottle of water that I will most likely drink if he doesn't return in the next few minutes.
From my cageside seat at UFC 143, through my rose-colored glasses (manufactured in the 209), I had Nick Diaz winning the second, third and fifth round — yielding a unanimous decision for the former Strikeforce welterweight champion. The judges for Diaz vs. Condit (Junichiro Kamijo, Patricia Morse Jarman and Cecil Peoples) scored the fight in favor of Carlos Condit. We're still waiting on the judges' score cards to come in, but when they do we'll publish them in this article.
Some of you are still perplexed about Carlos Condit grabbing a unanimous decision win over Nick Diaz, so here's the FightMetric breakdown of the bout.
As far as Nick Diaz retiring, it's something that I've heard about for months now. However, I just didn't think it would happen tonight after UFC 143. In reality, Nick has always expressed a desire to compete in other sports that tests his endurance. It's a passion that the Stockton native has pursued since he was a kid. While this may be the end of Nick Diaz in MMA, it should not deter the fact that Nick brought a level of quirkiness (and excitement) to MMA that garnered the intrigue of MMA fans across the planet.
Props to Carlos Condit on his unanimous decision win and I think it's safe to say that we're all looking forward to see Carlos Condit vs. Georges St. Pierre at some point in 2012 for the UFC welterweight strap.