Michael Chiesa Got His Oil Checked Sanchez At UFC 239
Michael Chiesa crushes Diego Sanchez in a welterweight bout at UFC 239 and wins a lopsided decision. No doubt it was a dominant victory for Chiesa as he finished the fight on several occasion, but Diego survived.
During a second round when Chiesa was able to manhandle Diego on canvas and got reversed into the mount position and attacked a kimura that's when the incident happen where Diego stuck his fingers into Chiesa's butthole.
During a recent interview with Ariel Helwani, Michael Chiesa details the awkward attack from Diego that means he got the oil checked from Brazilian.
"I could feel he was butt-dragging me, and that's whatever, but all of a sudden — I don't know if he intentionally did it — but he literally, his fingers touched my butthole."

"I yelled at him, 'get your fingers out of my ass, motherf—ker!' I don't think anyone heard it though," he laughed. "In wrestling, when you get your fingers in the brown-star, we call that oil checking. So he was definitely checking my oil. I yelled at him to get his fingers out of my ass. I yelled it. I thought for sure, when the fight was over, 'my God, I'm going to go on Twitter and it's going to be everywhere,' but I don't think anyone heard it."
Not only did @MikeMav22 get a big W Saturday night, he also got his oil checked. True story: pic.twitter.com/HdrzvjBKDg

— Ariel Helwani (@arielhelwani) July 10, 2019
Here is picture Helwani posted after the interview: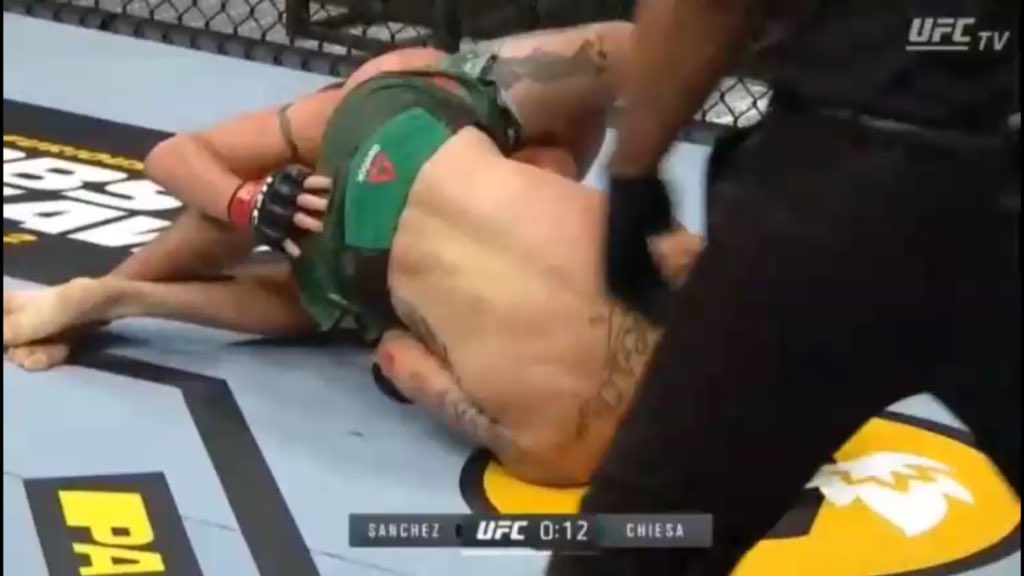 Well, that was an embarrassing act from Diego, hope Chiesa is all well. Since jumped to welterweight Chiesa has won two-straight bouts.