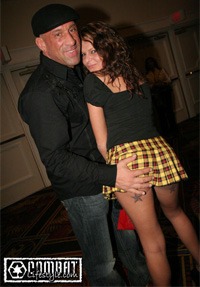 So this is a three part article. One part 'Awesome' and two parts 'WTF man!". Alright, let me get to the awesome part. In an interview with LatestMMANews, Mark Coleman claimed that he knew Machida's weaknesses, he could exploit them and he wants to meet The Dragon in the octagon! Yes dude! Look in the dictionary because that's probably the clearest definition of a 'call out' I've heard (or read in a blog at least. Middle school was rough). When Bruce Lee was in China, dudes would come up to him and tap their feet twice which meant they wanted to challenge him to a fight. He would stop whatever he's doing, go into Gilbert Yvel mode for a few seconds then after he was done he would walk over the guy as he choked on his own blood for the rest of his life. Really the most surprising part about Coleman's statement is that he pluralized 'weakness'. I always imagine Machida as an early 90s Snoop Dogg record, you know, devoid of any weaknesses. Normally this would be enough enough for two parts 'WTF man!". But not today.
Apparently Mark Coleman is an expert of the DiCarlo Kino Escalation ladder. It sounds like some retardly hard submission move to pull off in a fight but actually its a step-by-step formula to hook up with chicks. I'll excuse you guys to clean up the milk that just squirted out your nose. Got to love Mark Coleman. [Source]
Join our list
Subscribe to our mailing list and get interesting stuff and updates to your email inbox.