Save your beer and hot dogs UFC party for a different event because BJ Penn has been officially removed off UFC 199. Apparently now that UFC is under the watch of USADA you can't "just scrap" whenever you want to and you also cannot use IVs at anytime. The "Unretired Motivated Trained by Greg Jackson Featherweight" version of BJ Penn will also have to return to the waters of Hilo until he is IV free and ready to be unleashed onto the UFC for the first time.
But hey, remember that time Penn was super stoked the UFC joined with USADA and the sport was about to be both IV and drug free for the first time in its history. The Internet remembers Penn.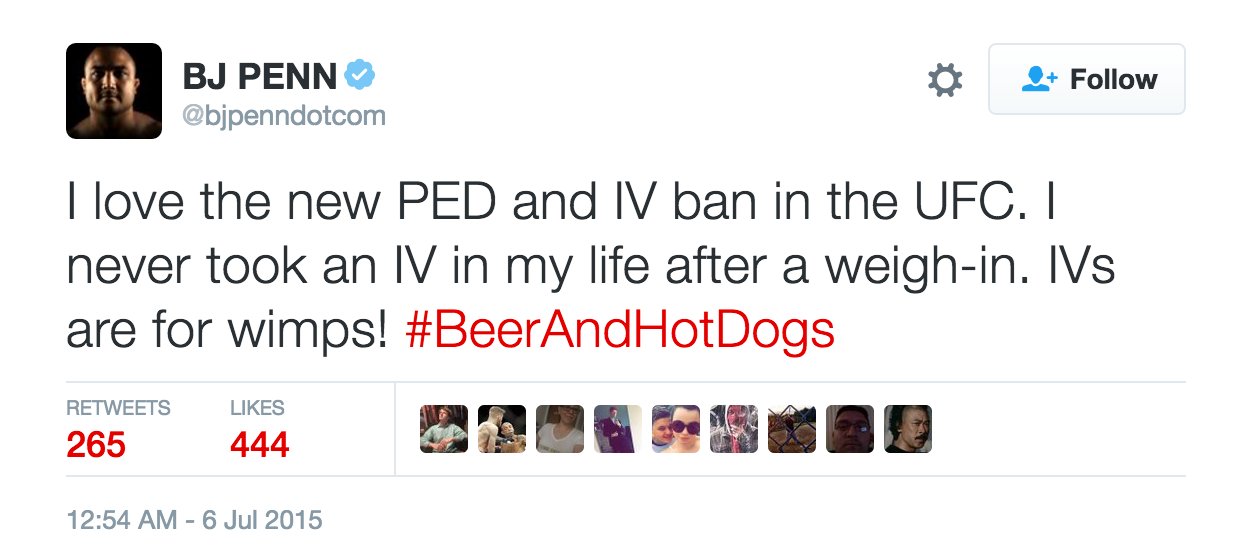 Maybe Penn was so motivated this time that he accidentally slipped, fell and was injected with an illegal IV just by circumstance?
The UFC's statement on Penn's bust and his boot from June 4th's UFC 199 card
"The UFC organization was notified today that the U.S. Anti-Doping Agency (USADA) informed BJ Penn of a potential Anti-Doping Policy violation. Penn disclosed the usage of a prohibited method – the use of an IV in excess of 50 ML in a six-hour period – during a March 25, 2016, out-of-competition sample collection. In accordance with the UFC Anti-Doping Policy, Penn has received a provisional suspension, and has been removed from his scheduled bout against Cole Miller on June 4 in Los Angeles.

UFC will announce a replacement opponent for Miller shortly, and additional information will be provided by USADA and UFC at the appropriate time as the process involving Penn moves forward."
In an interview KHNON 2 in Hawaii, Penn attempts to make sense of his latest setback in his return to the UFC
Join our list
Subscribe to our mailing list and get interesting stuff and updates to your email inbox.