Jose Canseco can take all the roids he wants.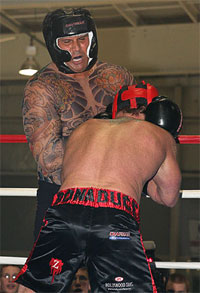 This may be old news to some but I'm still in a state of sheer WTFness. As you probably know (and if you don't cover your walls with plastic because your head is going to explode out of complete amazement), Jose Canseco has been signed to fight Hong Man Choi in the Japanese MMA event 'Dream 9' on May 28th. That's right, he just got on one of the biggest cards since this year's Affliction and he's signed to fight a dude that bruised the hell out of Fedor in their last fight. Dude is no joke, there's no brady bunch BS involved in this. In fact, Hong Man Choi looks like he should be in Lord of the Rings fighting for middle earth.
Hong Man Choi looks like he could be king of those vampire things on I Am Legend. If scientists ever needed a genetic reference to an Orc, they would just turn to Hong Man Choi for the answers. Hong Man Choi looks like he was right in the middle of transforming into a minotaur when he just said 'Fuck it, this is good'. Look, Hong Man Choi is going to destroy Jose Canesco. But there's no way in this universe I'm going to miss this fight.