Israel Adesanya let loose a series of scathing social media posts directed at ex-girlfriend Charlotte Powdrell.
Earlier this month, 'The Last Stylebender' shocked the world with his second-round knockout of longtime rival Alex Pereira at UFC 287. As it turns out, Adesanya was far from done delivering knockouts. Taking to Instagram, the two-time middleweight champion delivered multiple vitriolic messages aimed at his former squeeze.
"You don't care about my life cuz you've sold info about me, so I don't care about yours," Adesanya posted. "I don't even hate; I just don't care about you. I've not been in love with you for a while. In summary, I'm glad this happened. I wouldn't change a f*cking thing."
It didn't stop there as Adesanya crafted two more scornful social media attacks aimed at Powdrell, even going so far as to threaten legal action.
"Me loading up receipts…. Y'all shoulda left me the f*ck alone! I got time and I got lawyer money"

"Women's 'Standards ' are merely fairytales they have after living in a nightmare." "LOL women…"
Typically known for keeping his personal affairs fairly close to his chest, it was an especially out-of-character moment for 'The Last Stylebender' to go on the attack in such a public way. What exactly caused the outburst is still unknown, but it's quite clear that this was much more than the standard lover's spat.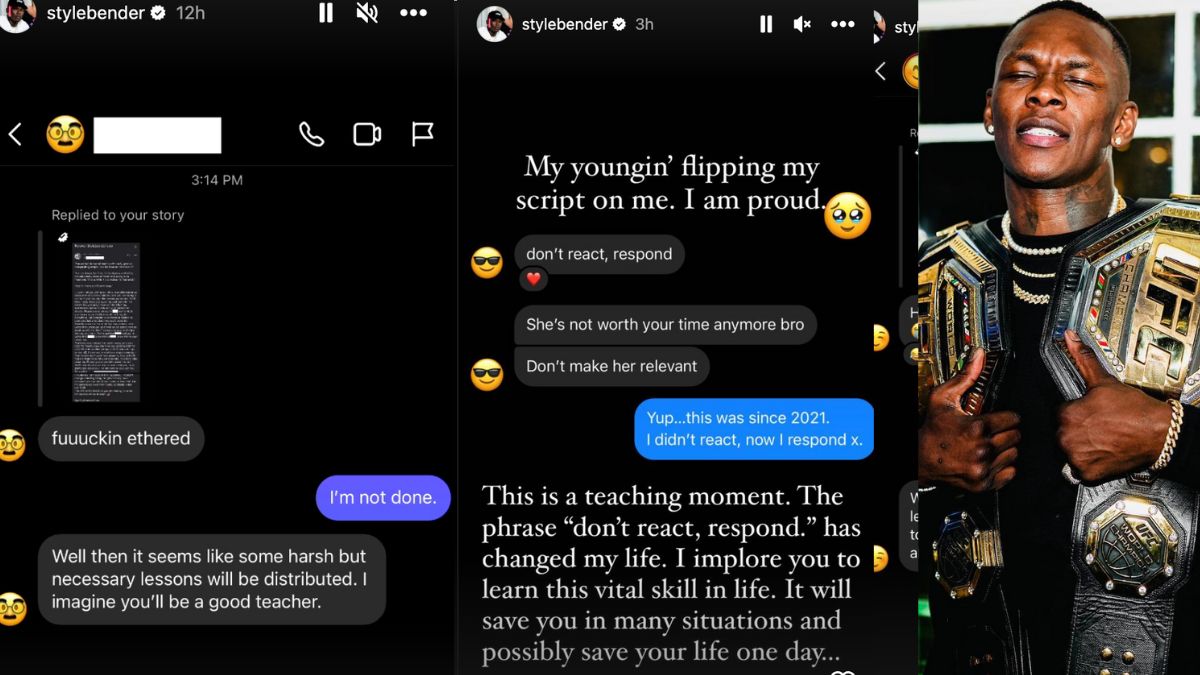 Israel Adesanya Could Step Back Inside the Octagon a Lot Sooner Than Expected
After scoring arguably the biggest win of his combat sports career, you'd think Israel Adesanya would want to sit back and smell the roses for a little bit. As it turns out, 'The Last Stylebender' is chomping at the bit to get back inside the Octagon. UFC President Dana White revealed that Adesanya has been blowing up his phone, trying to get himself booked for a bout as early as June.
Who he could face in a potential summertime return is yet to be determined, but considering that he has practically cleared the 185-pound division of every viable contender, Adesanya may look towards achieving 'champ-champ' status.
With light heavyweight champion Jamahal Hill sitting on the sidelines while waiting for former titleholder Jiri Prochazka to recover from a shoulder injury, the promotion may look to bring the two fighters together for a potential superfight. Adesanya has already attempted to claim the 205-pound crown for himself, coming up short against then-champion Jan Blachowicz.
Jamahal Hill would represent a much more favorable matchup for the Adesanay compared to Blachowicz. The bout could also deliver a big-money fight for the promotion's annual International Fight Week festivities scheduled for July.
Would you like to see Jamahal Hill defend his light heavyweight title against Israel Adesanya this summer?