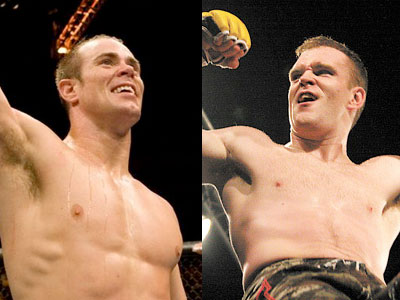 I normally like to make my picks, AFTER I've checked out the boys in their skivvies at weigh-ins, but I am so stoked about UFC 107 that I'm ready to make my picks before I break out my dollar bills and make it rain all over the boys at the weigh-in strip show. This is going to be an arse kicking way to close out the 2009 UFC year. I've been waiting on this one for months. Before I get preoccupied with buying pre weigh-in lap dances, let's get on with my picks.
Burns vs. Grant

Not much to say about this one…I think Burns will win, could be an all out banger. Let's just hurry up and get to my Christmas wish
My Pick: Burns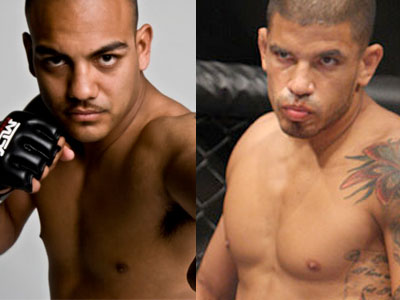 Garcia vs. Johnson

If I get to see this prelim on Spike, then Santa Claus is real and my wish came early. Damarques Johnson is the lust of my life. Do not ask why, even I can not explain it but it is what it is. Maybe the abs, the tats, the smart mouth, the naughty smirk. Damarques will win this one because he is very concerned about how to rock his hair for me in this fight as you can see from his Facebook status:
Damarques Johnson OK SHOULD I ROCK THE HAIR FOR THIS FIGHT GET SO FRESH AND SO CLEAN? THOUGHTS FEELING
This man understands the importance of having the right haircut in the Octagon! After he takes out Garcia, I will meet him in Memphis for a private pink jello grappling session to celebrate…don't look at me that way, it's happening! Oh, you say he has a super cute girlfriend? Details, details! People stop trying to ruin MY fantasy!
My Pick: Damarques Johnson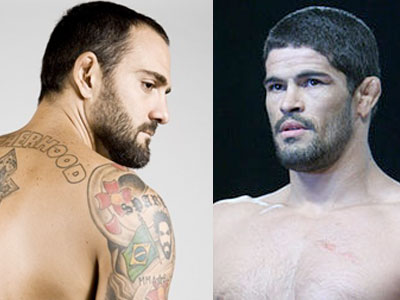 Linhares vs. Palhares

I know Palhares is good on the ground, but I can't ever go against Team Alliance Jiu Jitsu. It's like a Blood in Blood Out thing. I've got ties to Team Alliance and rep them I must. Plus Lucio is one of the few men with facial hair that still tickle me fancy…he makes me want to pop in a copy of the movie 300 (a smorgasbord of men for the ladies) and practice yelling out "This is Sparta!"
My Pick: Damarques Johnson, oops-D Johnson on the brain still…I meant Lucio Linhares.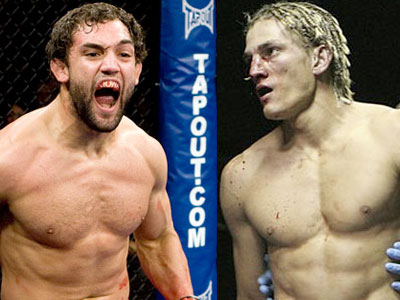 Hendricks vs. Funch
I don't care. I'm busy gluing pictures of Damarques Johnson to my chair just so I can sit on his…oh never mind that's just too much information for you to absorb.
My Pick: Damarques Johnson (that is NOT a typo-remember we are jello grappling at this point and I let him get me in the North South position and go for the submission…)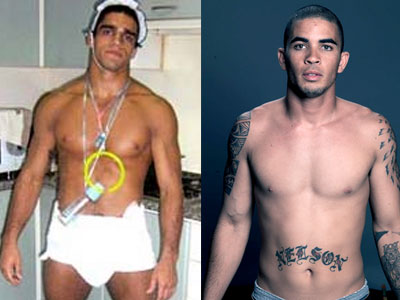 Wiman vs. Nelson
Wiman is coming back off two losses. Shane trains with BJ. Will it be a Team Penn night? Shane Nelson has me on an emotional roller coaster. He makes me want to DQ him right off the bat because of association with Junie Browning back on TUF Season 8, but Shane has grown up plenty since then and has been training hard core with BJ. He also has that sweet Hawaiian accent working for him and his baby face and hazel eyes kind of make me want to put on a pair of glasses and play naughty teacher and student with him. Private detention for you Shane Nelson.
My Pick: Nelson
Belcher vs. Gouveia
Could go either way…I like Alan Belcher. I like Wilson Gouveia…when he comes to fight.
My Pick: Belcher
Buentello vs. Struve
Buentello has been off for three years and since Struve can just hang out at the Palms in Vegas and throw a leg kick that will land in Memphis, I just don't think Buentello can get inside on this kid.
My Pick: Legs (Struve)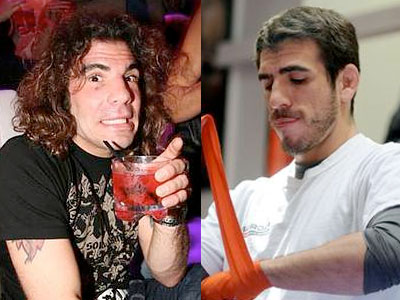 K Flo vs. Guida
Kenny! Kenny! Kenny! For some reason whenever I see Kenny, I see Ben Stiller and it makes me smile. Guida does not make me smile. I want Clay Guida to give 1986 its hair back. All that wet hair slinging around is distracting. If Guida is ever hard up for cash he should grow a beard and go audition to be a caveman in the Geico commercials.
My Pick: K Flo
Fitch vs. Pierce
Anyone remember when Fitch fought Diego Sanchez? Diego was on his back and Fitch grabbed hold of Diego's ankles stood up and picked up Diego and then fell back and slammed him…it was RAWESOME! Jon Fitch's only UFC loss was to GSP.
My Pick: I'm Fitch, Bitch!
Kongo vs. Mir
Look, I know Frank Mir has this great hair and all that but he has really perturbed Cheick Kongo, and Cheick Kongo is one of the few Frenchmen I would want to piss off. I know "annoyed" and "French" are kind of synonymous, but when you are Cheick Kongo annoyed takes on a whole new meaning. He has pecs the size of dinner plates and arms as long as the battleships at Normandy. He's apparently been day in and day out working his ground game and could give Mir a surprise on the ground when it goes there. I'm going to go out on a limb with this one…
My Pick: Kongo
Penn vs. Sanchez
Diego is a machine, no doubt about it and I will say that Diego's YES! Cartwheel and its utter ridonkulousnes almost made me change my mind. But my Hawaiian accent fetish won't let me quit BJ. Now, he goes and shows us just how manly a guy (with a head that is eerily similar to a cabbage patch doll) can be, by bucking the big boss' ban on RVCA! I am now a ride or die chick for Team Penn. FIGHT THE POWER BJ!
My Pick: BJ Penn
Thanks for humoring me…I'll be tweeting (twatting) during the event.