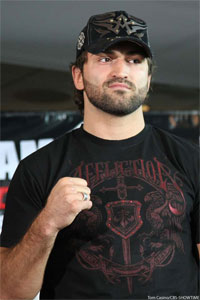 While Andrei Arlovski trained for fight against Fedor Emelianenko at Affliction: Day of Reckoning, he mentioned that his opponent was 'only human'. That was the day I realized Arlovski's camp forgot to inform him he was fighting Fedor Emelianenko. Fedor is about as human as I am a flying pterodactyl. When archeologists look back at this era and unearth the bones of Fedor, they will deem him a Homo-overhandright-sapien. They'll probably study his fists and use it as evidence for alien manipulation in human evolution. So it's no surprise that Arlovski caught a loss against The Last Emperor. Arlovski took that lost pretty rough. Hell, dude even played Russian roulette with a loaded gun in a sort of half-assed attempt to commit suicide. Strikeforce gave The Pitbull another shot against undefeated Brett Rogers and…well after that fight, Rogers was still undefeated. Rogers KOd Arlovski in twenty-seconds and Affliction decided to drop him off their imaginary card that never materialized.
Two losses in a row, and on May 15th 2010, Arlovski was slated to go against another guy that was coming off a loss: Bigfoot Silva. In retrospect, Andrei Arlovski performed better against Bigfoot Silva than Fedor Emelianenko. Unfortunately for the Pitbull, he racked up a unanimous decision loss, making it his third consecutive L. Bummer for Andrei, but Strikeforce gave him a third chance in the organization, this time in the Strikeforce Heavyweight Grand-Prix. His first opponent was, as Gus Johnson said, 'The Russian'. Sergei did what most people assumed he would do, leading Arlovski to his fourth consecutive career loss. No suicide attempt here, Arlovski stated that he did not intend to retire and immediately got back in the gym to train.
Arlovski was scooped up by ProElite and finally grabbed a win against 5-3 Ray Lopez. Sure it was a win, but existentially, was is it really a win? Tonight, Arlovski took on Travis Fulton, a guy that has more fights than you have failed pick-up lines. In the third round, Arlovski scored a highlight reel headkick KO, and we have it on an endless loop. Props to ZombieProphet for ripping this from HDNet, even though we're pretty sure it's illegal.