In completely unrelated news Frankie Edgar has blocked MiddleEasy on Twitter. So it goes. Ali Abdelaziz is a tough (dirty, stale, half eaten) nut to crack.
On one hand we should probably just simply ignore one of the biggest managers left in MMA. MMA is a pretty big sport but somehow Ali Abdelaziz is the only manager who makes any kind of headlines. If an annoying MMA manager screams into the void and nobody is around, does it ever really happen?
We want to ignore this human towering tire fire but we can't.
Ali manages Khabib, Frankie Edgar, Cody Garbrandt, Kelvin, Werdum, Justin Gaethje (aw man), Jake Shields and a ton of other fighters he may or may not have brain washed somewhere along the way.
As a MMA fan should you care who manages your favorite MMA fighter? Not really. Like not at all. Quick, who is the agent for Tom Brady, Steph Curry or Mike Trout? Also, who gives a fuck but yet this is MMA where D list agents constantly get booked as guests on podcasts, radio shows and whatever the hell Ariel Helwani is doing on ESPN 8 The Ocho.
A huge part of Ali Abdelaziz's awkward celebrity status is the fact that for years the biggest, most powerful journalist in MMA, Ariel Helwani, booked him on his show week in and week out. Gave this guy a free megaphone to listen to the sound of his own voice and nod in approval. SMH.
Which all leads us to Ali accidentally tweeting as Edgar and the comedy it provides us.
Yup, 100% sounds like something Edgar would type out on his phone and then hit send; on Veteran's Day.
Uh huh.
Update: LOL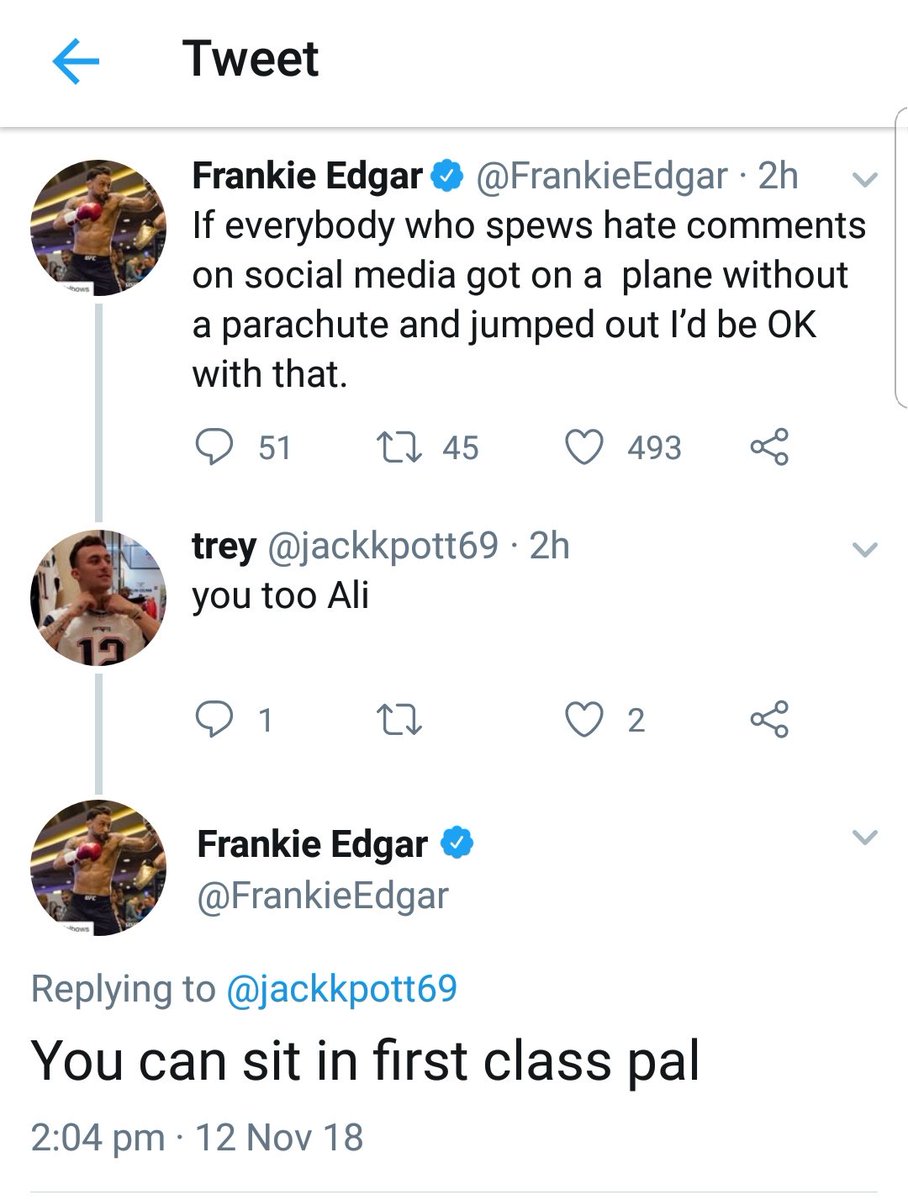 H/T to @JESnowden for the find. Check out his latest book project Shamrock: The World's Most Dangerous Man here.