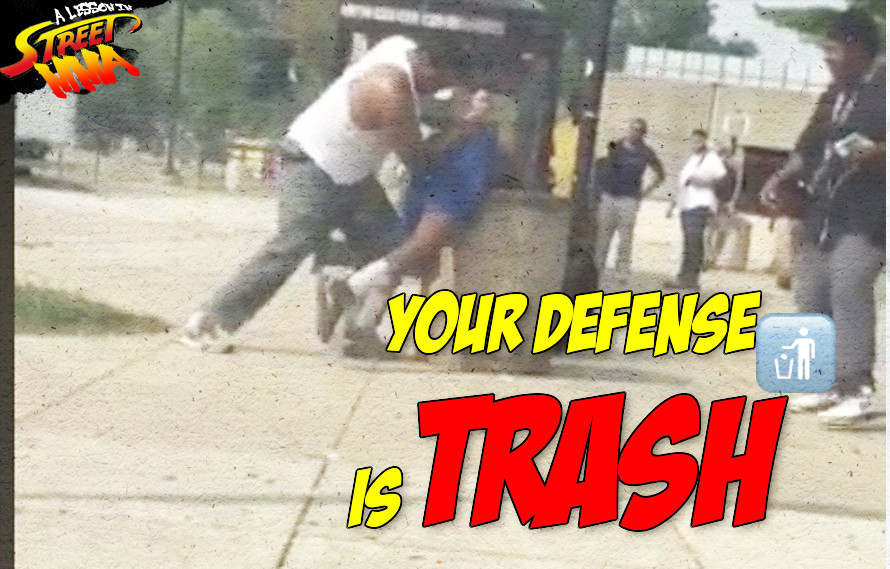 Your mom told you not to play in the trash. This lesson you learned when you were four years old, applies to Street MMA in 2019. So what is the lesson here?
Well for one if you're already taking a 'L' do whatever you can to not get tossed in a garbage can. Also if you walk into your Street MMA fight with a hype man in your crew, all your skill points increase tenfold.
This video picks up with our dude in blue already eating way too many punches in the clinch. Fight is all but over and then someone has the brilliant idea to throw blue man into the trash. Throw him in the trash can? You don't say?
MiddleEasy will allow it.
At one point in the video big dude in grey looks over to the person filming and has an out-of-body experience. The fourth wall almost gets broken. How did I get here? What am I doing with my life?
Time stops for a few moments and you almost think for a split second a grown man is not going to get tossed into a public garbage can.
https://twitter.com/30SecFights/status/1158931228432707585?s=20
Nope.
He really did go headfirst into that baby dumpster. Hopefully it was recently cleaned.
Our dude went full on Marty Jannetty straight through a barber shop window. The Internet is undefeated but if Sky Net really wants to run up the score, it needs to embed some Bobby "The Brain" Heenan audio onto this Street MMA incident.
"I knew that was going to happen. Guy in blue tried to dive into the trash can to escape."