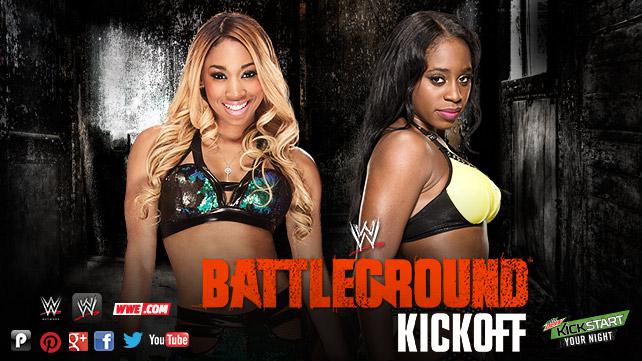 Tonight is yet another WWE PPV event, following in the monthly tradition that we've known for what feels like forever now. This is of course not a major WWE PPV, but some sort of transition and it kind of feels that way, but that doesn't mean that there isn't stuff worth watching tonight at WWE Battleground, because there is. The best part about WWE PPVs now is if they have a show like this you aren't hemming and hawing about spending your hard-earned money on what might be a disappointing show (which could also be tremendous and worth your money) because the WWE Network has you covered.
The show begins at 7:30pm Eastern time with the WWE Battleground pre-show on the WWE Network and the full event goes live at 8:00pm Eastern. Of course, you can still order this via PPV if you have to, but c'mon, the WWE Network is such a value.
Here's a breakdown of the card.
Cameron vs. Naomi
Let's be honest here, there are no expectations going into this one at all. This goes down on the pre-show and we expect copious amounts of talking over it and pondering if John Cena can walk away as WWE World Heavyweight Champion from such a caustic match.
Rusev vs. Jack Swagger
They turned Jack Swagger face to get a cheap heat USA vs. Russia feud going on, with the irony being that Jack Swagger and Zeb Coulter were given the Tea Party gimmick to be heels in the coasts and faces in the rest of the country, so I'm not even sure that it was much of a "face turn." People have been saying "We the People" with Coulter and kind of ignoring the weird racism and stuff for a while anyway. We can at least all agree that Russians are pure evil, though, right? Well, maybe not, but anyway. This is a hossfest and it's about hosses being hosses. I doubt Swagger gets the victory here if Big E wasn't going to be the guy to do it, but who knows?
WWE Tag Team Championship: The Usos vs. The Wyatt Family
This is 2/3 falls and we all have high expectations for this. The only problem with this match is the same problem that we've had with this feud for a while now; we've been seeing this forever. These guys have fought what seems like weekly for the past few months, sometimes on both Raw and Smackdown. The 2/3 falls stip is one of my favorite and has been for a very long time. I have faith that this will be good and that Luke Harper will steal the show, because doesn't he always?
20 Man Intercontinental Championship Battle Royal
I don't even know what to say about WWE's booking on mid-card championships right now. It's been atrocious for years now, like I'm talking 15+ years. It probably won't change anytime soon, or at least until they unify the United States and Intercontinental Championships, which unless Sheamus wins, won't be happening. God, maybe Sheamus does win and we end this horror right now? A part of me wants to say that Cesaro takes this because they've "cooled" on his push for now and are just waiting for there to be an opening and a need to have him as a major player. This almost doesn't matter at all.
Dean Ambrose vs. Seth Rollins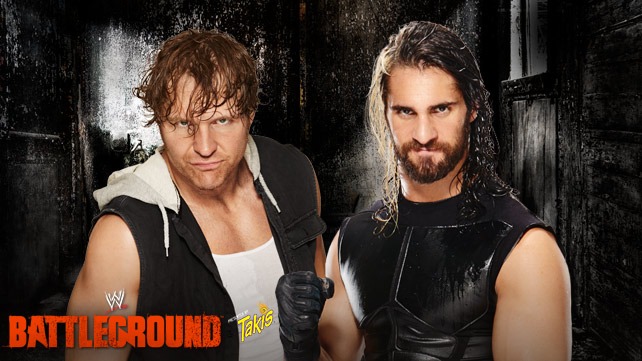 Here it is, your shining star of the show. The Seth Rollins injury was a work(R), meaning that everything is a go for this to be incredible. These guys are incredibly over with crowds right now, this feud is probably the closest thing that we have to a real, honest-to-god feud between a face and a heel and it felt like it almost didn't happen because the Seth Rollins heel turn was well over a month ago now. But then again, who cares? THIS IS HAPPENING. This is probably going to be the match of the show and if it isn't we'll all be disappointed.
Chris Jericho vs. Bray Wyatt
This has all of the makings on paper of being a good match, but it has been a rushed, sort of stilted feud that was slapped together at the last minute. Bray Wyatt is probably the best thing going in the WWE right now, character-wise, plus he needs a big win. He'll get a win over Jericho and this'll keep going until Jericho is back to not being in the WWE anymore. Bray Wyatt is going to be a guy that they aren't able to control the crowd reactions for, much like Daniel Bryan was, only I think that they would actively want to push Wyatt more than they'd actively want to push Bryan.
Divas Championship: AJ Lee vs. Paige
I feel like if given the proper time these two could put on a really good match with each other. This would be in a world where Kevin Dunn wasn't involved with Vince cackling like a madman in the back (we just assume that he does that, don't you?), though. That isn't our world right now. This is going in the piss break(R) spot and will disappoint us, even though it should be great. It could be great.
WWE World Heavyweight Championship: John Cena vs. Kane vs. Randy Orton vs. Roman Reigns
I've never been much of a fan of cluster matches, but maybe that's just me and everyone likes them? They usually feel like matches where they have too many guys in play and need someone to take the fall and look bad and it's usually clear from the offset who that is going to be. Kane barely belongs in the equation at this point, so your obvious fall person is probably Kane, although it's entirely possible that Kane hits Orton and lets him get pinned and we have heel dissention(R). What's clear is that Roman Reigns probably isn't getting pinned, and if he is, it's going to be the opposite of clean and will take something huge to put him down. John Cena is also walking out of this the champion.