Let me make this abundantly clear, there isn't a single person in the UFC that can stop Jon Jones in any weight division, and it's not because of his eye pokes. Jon Jones is a very visceral fighter and regardless of if his opponents put eight weeks of diligent training in, Bones already won. In fact he won when his opponent signed the UFC contract and saw the name 'Jonathan Dwight Jones' on the front page. Much like how Fedor dominated the Pride FC heavyweight division, mostly for his supreme fighting prowess, but in some part the aura he exuded before stepping in the ring hampered the game plan on every opponent he faced in Pride FC. The same can be applied to Jon Jones.
It goes without saying that his freakish physique and 84.5″ reach also contributes to his iron reign of the light heavyweight division (and realistically any other division he chooses to step into). Although Alexander Gustafsson did come close in his first encounter with the champion, I can't imagine a scenario in which he beats him in the rematch which is rumored to go down in Sweden some time this year. As far as Daniel Cormier, Jones is entirely too smart to let him close the distance. If Glover had 25 minutes to land his hardest punch on Jones (a guy that John Hackleman said hit harder than Chuck Liddell) and was still systematically ripped apart by Jones, Cormier will have a damn near impossible time striking or even taking down the champion.
Jon Jones is a supreme human being, but the friggin' dude simply can't stop poking people in the eyes.
It's an attribute of his fight game that most MMA fans criticize him over, so we thought it would be appropriate to make a list of The Top Ten Jon Jones Eye Pokes in UFC History. Big thanks to all the respective .gif makers that made this happen.
10.) Jon Jones vs. Shogun Rua – UFC 128
Ah, March 19th 2011, the night Jon Jones became the youngest UFC light heavyweight champion, and the night when everyone made snarky comments about Pride FC dying. Damn all your jokes, Pride FC never dies — it's a persistent state of mind. However check out this series of eye pokes from the contender in the second round.
9.) Jon Jones vs. Rampage Jackson – UFC 135
I remember everyone in the media giving Rampage a 'puncher's chance' in Jon Jones' first title defense, but not much more. Rampage Jackson is only one of five fighters to ever take Jon Jones past the 3rd round, which in a perfect world has to count for something. Check out these deadly fingers Jones placed in Rampage's face as he was loading up to strike him in the 3rd round.
8.) Jon Jones vs. Lyoto Machida – UFC 128
After those first five minutes at UFC 128, it was unanimous that Jon Jones lost his first round in his short MMA career. It was stunning, and probably made a lot of Las Vegas bookies sweat in their smoke-filled rooms filled with money. Check out this eye poke from the champion from that first round.
7.) Jon Jones vs. Alexander Gustafsson – UFC 165
Our first .gif from the Alexander Gustafsson fight, and my god what a great fight that was. Aside from Lyoto, Alexander was the first guy to really give Jon Jones legit trouble during a bout. People thought he was the one to dethrone the champion, but after twenty-five grueling minutes, he (along with Jones) was just another disfigured victim to the belt. Check out this eye poke that happened earlier on at UFC 165.
6.) Jon Jones vs. Rashad Evans – UFC 145
I remember Bobby Razak and I in the lobby of a hotel in London streaming this fight on the internet. Streaming from UFC.tv, obviously. We don't advocate piracy on MiddleEasy. We also don't advocate these eye pokes Jon Jones pulled off against Rashad Evans in the third round.
5.) Jon Jones vs. Alexander Gustafsson – UFC 163
The old finger in the eye approach, when it comes to Gustafsson. It's as if Jon Jones wants to make his fingers socialites and introduce him to a party on Alexander Gustafsson's orbitals. Even Big John McCarthy seems to take note of the eye pokes, but for only a brief moment.
4.) Jon Jones vs. Shogun Rua – UFC 128
Not only did Jon Jones have top control in the first round of the main event at UFC 128, but he also wanted to show Shogun just how amazing the inside of his palm looks when viewed from a mat. Jon Jones' right thumb seems as if its prying open Rua's eye lid.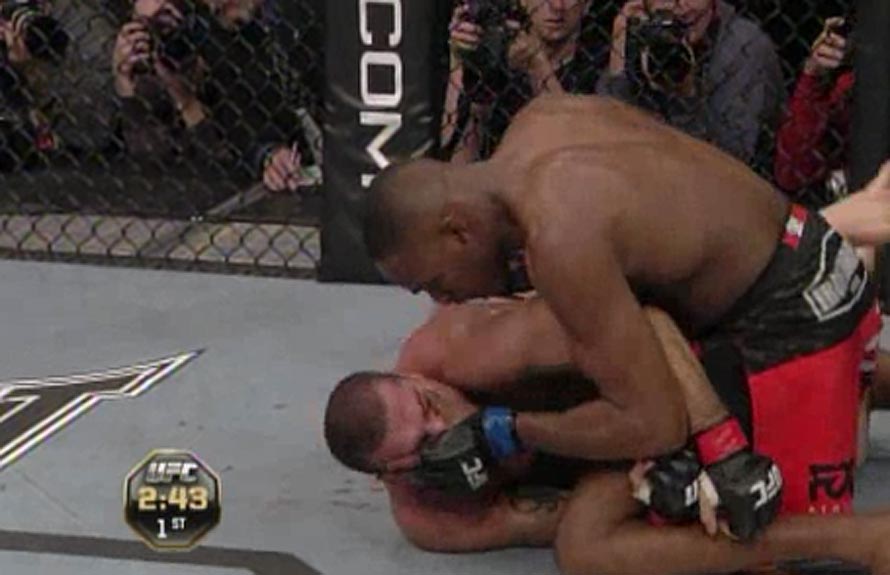 3.) Jon Jones vs. Alexander Gustafsson – UFC 163
Our third and final .gif from Jon Jones vs. Alexander Gustafsson at UFC 163, which should tell all of you something about how difficult this bout truly was for the champion. It seems like Jones wants to keep his distance, but the threat of an eye poke is difficult to overcome, even for the most seasoned challenger. You can even see Alexander wipe his eye and Big John running in there to give Jones a warning.
2.) Jon Jones vs. Rampage Jackson – UFC 135
Even Rampage thinks the extended fingers and eye pokes are rather ridiculous. Oh, look at that, a Josh Rosenthal sighting. We should collectively form some petition to get that dude out of jail — so he can let these eye pokes slide, like this one from Jon Jones at UFC 135.
1.) Jon Jones vs. Glover Teixeira – UFC 172
So you remember that time when Jones shoved his fingers so deep into Teixeira's face that his pinky basically went inside his skull. Seriously, take a look at that .gif again — you can almost pin point the moment when Jones' pink disappears into Glover's head. Wow, just wow.