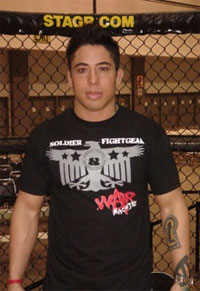 War Machine, if you're going to drop out of your fight at Wild Bill's Fight Night because of a staph infection, at least take a picture of it. If it's anything like Kevin Randleman's 'Two-Hole surprise', Forest Griffin's 'Knee of Doom', Drew McFedries 'Crater of Love' or Mayhem Miller's 'Neck Quato' then it deserves it's very own pictorial. At least you would have evidence just in case David Oblas, the president of Wild Bill's Fight Night, decides to press release that you're a no-show for tomorrow's event. Oh damn, he already did it? Well then…check out the press release from Wild Bill's Fight Night in regards to their main event card that featured War Machine
While social media is gaining more popularity every day, the staff at Wild Bill's Fight Night in Duluth, GA would like to take this time to let MMA fighter War Machine know it's still common courtesy to PICK UP A DAMN PHONE when no showing for work! Finding out via someone's Twitter page is definitely not the proper way to pull out of a job assignment!

War Machine signed a contract on March 9 to headline this Saturday night's Wild Bill's Fight Night. In the five weeks since signing the contract War Machine has gone on to offer his kidney, liver and sperm up for sale on Ebay. He's stated on his Twitter page how he's turning his life around and how he is attending church. Changing his Twitter page to state "'I'm a warrior. Made a lot of mistakes but that's life. I learned from them and now I'm gonna climb to the top!"

Soon after he was arrested in a San Diego club and got a spit bag put on his head and received worldwide exposure on TMZ.com.

Now the icing on the cake for this MMA fighter turned porn star turned no-show MMA fighter is a pure refusal to call, text or email the promoters for Wild Bill's Fight Night, but instead post on his Twitter account how he's got a staph infection and won't be showing up for the fight.
After Wild Bill's Fight Night, Cat Von C planned to get a live post-fight interview in Atlanta, Georgia but now that the fight has been pulled from the event, she'll probably do more entertaining things with her Saturday evening like…continue to build that shrine she has in her living room of Damarques Johnson. [Source]