Here's comes the money. A year removed from Ronda Rousey making a surprise appearance at WrestleMania, how close was Conor McGregor from head kicking a pro wrestler over the top rope at WrestleMania 32? Closer than you think.
Not only did McGregor start following three different WWE executives over the weekend (and WWE lass kicker Becky Lynch) on Twitter but reputable overseas betting establishments were taking props bets on if the current UFC featherweight champion would have his WrestleMania moment. Also pop over to McGregor's "Likes" and you will see the Irishman liking some WWE related tweets.
@TheNotoriousMMA
Conor you just cost me a fiver fella!! 🙈 pic.twitter.com/SMDWzsS2pM

— Jeffro (@JabHookNQPR) April 3, 2016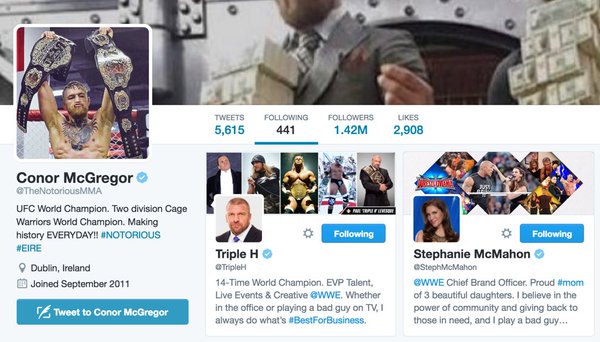 Something sparked McGregor's current Twitter interest in the WWE but what was it?
The Monday Night Raw after WrestleMania is reserved for some of the company's biggest surprises over the past several years, would a surprise appearance from the best MMA promo man in the sport once again blur the lines between sports and entertainment? McGregor by moonsault may be coming to a TV near you.
I am not at Wrestlemania. I'm in me gaf.

— Conor McGregor (@TheNotoriousMMA) April 3, 2016
Or am I…?

— Conor McGregor (@TheNotoriousMMA) April 3, 2016