If the rumors flowing out of Ireland today are anything to go by, well known UFC lightweight champ Conor "Notorious" McGregor may be in a spot of bother with the Irish Kinahan cartel after having hit a senior associate in a south Dublin pub.
It is claimed that a man in his fifties who is very well connected to a convicted drug dealer, thirty-five-year-old Graham "The Wig" Whelan, was knocked. Whelan is believed to have accumulated a fortune by allegedly running guns and drugs throughout England and Ireland.
Gardai Ireland police today said they are aware of allegations UFC champ Conor McGregor was involved in a brawl in a pub in Dublin.
Notorious was then removed from the pub and quickly driven away. Gardai (police) have not begun investigating the incident as no complaint has been registered at this time.
Britain's MailOnline reports:
"There is no report on this matter and no complaint from any injured parties, patrons of the pub or the pub itself and no statements were taken," a source within Gardai said.
This incident is believed to be related to another instance of attack McGregor committed earlier this month, possibly being his storming of the cage at the Bellator 187 event where he shoves the referee and slapped an official.
Some people who witness took to social media to describe how the MMA star was involved in a melee with three men in The Black Forge in the capital's Crumlin suburb.
Screenshots of Conor McGregor allegedly in the pub have made the rounds on Irish social media, with some messengers alleging that Notorious must pay Graham "The Wig" Whelan a sum of nine hundred thousand euros or face being shot by the gangster.
Another post from a different individual stated: "I've lost all respect for McGregor after tonight."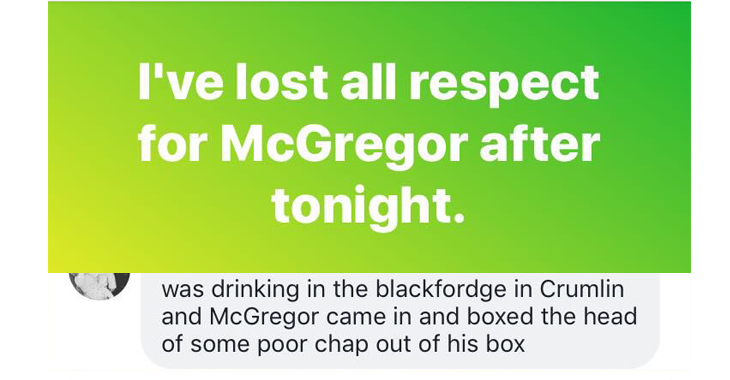 What are your thoughts on the alleged rumor involving Notorious?