Do you remember where you were when Amanda Nunes ended the chin of Cris Cyborg? Joe Rogan does and we have the receipts.
A few days later and we're still kind of shook from it all. Not only did Amanda Nunes kill the aura of Cyborg, she burned it and spread the ashes of it somewhere in the middle of the Pacific ocean.
Cyborg's reign of terror is over and she can never get it back. This is some off brand, James Cameron director's cut ending to The Terminator kind of fight result. Somebody finally beat the machine, saved our future and we're going to miss it all.
Sure, Cyborg crushed a ton of cans in her day and never fought anyone the same size as her, but she was a star in a sport where stars are getting harder to find. Cyborg had a gimmick and Nunes crushed it in her bare hands.
What is the correct way to react to this moment in MMA history? We're not sure but we are 99% sure every single one of us made this Joe Rogan face when Nunes smoked Cyborg.
https://twitter.com/barstooltweetss/status/1079239761645264897
Joe Rogan is me during that Cyborg vs Nunes fight pic.twitter.com/pe7Gyty7Bd

— topanga hass (@schmidtsfeet) December 30, 2018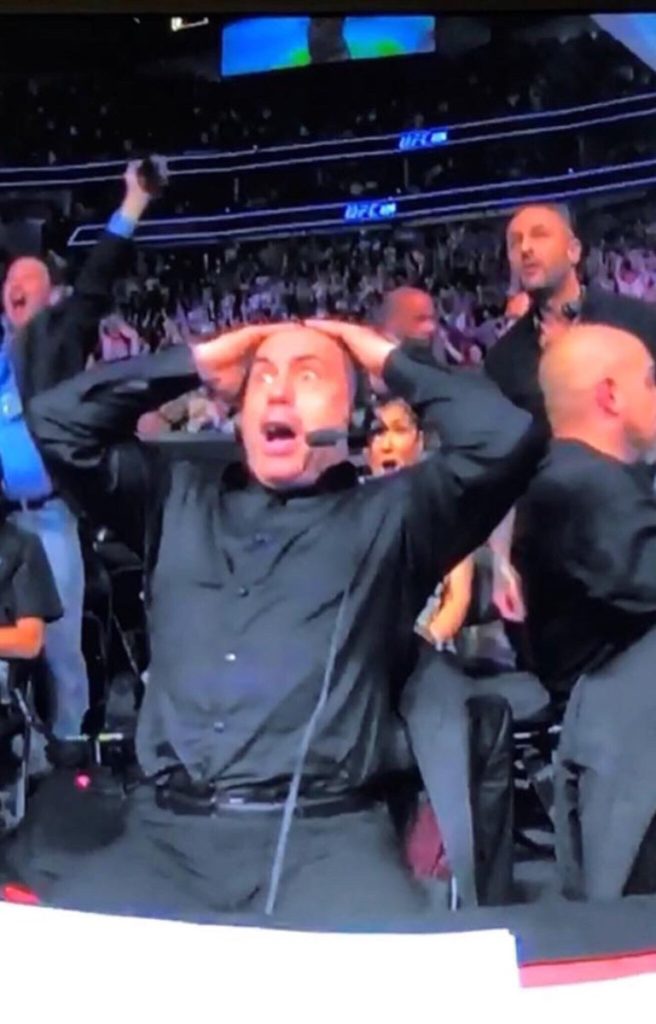 Yup.
That covers it. All of it.
The guts and confidence of Nunes to stand in the pocket and go strike for strike with Cyborg is something else. You just beat the baddest woman on the planet at her own game. Then Nunes dunked on her to cap it all off. Nothing but respect for our president Amanda Nunes and her new chief of staff Mr. Joe Rogan.
Bonus: Rogan's perspective from cage side during the main card and it includes his post-fight reaction to UFC 232's co-main event.