Israel Adesanya Wins Anderson Silva, Amazing Performance On Both Sides, It Was One Hell Of A Fun Fight!
UFC 234 PPV (pay-per-view) is happening live tonight (Saturday, February 9, 2019) from inside Rod Laver Arena in Melbourne, Victoria, Australia.
The main event of the evening brings the 185-pound clash between two amazing strikers-the former UFC Middleweight king Anderson Silva and an undefeated Nigerian-born New Zealander Israel Adesanya. The referee is Herb Dean. Here we go.
Round 1
Adesanya moves around and feints early on. And now Adesanya switches stance. Left low kick "The Last Stylebender".
"Spider" moves around too, both fighters very cautious. The left low kick missed by Adesanya. And now again low kick from the Nigerian. Silva returns the low kick.
Adesanya misses with a head kick. Silva can't land a right hook, good block by Israel. Straight right Adesanya. Right-hand miss from "The Last Stylebender". Silva chases Adesanya but eats a quick right hand. It looks like Silva is a bit rocked.
Now Adesanya going forward and delivers a right knee. Low kick Adesanya. Silva misses. Silva lands a big right hand.
Herb Dean stops the fight but restarts it immediately.
Silva misses with a punch combo, eats a right hand.
Again right hand landed by Adesanya.
Wow, a spinning heel kick to the legs by "Spider". Great move.
Adesanya returns with a left low kick.
High kick just missed. Silva presses Adesanya and misses a tornado kick to the head. Great move. Wow, left high kick misses by Adesanya, Silva ducks like a pro!
Adesanya challenges him to go forward, the end of the round. 10-9 Adesanya.
Round 2
Wow, what a Taekwondo kick by Silva, great crescent! And now an amazing exchange on both sides.
Adesanya feints, Silva lands a left oblique kick. Right low kick by Silva misses, Adesanya lands a good kick to the legs. Two punches delivered by Adesanya.
Left low kick Israel. Wow, amazing left spinning back kick Silva, Adesanya defends and lands a left hand, and now Adesanya misses again with a left high kick! 1-2 punch combo Silva, fighters clinched up, but Adesanya escapes and lands a low kick.
Strong low kick Adesanya, followed by a big right hand. Silva blocks an oblique kick, now fighters are clinched up, but Israel escapes.
Silva misses a right hook. Great counter by Anderson! Front kick miss Adesanya! Left low kick Adesanya, Silva attacks and fighters clinch up. Oblique kick Anderson Silva, great match, Silva misses a spinning heel kick to the thigh, the end of the round. 10-9 Adesanya.
Round 3
Silva goes forward, eats a front kick. Low kick Israel. Left straight from Adesanya, Herb Dean warns Israel and the match continues.
Wow, it was a good low kick by Israel. Adesanya goes down, gets up, Silva tries flying knee but his the fence. Israel with a right high kick. Israel can't land left high kick too, good block by Anderson.
Silva challenges Israel to fight. Good crescent kick to the body Silva. Silva switches stance now!
Now Adesanya pulls back, and both fighters are in the center of the cage. Front kick to the body Israel. Low kick checked. Adesanya hits Silva to the arm again, no point here. Big left hand by Israel!
Silva can't hit its mark again, good block by the Nigerian. Right hook missed by Silva. Again excellent block by Silva. Left low kick Israel, but no damage.
Adesanya grabbed Silva's arm. Israel goes for the right high kick, blocked. Adesanya lands a few quick punches. Good counter by "Spider". Adesanya feints a tornado kick, Silva tried spinning heel kick to the head but missed. Adesanya tries a spinning back fist, and the match is finished. This round was even!
 Final Result: Israel Adesanya wins Anderson Silva via unanimous decision (29-28,30-27,30-27)
 Israel Adesanya improves his score to 16-0 MMA, 5-0 UFC, Anderson Silva drops to 34-9, 1 NC MMA, 17-5, 1 NC UFC.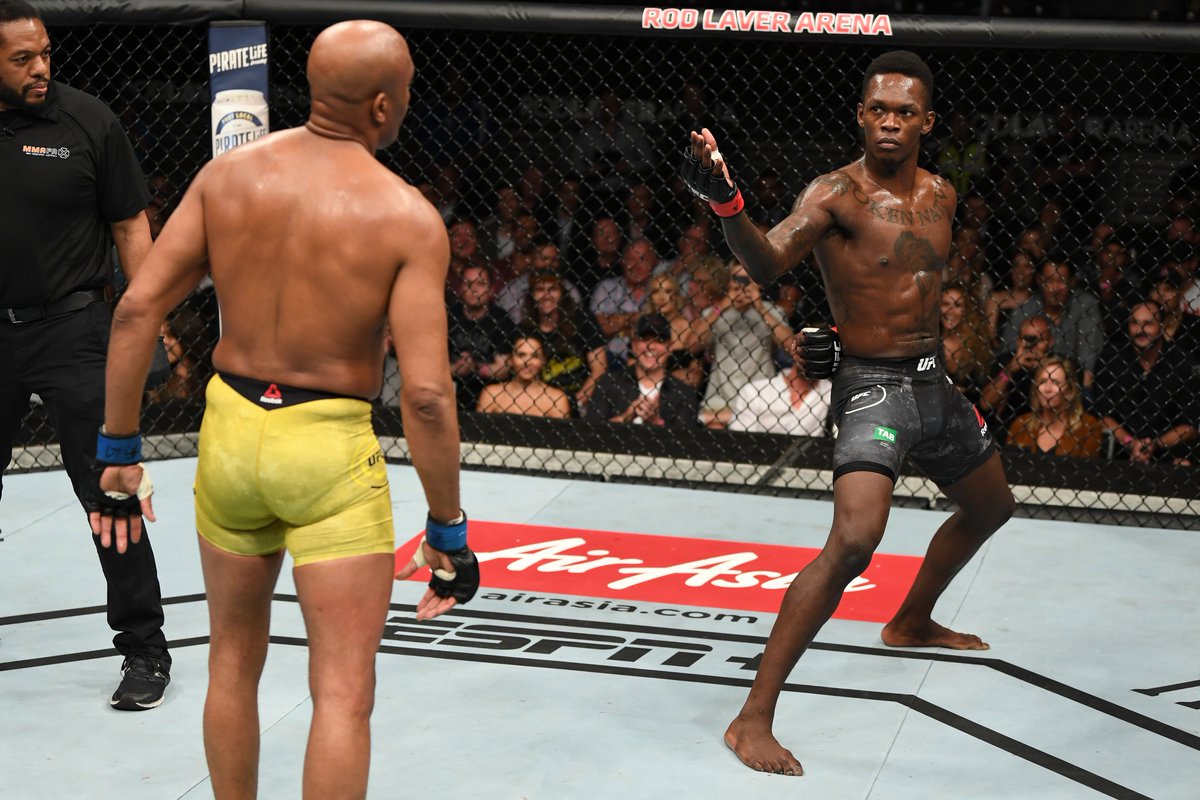 Check out the highlights below:
That hurt him!

We're off and running in round one! #UFC234 pic.twitter.com/JSqNP6g4pT

— UFC (@ufc) February 10, 2019
The Spider is DEFINITELY back. #UFC234 pic.twitter.com/0ssCHrAGGZ

— UFC (@ufc) February 10, 2019
TROLL MEETS TROLL! #UFC234 pic.twitter.com/6ytDccIpC2

— UFC (@ufc) February 10, 2019
👇 👇 👇 #UFC234 pic.twitter.com/tVlYKn6UpM

— UFC (@ufc) February 10, 2019
Anything you can do, I can do. #UFC234 pic.twitter.com/GLBAPF4uG5

— UFC (@ufc) February 10, 2019
A moment in time 🙏 #UFC234 pic.twitter.com/rcAH3WafhK

— UFC (@ufc) February 10, 2019
"You're the best. Thank you for everything." #UFC234 pic.twitter.com/OU5Bz3huA9

— UFC (@ufc) February 10, 2019
THE LAST STYLEBENDER! #UFC234 pic.twitter.com/glj6spEzgO

— UFC (@ufc) February 10, 2019
What a moment.

What a night. #UFC234 pic.twitter.com/gZdsKysmF6

— UFC (@ufc) February 10, 2019
Chills.

When idols become rivals. #UFC234 pic.twitter.com/ck4YW0S1HD

— UFC (@ufc) February 10, 2019
Pros-reaction:
Superb. 👏🏼🙏🏼 #UFC234 #UFCMelbourne

— Dan Hardy (@danhardymma) February 10, 2019
I keep catching myself holding my breath during this fight. Anderson still has that effect on me after all these years. #ufc234

— Michael Chiesa (@MikeMav22) February 10, 2019
Omgggg I love @stylebender so much!! And his Rock Lee impressions!!! #ufc #otaku

— Roxanne Modafferi (@Roxyfighter) February 10, 2019
It's gotta be one RD a piece right?? #UFC234

— Aljamain Sterling (@funkmasterMMA) February 10, 2019
1-1 #UFC234

— The Diamond (@DustinPoirier) February 10, 2019
1-1. Awesome fight. Glad it's shaping up this way. Adesayna be Silva #ufc234

— Scott "Hot Sauce" Holtzman (@HotSauceHoltzy) February 10, 2019
Man thank you guys for the fight 🙇 @SpiderAnderson @stylebender

— Platinum Mike Perry (@PlatinumPerry) February 10, 2019
WHAT A FIGHT! #UFC234

— UFC (@ufc) February 10, 2019
— UFC (@ufc) February 10, 2019
Team @SpiderAnderson Heeeey!

— CrisCyborg.Com (@criscyborg) February 10, 2019
Always fun watch @SpiderAnderson compete, Adrenalin pumping everytime he fights.

— Rafael dos Anjos (@RdosAnjosMMA) February 10, 2019