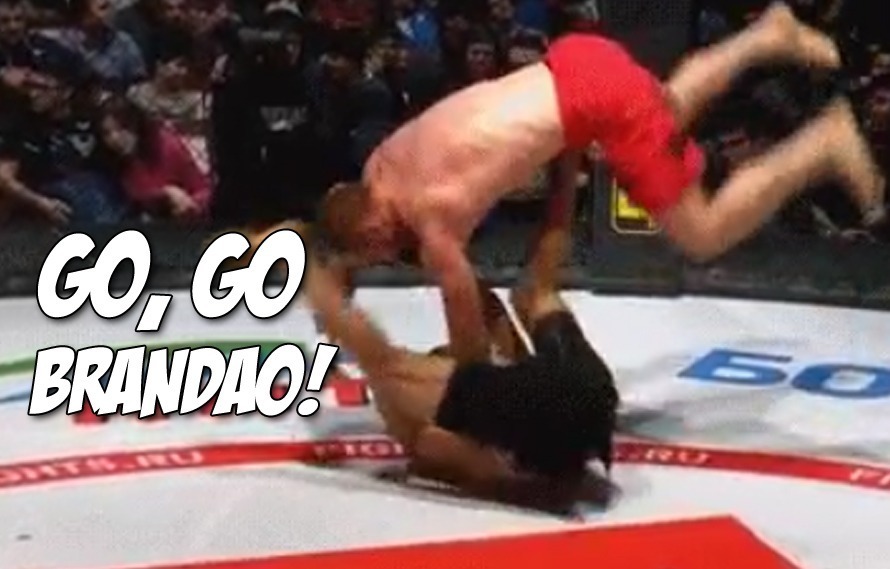 Diego Brandao is trapped in Russia. No, for real. He has no passport now, he can't travel to Brazil and Donald Trump probably probably wouldn't let him back into the US anyway. With that on his back, Brandao had nothing else to lose but his fight at Eurasia Fight Night 58. So, he made the best out of it in full UFC Reebok Fight Kit.
Brandao rocking the UFC Reebok shorts in Russia #EFN58 pic.twitter.com/lKvw2HBwaf

— caposa (@Grabaka_Hitman) January 28, 2017
It's a not-so-subtle message that he wants back into the UFC. His win? Even less subtle. Check out this picture-perfect, helicopter armbar that Brandao landed on Murad Machaev in the second round. It's gorgeous. Art even.
Diego Brandao submits Murad Machaev via helicopter armbar pic.twitter.com/PukG6tWlRm

— Streetfight Bancho (@streetfitebanch) January 28, 2017
You have to wonder just what the hell is next for him. Another EFN fight? Could he get back into the UFC with some wins? Right now though, he probably just needs a couch to crash on.
DOES ANYONE HAVE SOME PLACE FOR ME TO STAY pic.twitter.com/4Pi4bO3dGy

— caposa (@Grabaka_Hitman) January 28, 2017