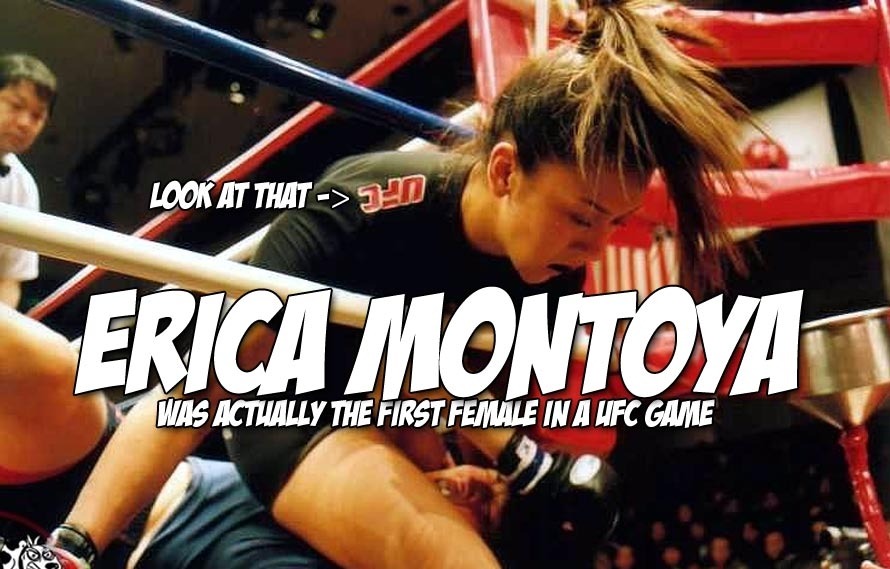 This morning EA Sports press released that their upcoming EA UFC game will be the first UFC game to feature female fighters. As incredibly marketable as this statement is, it's just not true.
Hop in the time machine and let's go back to April 21st 2004, the release date of UFC Sudden Impact, the fourth UFC game release for consoles. It had that really bizarre picture of Phil Baroni shoving a guy's head into his thigh, which almost makes you believe the game should be called 'Awkward Head Pull' instead.
The game received mild reviews; it was dubbed essentially a carbon copy of its previous incarnation. However one notable difference is that it featured lightweight female fighter, Erica Montoya.
Look at that, Montoya fighting Tim Sylvia — seems fair. Despite only coming in at 120 lbs, they considered her a lightweight fighter in the UFC Sudden Impact roster.
What most MMA fans don't know is that a bout between Erica Montoya and the late Shelby Walker was actually slated for UFC 51. When UFC Sudden Impact was being developed, Montoya was undefeated and had a signature armbar (remind you of anyone?) that she used to defeat three consecutive opponents. Producer Kaoru Koda of Take 2 Licensing even commenting on Montoya's armbar just before the game was launched.
Yes, it's true! This time we've brought Erica Montoya into the game. She is a real, undefeated, female Mixed Martial Arts fighter and she ranks at the top of the 120-125 lbs fighters in the world. She was the Brazilian Jiu-Jitsu World Champion in 2001. She knows her stuff and her character in the game proves it. My personal favorite is her virtually inescapable flying armbar that will even take down the likes of Tim Sylvia, when used properly.
Erica Montoya's last fight was in 2005 against Megumi Fujii in which she lost via unanimous decision.
There you have it. Don't believe the revisionist history laid out in the EA Sports/UFC press release. Erica Montoya was the first female fighter featured in a UFC game. Check out this video of her and Chuck Liddell scrapping in the game.