Do you want to boost your confidence, respect, and self-pride? One of the best ways of doing this is by learning taekwondo. Taekwondo is a respected physical fitness martial art that helps develop strength in mind and self-defense.
The best way to become a taekwondo master is to find the best taekwondo school with experienced instructors ready to transform you into champions. However, finding the best martial arts school can be daunting; that's why we are here to help.
This comprehensive guide outlines the 12 best taekwondo schools around the globe, their achievements, and why they deserve to be called the best.
Ready to choose your next taekwondo school? Let's go.
Top Taekwondo Schools:
1. JH Kim Taekwondo Institute
The first on the list is JH Kim Taekwondo Institute, located in Boston, U.S.A. This prestigious institution was established in 1974 by Kim Jae Hun, the Grand Master. He's an alumnus of M.I.T. and an authority in Taekwondo.
Jae Hun settled and started studying in Boston in 1971. After that, he began teaching Taekwondo at M.I.T and other local universities.
Train With the Best Martial Artist
His teaching of taekwondo lessons was different as he brought his vast experience from the east, where he learned taekwondo master-level techniques. With the knowledge from the western universities, he gained confidence and a boost in his unique training style.
As he gained more popularity, the student numbers increased. Kim Jae Hun decided to open the institute on 15th July 1974 to serve the increasing number of taekwondo enthusiasts.
The founder's experience is a significant contributor that has made the school a great institution and one of the best in the business.
The Global Presence and Unique Approach
JH Kim Taekwondo Institute has several branches in the USA, and its presence is also in various countries, including Ireland, Singapore, China, and Korea. Its good reputation has made it grow a more extensive global network.
The institute's analytical approach is an integral part of its curriculum. Students are encouraged to learn the techniques, understand why they work, and why results turn in a particular way. Making the students the best and discussing technical issues helps them better understand concepts.
Students have options of specialization in particular areas of Taekwondo. The exciting options such as sparring, demonstration, and pattern are among the favorites.
This specialization prepares the athletes to pursue the sport in more significant competitions like the Olympics. However, learning the entire system is mandatory to understand Taekwondo completely.
2. World Taekwondo Academy
The World Taekwondo Academy is in Minneapolis, Minnesota, U.S.A. The founder is Grandmaster Byung Yul Lee, who established the institution in 1969. He did an excellent job as his legacy lives through his students who have succeeded in life to become sports champions.
Academy's Achievements
Some of his students are respectable instructors at the Academy. Others have participated as Olympic coaches, National champions in the U.S.A., and Pan-Am champions.
World Taekwondo Academy has a reputation for producing quality martial artists for over 50 years, giving it an edge over the rest. It's one of the world-class and oldest Taekwondo schools in the U.S.A.
The Academy holds the prestigious title of the country's number 1 Taekwondo club, awarded by the USA Taekwondo in 2009 and 2010.
They have 7 generation holders of Taekwondo black belts.
The Academy's track record is excellent. Their Taekwondo program prepares its students to be confident and empowered.
The institution is big on discipline and respect. They provide a fun and safe learning environment for everyone to thrive.
The Academy offers two weeks trial course, and they provide uniforms at the beginning of the system. What's more interesting is that you don't have to physically attend the classes, as they also offer online classes.
You can enroll all your loved ones in this reputable school as they have classes for adults, teens, and children above the age of 3. They have a plethora of programs, including Jiu-jitsu and cardio kickboxing.
3. The American Dragon Martial Arts Academies
Third on the list is the American Dragon Martial Arts Academies, whose headquarters are in Ocoee, Central Florida. If you aren't in Florida, you can gain expertise in Taekwondo by enrolling in this school's branches in Texas, Georgia, or North Carolina.
The founder is the legendary Grand Master Richard Hackworth, who has numerous achievements in the martial arts arena. He has reached the top ranks of Taekwondo, Hapkido, and YuSool.
Besides being a grand master, Richard has earned the martial arts Hall-of-Fame inductions seven times. The grand master's influence on his students is global. His positive impact on thousands of students leaves valuable techniques that make the students successful in martial arts.
If you are looking for the best Taekwondo schools, consider joining the American Dragon Martial Arts Academies. The institution boasts unique teaching methods and techniques approved by the World Taekwondo Headquarters in Korea.
Furthermore, they have qualified instructors, including grandmasters and masters, ready to share their knowledge and experience to turn you into a champion. They guarantee the best experience and are cost-effective. The American Dragon Martial Arts Academy has a rich history of excellence, and you can become part of it.
4. G.B. Taekwondo School
The National Taekwondo Center of Great Britain is the new kid on the block, established in 2002 in Manchester, United Kingdom. Despite being the latest entrant to the martial arts field, it prides itself in training elite British Taekwondo athletes. Their students represent the school in the World and European Championships, Olympics, and Paralympics.
The expertise at the school is top-notch, and here, you are confident of success. Britain, as a country, trusts the school to prepare their athletes for international competition, which is a testament to how good the institution is.
Producing world-class students earns the school the best academy title. For this reason, consider G.B. Taekwondo when looking for a reputable martial arts institution. They hold several events annually to prepare fully-fledged athletes for major international competitions like the Olympics.
The school is unique because the British government funds it entirely. Therefore, it's open to the public with a primary goal to help create world-class champions and Olympic-ready athletes.
This institution hosts an annual recruitment process where British citizens aged between 13 to 18 can apply to enroll in the G.B Taekwondo Development Programme. Qualified candidates must have a martial arts background and sparring experience.
5. Cho's Taekwondo Center
When looking for the best Taekwondo school in Hawaii, consider the Hee IL Cho's Taekwondo Center. Located in the Capital of Honolulu, it's relatively new. It was founded in 2003 by the 9th Degree Grandmaster Cho, who has a vast experience in Taekwondo of over 60 years as a student and instructor.
The center's quality is evident in the students who have been through their programs. The school promotes peaceful coexistence. Integrity, harmony, honor, goodwill, and self-discipline are qualities that steer the students towards success.
The Academy's foundation is on life's physical, spiritual, strength training, and intellectual values. It's open to men, women, and children, and no discrimination against race.
The founder's fame gives it credibility as Master Cho is a famous kung fu action movie star of the 80s and 90s. He has also authored 11 books and about 70 videos on martial arts. This master has also appeared in numerous martial arts magazines and has membership in the Black Belt Hall of Fame.
Hee Il Cho, a grandmaster, also formed the Action International Martial Arts Association (A.I.M.A.A.). The organization helps nurture other martial arts schools to prosperity. It gives them a start to thrive and share the strong values which are unifying factors of martial arts.
Hee Il Cho's Taekwondo Center in Honolulu, Hawaii, also regularly hosts international martial arts members and serves as the global headquarters of the A.I.M.A.A.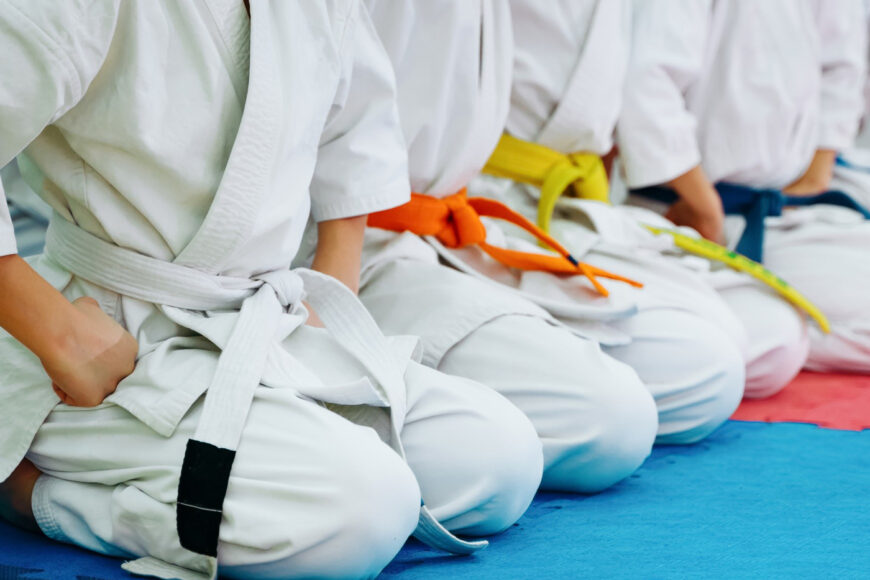 6. International Taekwondo Center
Africa is also at the forefront of martial arts, and Egypt boasts a state-of-the-art International Taekwondo Center. Located in the capital city Cairo, it's strategic and accessible. 2020 saw Egypt produce two Olympic athletes from the institution and win medals.
The Egyptian government fully funds the center. Its quality training at the facility earns the center a place in Taekwondo's top ranked learning institutions.
7. Kyung Hee Taekwondo School
Kyung Hee Taekwondo Singapore is a center authorized by Kyung Hee University Taekwondo Union, a world-leading university.
The institution has produced many players and masters of the Korean National Team and Olympic medalists in Asia. The instructors get their coaching from the Master Eom with a high-quality syllabus. This extensive syllabus guarantees you quality service and education regardless of your enrollment branch.
Instructors continuously improve to keep up with the changing martial arts world. The school provides different introduction and training services. Grandmaster, the 8th Dan Eom Seong Soo, who heads the school, prides himself on excellent credentials.
Head's Accolades
He won several awards and certificates, such as:
The Taekwondo Judgement Certification from the Korean Taekwondo Association
The Taekwondo World Federation Master Awards
Best Leader by the Kyung Gi Do Taekwondo Association in Korea
Taekwondo Leader of Kyung Gi certification by the Ministry of Culture and Sports in Korea
He guarantees that all the instructors are professionals who offer quality Taekwondo instruction, with him as the head. The school has branches in Bukit Timah, Jurong East, and Orchard Forum.
8. World Class Tae Kwon Do
The school is in San Jose, California, U.S.A., with five branches in Willow Glen, Cambrian, Los Gatos, Almaden, and Campbell. The founder of World Class Taekwondo is Grandmaster Sun Ki Chong, a three-time Korean National Champion and the former U.S.A. Team Coach.
The instructors at the institution are passionate and very supportive of the students. They have national certification, which helps them give the proper physical fitness to the trainees.
You can join this school for the best martial arts training to acquire independence as a martial artist, both mentally and physically.
9. I.N.S.E.P. France Institute
In France, the National Institute of Sport, Expertise, and Performance (I.N.S.E.P.) was established in 1945. It's a public institution, and the Ministry of Sports runs it.
The institution benchmarks the elite athletes between 14 and 18 yrs in Olympic and Paralympic training centers. Its unique modern infrastructure provides excellent sporting performance for elite athletes and adult classes in all sporting fields.
What The School Offers:
The institute offers individualized taekwondo classes, training programs, innovative support, research, medical care, psychological support, and professional reorientation.
The institute is the home of French taekwondo champions.
French athletes who train at the I.N.S.E.P. have won eight Olympic medals (half of France's total) and most Taekwondo World Championship medals. With such excellence, the French Taekwondo team is thriving and has reserved its place among the top ten best institutes in the World.
N.S.E.P. is more focused on training elite athletes and does not hold a general admission similar to G.B. Taekwondo.
10.Kang's Taekwondo Academy
Academy's founder is Grand Master Johnny Kang and has its location in Brentwood/Antioch with a branch in Walnut Creek. The Academy emphasizes helping people develop wholistic, as martial arts is more than keeping fit and self-defense.
The Academy has expert martial arts staff who dedicate their time to giving you the best training experience. They motivate and advise on important aspects of martial arts to make you a better artist.
You improve every area of your life through effort, dedication, and practice. Additionally, You gain confidence and focus with determination; the program gives you unique skills and techniques to be a better martial artist.
The Kang's Taekwondo Academy values in the community promote togetherness, thus providing a conducive environment to network and bond with other artists.
11.The Kukkiwon World Taekwondo Academy
Kukkiwon in Seoul, South Korea, is the World's Taekwondo Headquarters. Kukkiwon established the World Taekwondo Academy in 1983 to train the students who would become masters and pass the Taekwondo teachings to future generations.
The Kukkiwon World Taekwondo Academy started in 1983, intending to have an all-inclusive philosophy. They emphasize physical aspects of the sport; the school values integrity. Emphasis is on the virtue of taekwondo spirit in national and social affairs.
With their spirit of inclusivity and care, the Academy came up with a master's program in education course for the disabled. The school has approximately 140,000 world leaders who carry Taekwondo's tradition today.
The school is one of the best world taekwondo academies to consider in Seoul, South Korea. Since it is the part of the World where martial arts began, the rich history makes it a reputable institution.
12. The Universal School of Martial Arts
The Universal School of Martial Arts is headquartered in Atlanta, Georgia. It was founded by Grand Master Gregory Glover. The school has lessons for martial arts enthusiasts who want to learn Taekwondo or Hapkido.
You can visit this school and try out their free trial lesson if you live around Georgia. You can later enroll or have your kids learn from this great master, who is also a part of the Team USA training team.
Frequently Asked Questions (FAQs)
Here are answers to three commonly asked questions about Taekwondo schools.
What's the best age to learn Taekwondo?
The best age to learn Taekwondo is five since children learn faster when young. Most children are ready to learn the initial Taekwondo techniques. At this tender age, they can start with introductory classes in a gym to lay the foundation and then work their way up in Taekwondo ranks.
Is Taekwondo better than karate?
It's hard to say which martial art is better since they have different approaches. If you want to learn more about a balanced, full-body workout, karate can be better. Taekwondo is better for those focused on learning fast and more complex kicking skills. You can take introductory classes on both and decide which suits you best.
What are some of the benefits of Taekwondo?
The benefits of Taekwondo include increasing stamina, boosting confidence, and improving leadership skills. You'll also become more flexible, earn more respect, tone your muscles, and manage weight.
Select From The Best
Choosing the right martial arts and the best school for you or your loved ones can be challenging. Luckily for you, this guide has analyzed the 12 best Taekwondo schools you can try.
What's next? Select the best martial arts school, enroll, and work your way up to become a master!