Khabib Nurmagomedov is one of the best ground and pound fighters in the history of MMA. The Dagestani superstar has serious chances of becoming the UFC Lightweight Champion. He has never been defeated in his MMA career!
Athlete Statistics
Full Name: Khabib Abdulmanapovich Nurmagomedov
Born Name
Nickname
Age & DOB
Khabib Abdulmanapovich Nurmagomedov
The Eagle
Khabib Nurmagomedov is currently 34 years old according to his date of birth September 20, 1988.
Fight Stats
Height
Weight
28 Wins // 0 Losses // 0 Draws
5 ft 10 in or 178 cm
156 lbs (71 kg)
Reach
Fighting Style
Association
70 inches (178 cm)
Sambo, Judo, Freestyle Wrestling, Kickboxing, Army Hand-To-Hand Combat
UFC
Team: American Kickboxing Academy
Nationality
Net Worth
Born Place
Russian
$70.000 (Approximately)
Sildi, Tsumadinsky District, Dagestan ASSR, Russian SFSR, Soviet Union
Profile
Khabib Nurmagomedov is a fighter who tries to take the fight to the ground since the opening. He constantly pressures the opponent. He is known for attractive wrestling takedowns, lightning fast hooks, and devastating knees.
Khabib Nurmagomedov is an International Master of Sport in Sambo, a black belt in Judo, International Master of Sports in Pankration, and International Master of Sports in Army hand-to-hand combat. He has awesome freestyle wrestling base, where he competed on a national level during childhood.
His strongest submissions are triangle choke and rear-naked choke. His specialty is taking the opponent down and delivering consecutive punches and elbows until the referee stops the fight. He is one of the best counterpunchers in the UFC Lightweight Division. He can also connect more than ten punches in a single combo with an ease!
The Road To The Top – Pankration Atrium Cup, M-1 Selection Challenge, Pro FC

Khabib Nurmagomedov made his MMA debut in CSFU: Champions League event, which was held on September 13, 2008, in Poltava, Ukraine. He defeated Vusal Bayramov in the first round via triangle choke.
During the year 2008, he competed in Pankration Atrium Cup in Moscow, Russia. The Eagle won, defeating all three opponents via unanimous decision.
In 2009, he won three matches, two via TKO punches. In the third match, he defeated Shahbulat Shamhalaev via armbar, winning M-1 Selection Challenge.
In 2010, he won Ali Bagov via unanimous decision and Vitaliy Ostroskiy via TKO. But during the year 2011, Khabib Nurmagomedov defeated seven opponents – three of them via triangle choke, one via kimura, and three via TKO. After scoring an amazing record of 16-0, he is invited by the UFC.
Khabib Nurmagomedov – UFC Career
Khabib Nurmagomedov had his UFC debut at UFC on FX 1, on January 20, 2012, in Nashville, Tennessee. He submitted Kamal Shalorus in the third round via rear naked choke.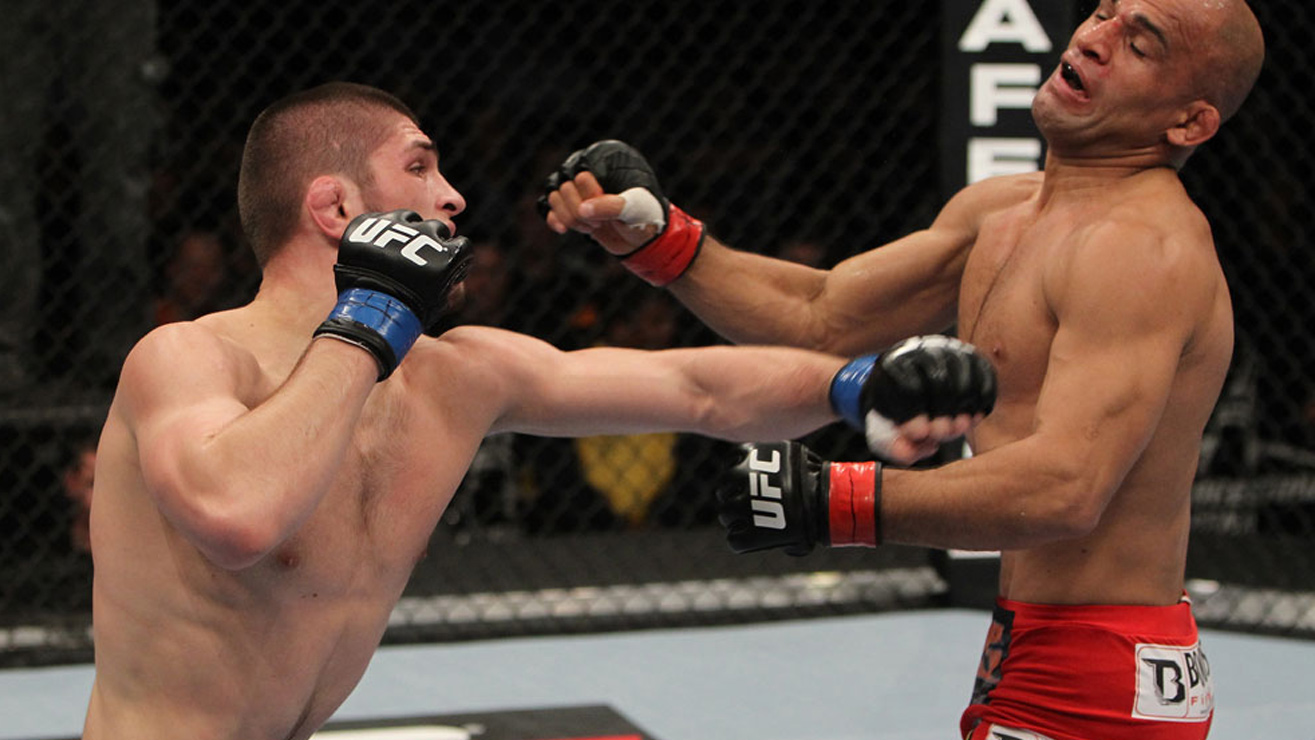 His second UFC fight was against Gleison Tibau on UFC 148 on July 7, 2012. He won via unanimous decision, but the fight will be remembered by Eagle's 13 unsuccessful attempts to takedown Tibau.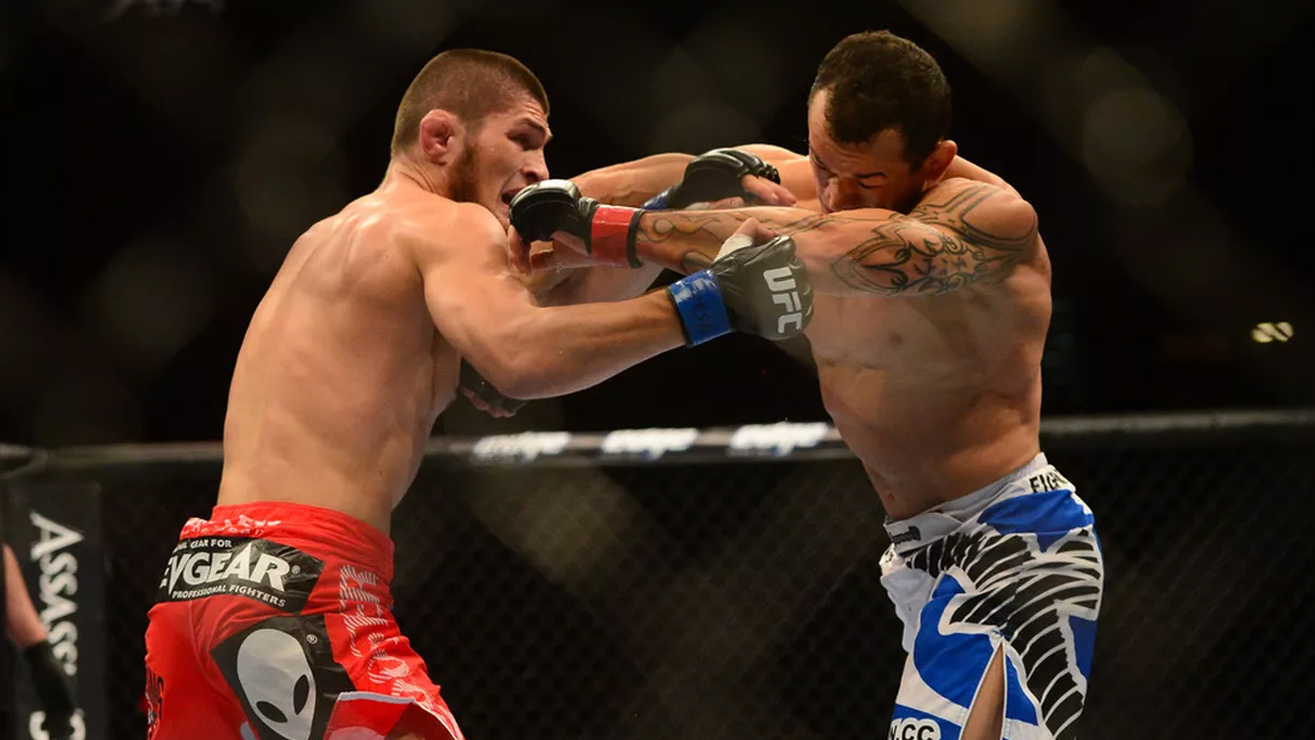 Khabib Nurmagomedov had the quickest win in UFC career on UFC on FX 7 event, which is held on January 19, 2013, in Sao Paulo, Brazil. He defeated Thiago Tavares via elbows and punches at the 1:55 of the first round.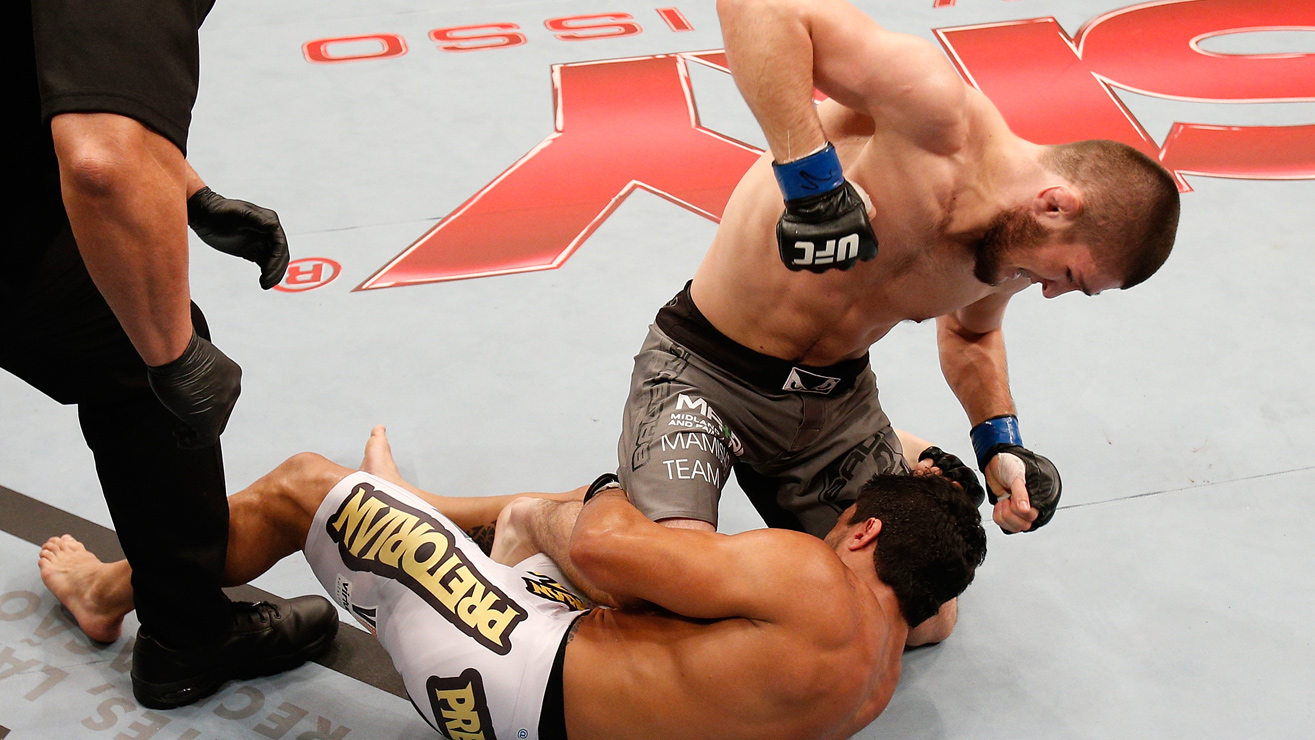 At UFC 160, Khabib Nurmagomedov weighed 2,5 pounds more, and he decided to surrender a percentage of his points to his opponent, Abel Trujillo. The fight was contested as a Catchweight bout. He won via unanimous decision, with the record of 21 successful takedowns in one fight.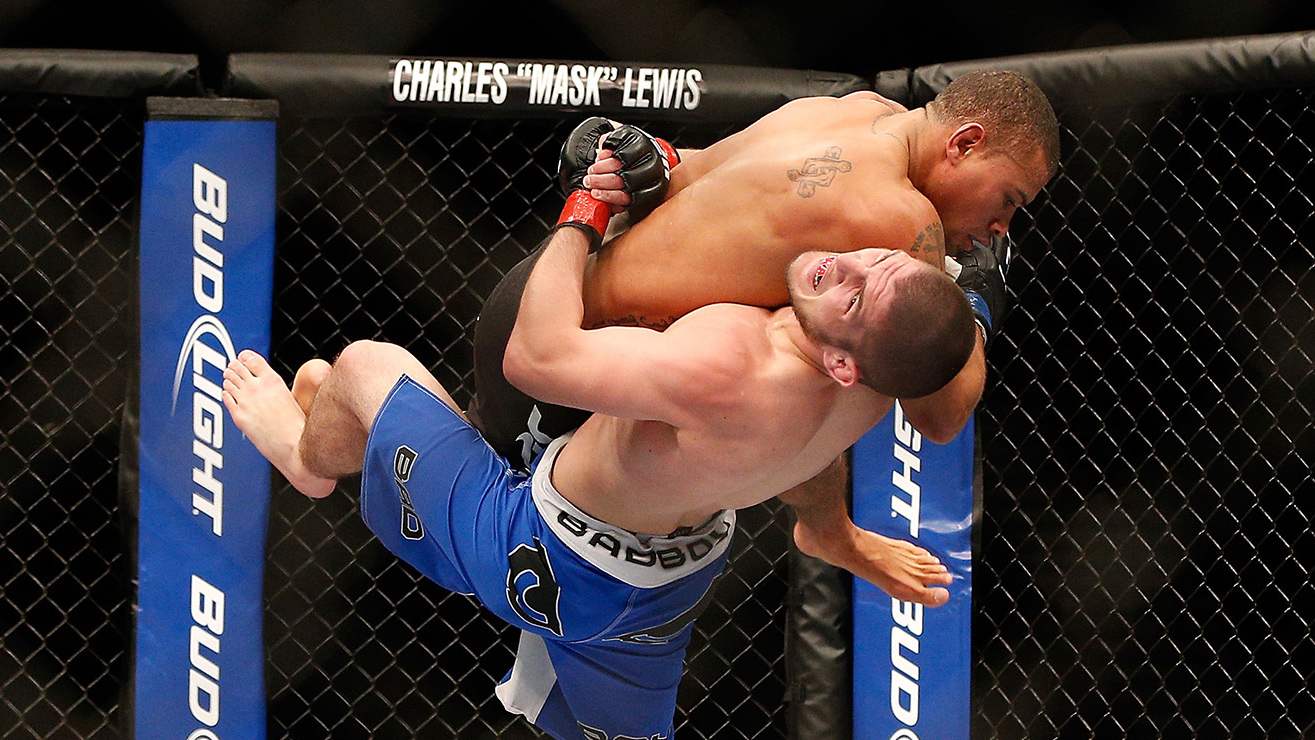 Khabib Nurmagomedov faced Pat Healy at UFC 165 on September 21, 2013. And in spite of unanimous decision victory, he drew attention via the slam in Matt Hughes style, which even made Dana White say few positive words about him.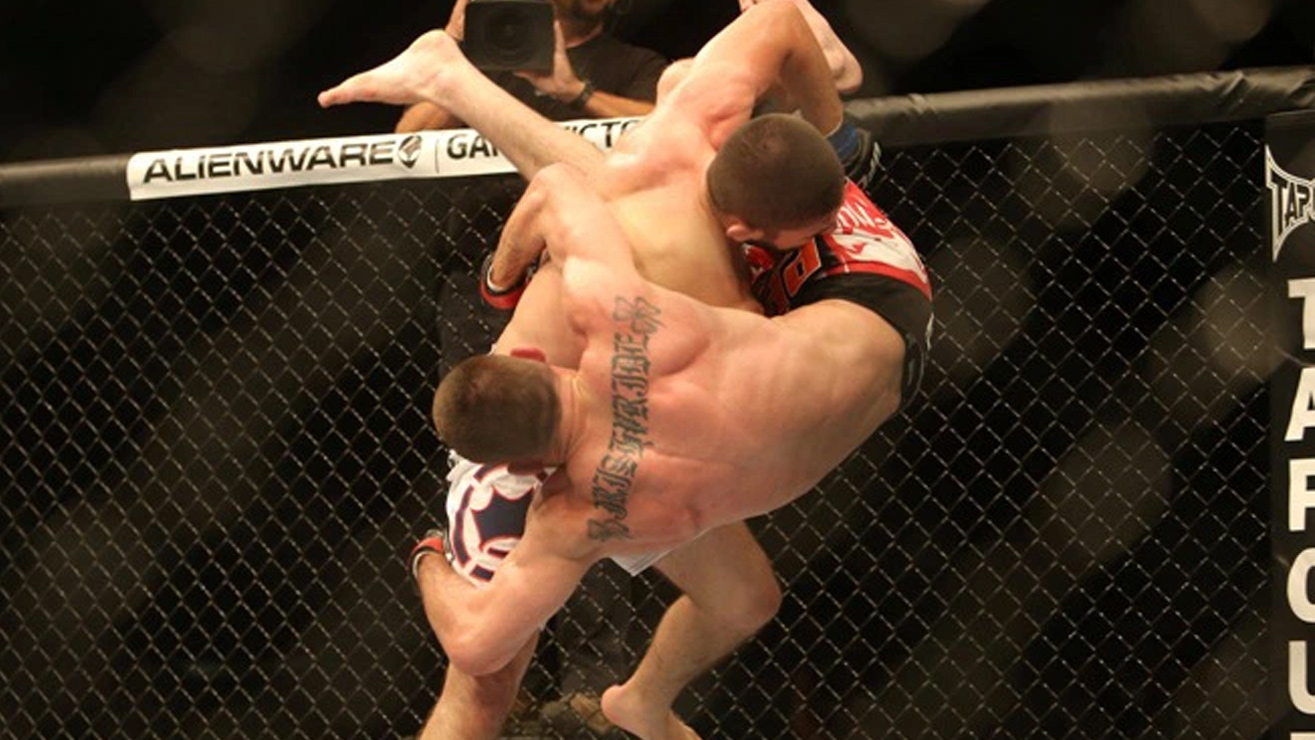 In December 2013, Khabib Nurmagomedov should face Gilbert Melendez, but the fight was canceled and he was replaced by Nate Diaz. But Nate Diaz also declined to fight, leaving Nurmagomedov disappointed. He said he will "take them both at once in the cage".
In his next fight, Khabib Nurmagomedov fought Rafael Dos Anjos on April 19, 2014, in UFC on Fox 11 event. He controlled the whole fight and won via unanimous decision.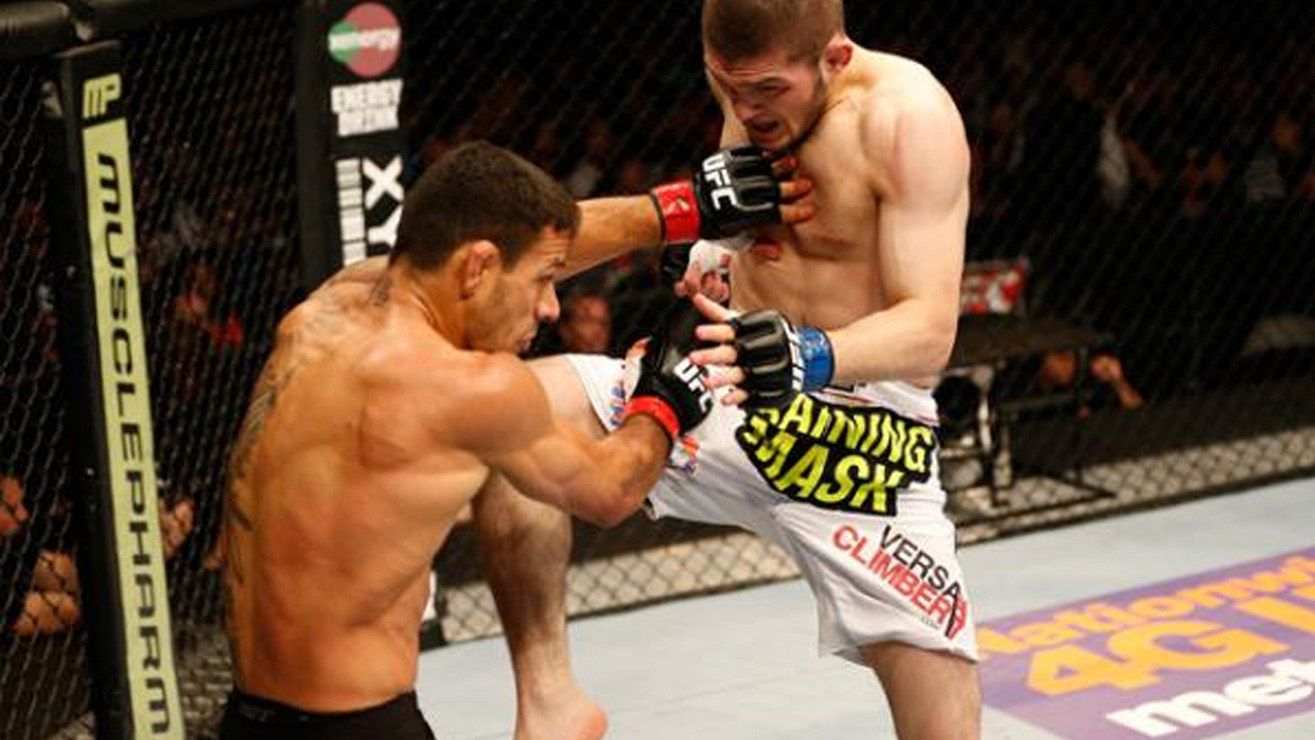 The Eagle faced Darrell Horcher at UFC on Fox 19, on April 16, 2016, in Tampa, Florida. It was a Catchweight fight (160 lbs). Khabib Nurmagomedov won with an ease in the second round via TKO.
Khabib Nurmagomedov Vs Michael Johnson – UFC 205
The fight happened on November 12, 2016, in New York City, New York. In a one-sided match, Khabib Nurmagomedov was holding Johnson on the ground for nearly all three rounds, constantly delivering punches and elbows. Even in the stand-up, Khabib was a superior fighter. Despite Michael Johnson demonstrated an amazing level of toughness, The Eagle won via unanimous decision.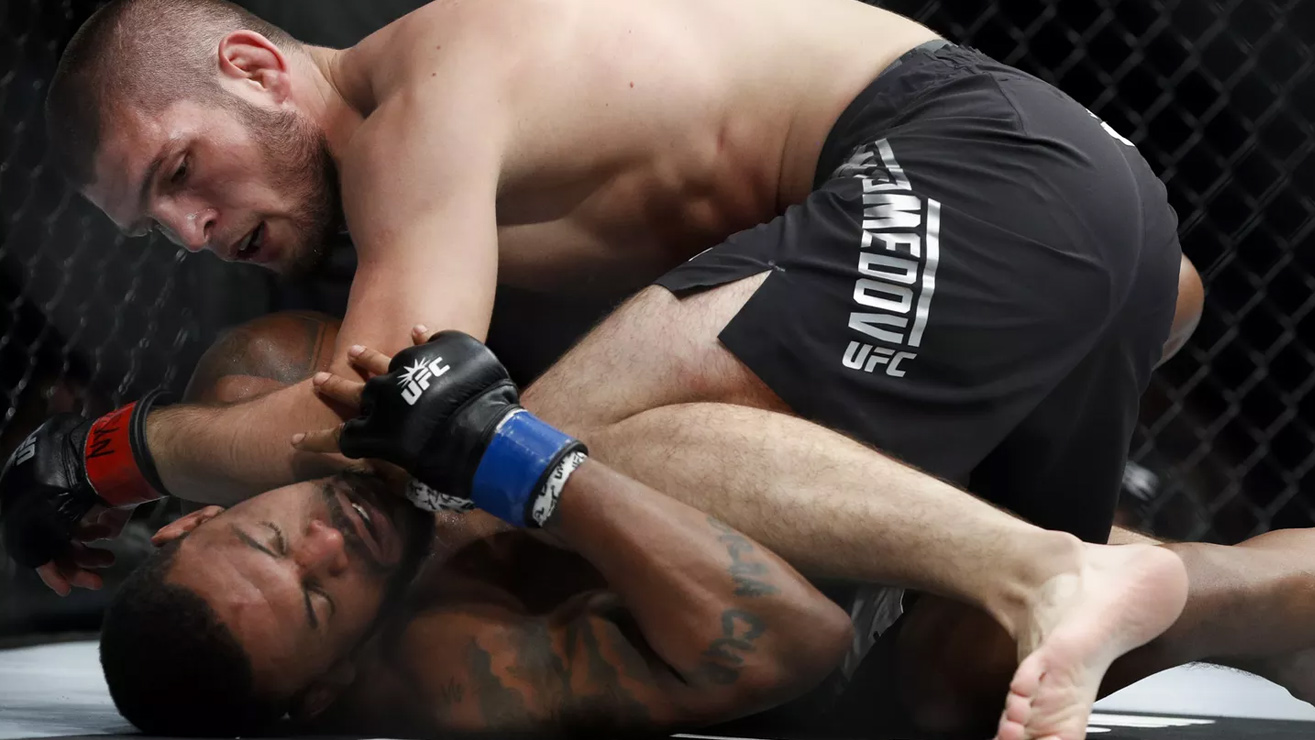 After the fight, he said he was robbed of the title shot, and he only wants to face Conor McGregor. He even threatened to leave the UFC if his requests aren't fulfilled.
Khabib Nurmagomedov Vs Edson Barboza – UFC 219
Khabib Nurmagomedov fought Edson Barboza on December 30, 2017, in Las Vegas, Nevada. During the fight, Khabib Nurmagomedov was even yelling at Dana White.
The Eagle demonstrated a world-class level of toughness when he wasn't even rocked after Barboza's spinning heel kick to the head! He has dominated the fight again, constantly taking Barboza down and won via unanimous decision.
After the fight with Edson Barboza, Khabib Nurmagomedov and Connor McGregor started throwing jabs at each other at social media.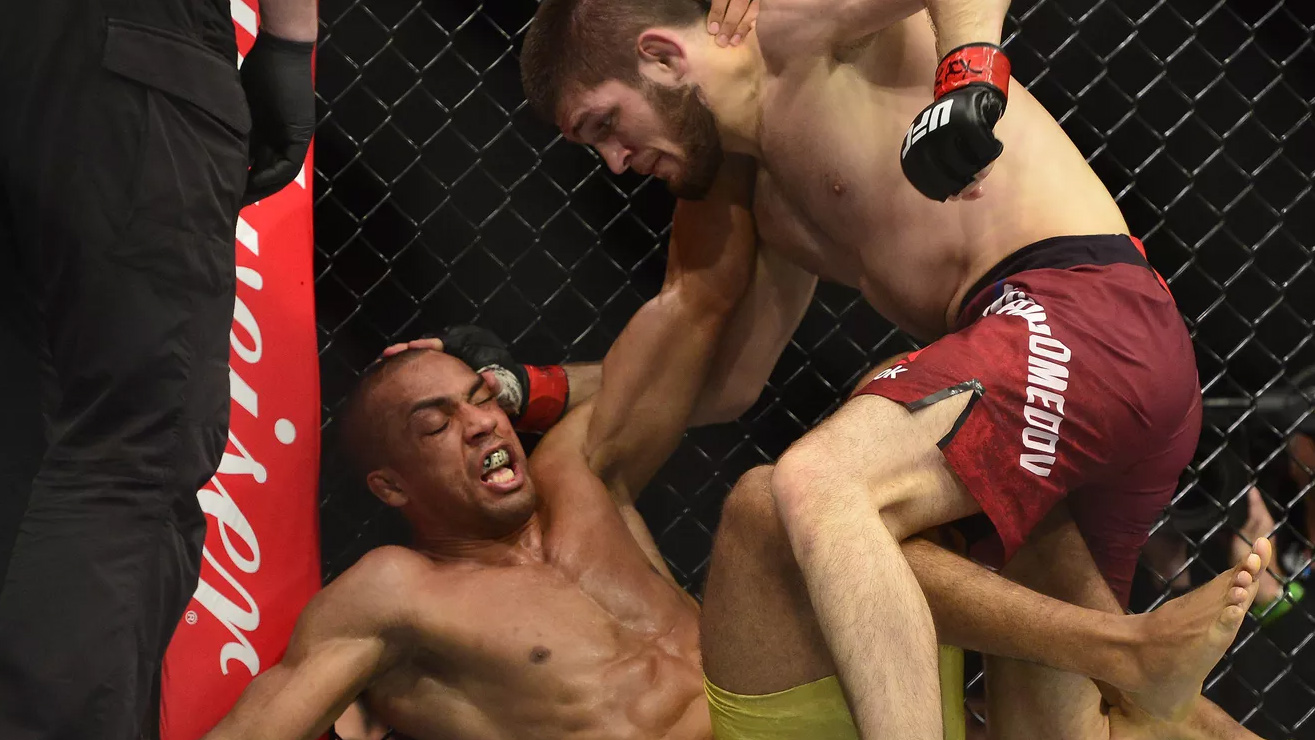 Khabib Nurmagomedov Vs Tony Ferguson – Injuries And Controversies
The fight Khabib Nurmagomedov vs Tony Ferguson should have happened on December 11, 2015, on The Ultimate Fighter 22 Finale. However, Nurmagomedov pulled back due to an injury. Their fight was rescheduled for UFC on Fox 19, on April 16, 2016. But this time, Ferguson pulled back on October 5th due to lung issues.
The fight was scheduled for the third time at UFC 209, on March 4, 2017, for the UFC Lightweight Interim Championship. However, Khabib didn't feel well since he had to cut down a lot of weight, so the fight was canceled again.
Khabib Nurmagomedov's next fight should be on the UFC 223, on April 7, 2018. The opponent is Tony Ferguson, and Nurmagomedov has the chance to become UFC Lightweight Champion if he wins.
But this fight is scheduled for the fourth time, so there is a big question – is the Lightweight Title Fight between Khabib Nurmagomedov and Tony Ferguson really going to happen? One thing is certain, Ferguson threatens he will knock Khabib Nurmagomedov out in Mike Tyson's style.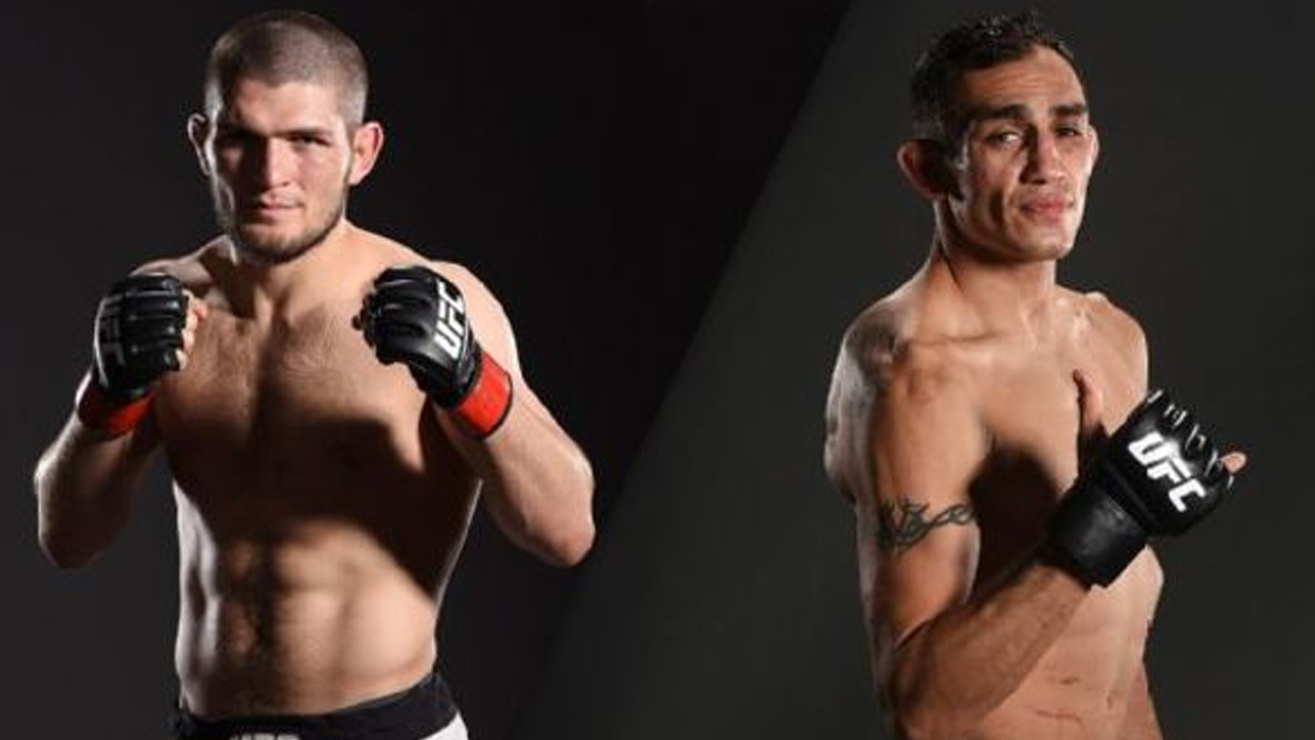 Personal Life

Khabib Nurmagomedov is married since June 2013, and he has a daughter and a son.
Diaz Brothers Incident
Khabib Nurmagomedov is also known for his physical showdown with Diaz brothers. They fought two times in the same night.
After months of the war on social networks, Nate Diaz punched Khabib during the WSOF event 22 show in 2015, while Nick threw a beer at him. The fight was continued the same night at the Planet Hollywood and Resort Casino.
Khabib Nurmagomedov – Social Media Profiles