Edson Barboza is a former three-time Renaissance MMA Lightweight champion, and the Ring Of Combat 30 Lightweight champion.
Athlete Statistics
Full Name: Edson Mendes Barboza Jr.
Born Name
Nickname
Age & DOB
Edson Mendes Barboza Jr.
Junior
Edson Barboza is currently 37 years old according to his date of birth January 21, 1986.
Fight Stats
Height
Weight
20 Wins // 8 Losses // 0 Draws
5 ft 11 in or 180 cm
155 lbs (70 kg)
Reach
Fighting Style
Association
75 inches (190 cm)
Taekwondo, Muay Thai, Boxing, BJJ
UFC, Team: American Top Team
Nationality
Net Worth
Born Place
Brazilian
$3.3 Million
Nova Friburgo, Rio de Janeiro, Brazil
Profile
Edson Barboza is widely known as the master of kicks and one of the most attractive fighters who ever stepped inside the octagon. As a black belt in Taekwondo and a black prajied in Muay Thai, Edson Barboza is one of the best stand-up strikers in the history of mixed martial arts. His specialties are spinning hook kick, flying knee, switch kicks, low kicks, right spinning back kick to the body and left hook. He tries to keep the fight standing as long as possible.
Junior is also a brown belt in BJJ, so he has good submission defense skills. On the ground, he mostly lands hammer fists and hooks. In the clinch, Barboza goes for a takedown attempt or lands brutal knees to the body or head. His weakest links are his neck, transitions, and wrestling.
Edson Barboza usually tries to create the distance before he executes a strike. His advantages are also movement, ducking, and reaction time.
Edson Barboza – Record
Edson Barboza is on the fifth place when it comes to Fight Of The Night bonuses – 6. He shares this place with Clay Guida and Chris Lytle. Junior is also the first man in UFC who finished the fight via spinning hook kick KO!
Road To The Top
Edson Barboza had his MMA debut versus Aaron Steadman at Real Fighting Championships 17 on April 17, 2009, and won the fight via TKO after tremendous flying knee and punches. Edson Barboza had the fastest victory of the career versus Nabih Barakat at Ring Of Combat 28 – he was needed only 1:09 in the first round. He joined the UFC with the score of 6-0.
Edson Barboza – UFC Career
Edson Barboza had his UFC debut versus another newcomer, Mike Lullo, at UFC 123, on November 20, 2010. Junior won the fight after a tremendous TKO via leg kicks in the third round.
His next opponent was Anthony Njokuani on March 19, 2011, at UFC 128. The Brazilian kicking superstar won via unanimous decision, earning his first Fight of the Night reward.
Barboza probably had the most difficult match of the career versus English legend Ross Pearson at UFC 134 on August 27, 2011. Junior won the fight via split decision, earning his second Fight of the Night bonus.
Edson Barboza made a super spectacular knockout versus Terry Etim on January 14, 2012, at UFC 142. In the third round, Barboza landed brutal spinning hook kick which forced Etim to go down like a wrecking ball! The Brazilian earned his first Knockout Of The Night and third Fight Of The Night award. According to some media outlets, it was ranked as the Knockout Of The Year 2012.
Edson Barboza is defeated for the first time at UFC 146, on May 26, 2012. After Evan Dunham pulled back he was replaced by a veteran Jamie Varner, who defeated the Brazilian superstar via first-round KO.
UFC On FX 7, which was on January 19, 2013, will be remembered for a spectacular victory of Barboza over Lucas Martins. Junior literally demolished him and won via TKO (retirement) in the first round.
Barboza won the fight versus Rafaello Oliveira at UFC 162 on July 6, 2013, via amazing leg kicks TKO in the second round. During the whole match, Edson was finishing every combination with a right low kick.
His next opponent was Danny Castillo on December 14, 2013, at UFC on Fox 9. Castillo nearly submitted him in the first round, but Edson Barboza miraculously recovered and won the match via majority decision, earning his fourth Fight Of The Night bonus!
Donald Cerrone surprised Barboza on April 19, 2014, at UFC on Fox 11. Cowboy knocked him down with a left jab and defeated him via textbook rear-naked choke at 3:15 in the first round, which is Edson's quickest loss in the career!
Edson Barboza demonstrated the true power of Taekwondo versus Evan Dunham on July 16, 2014, at UFC Fight Night 45, winning the fight via right body kick counter TKO in the first round.
Barboza defeated Bobby Green on November 22, 2014, at UFC Fight Night 57, via unanimous decision.
Michael Johnson was a too tough opponent for Junior. They fought on February 22, 2015, at UFC Fight Night 61, and Johnson won via unanimous decision.
The Brazilian striker had one of the best performances on July 25, 2015, at UFC on Fox 16, when he faced an undefeated fighter at that time, Paul Felder. After three rounds of total war, Edson Barboza won via unanimous decision, earning his fifth Fight Of The Night bonus. Even Dana White called this fight incredible!
Edson Barboza Vs Tony Ferguson
After Edson Barboza stepped in as a replacement for injured Khabib Nurmagomedov, the two fighters faced at The Ultimate Fighter 22 Finale, on December 11, 2015. Tony Ferguson took Barboza down with an acrobatic move in the first round.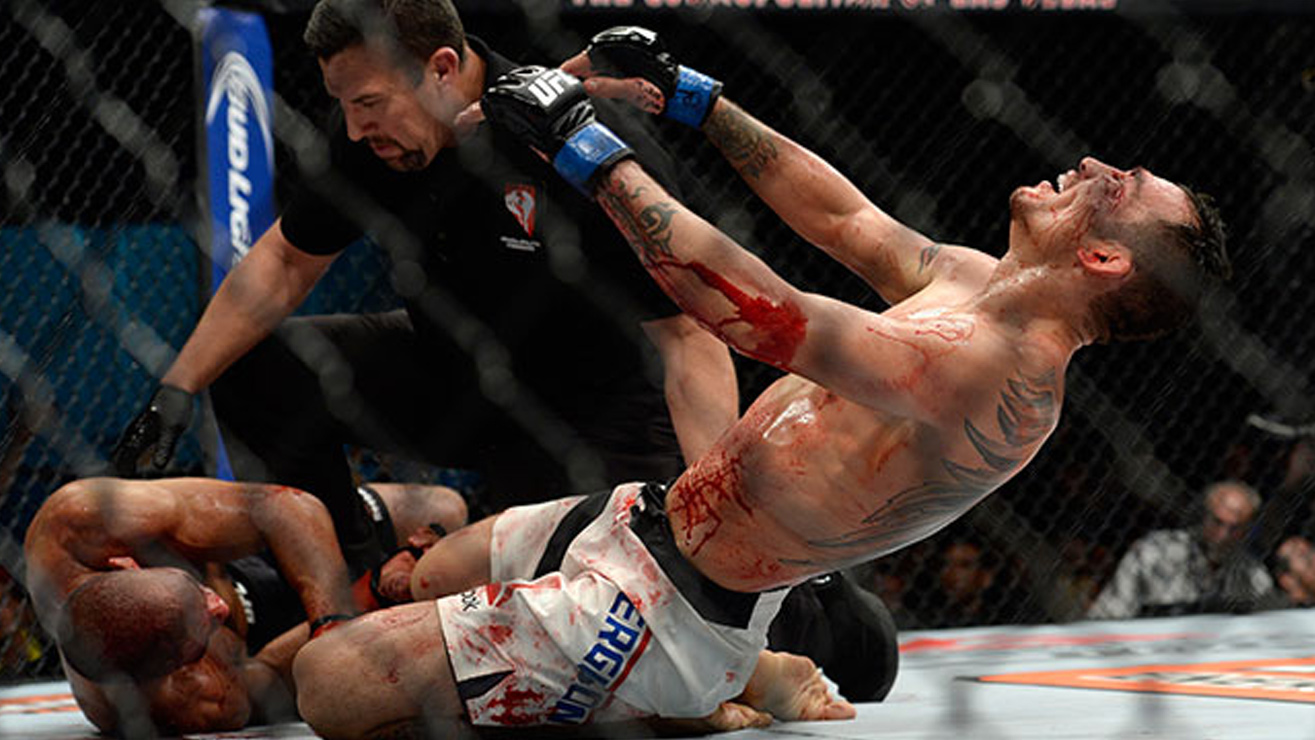 When Edson Barboza was on the top of him raining punches, Ferguson delivered an illegal up-kick, and the referee abducted him one point. Ferguson was going forward aggressively all the time, cutting the distance. In the second round, he took Barboza down and won the fight via D'Arce choke. Both fighters were rewarded with Fight Of The Night bonus.
Edson Barboza Vs Anthony Pettis
In the showdown of two Taekwondo kicking superstars, Edson Barboza faced Anthony Pettis on April 23, 2016, at UFC 197. A kicking festival and extremely attractive fight were expected! Even today, feats of explosive and acrobatic striking are remembered!
Barboza cut Pettis open early on with a short left hook, and also literally destroyed Showtime's left leg, where he caused massive swelling with tremendous inside low kicks. Pettis was mostly scoring points with jabs and crosses, while his kicks were mostly neutralized. In the epic battle of two strikers, Barboza made a surprise and won via unanimous decision (29-28, 29-28, 30-27) despite being an underdog.
Other Fights:
Junior defeated Gilbert Melendez on July 23, 2016, at UFC on Fox 20, via unanimous decision.
Edson Barboza was rewarded with an applause once again when he knocked Beneil Dariush via flying knee out on March 11, 2017, at UFC Fight Night 106. Barboza also earned his first Performance Of The Night award.
Edson Barboza Vs Khabib Nurmagomedov
Edson Barboza fought an undefeated Dagestani Khabib Nurmagomedov on December 30, 2017, at UFC 219. Since the match started, Nurmagomedov was constantly taking him down to the ground and controlling the fight via transitions and superb wrestling. Barboza is the first man who delivered spinning heel kick to Khabib's head. The fight was very much one-sided, and Khabib Nurmagomedov won via unanimous decision.
His next opponent was Kevin Lee on April 21, 2018, at the main event of UFC Fight Night 128. Lee missed weight (157 pounds), so the fight was held as a Catchweight bout, and he gave 20% of his purse to Barboza.
Edson Barboza was landing attractive kicks through the whole game and even rocked his opponent once but Kevin Lee dominated with his takedowns and ground and pound game. The Motown Phenom cut Barboza open above his right eye and won via TKO (doctor stoppage) in the fifth round.
Personal Life
Edson Barboza was born prematurely at 28 weeks, and he had a 50/50 chance of surviving past infancy. He is married to Bruna Barboza, and the couple has a son. His spouse supports his fighting career and the couple has a very strong bond.
Edson Barboza – Social Media Profiles