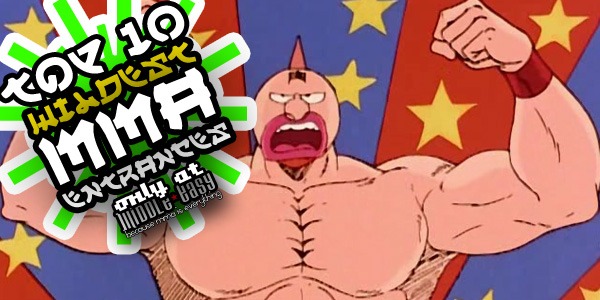 There is no coincidence that nine of the ten fighters on this list have fought in Japan. When it comes to over-the-top theatrical entrances, the Japanese have it mastered to a science. Actually when it comes to over-the-top anything, Japan pretty much has it locked. Where America has King-Kong, Japan has a giant mechanized armed lizard that shoots laser beams out of its eyes. We're rocking iPhones while they have humanized robots that are going to conquer the moon in a few years. Damn, what happened? I wish I would have enrolled in that Japanese class in college instead of going back to my dorm to see how my downloads were going on Napster. My life would have been more meaningful. My life would have been ichiban. Check out the Top Ten Wildest MMA Entrances, only at MiddleEasy.com – Because MMA is Everything.
Minowaman, the first genetically engineered minnow/human hybrid. If he were a member of the Justice League of America, he could ride shotgun with Aquaman. Minowaman, coming to a bait shop near you. If those M.U.S.C.L.E.S toys from the 90s ever needed a human representative, I would promptly refer them to Minowaman. He's the only guy that could rock knee-high red boots and underwear besides Bas Rutten, King Slender and that chick who told you she was a 'Pro' (then you asked what type of professional athlete she was and your friend had to pull you aside and tell you what 'pro' meant, thank you CJ). Minowaman fights out of Japan for DREAM and he's an avid lover of techno music that can only be appreciated with a bottle of Vicks Vapor Rub. The entire clip is ridunkulous but go to the 3:05 mark for his entrance.

Here's a heads up. If you see a dude with his neck attached to a chain dancing around like he just found a twenty-dollar bill in his pocket, run the other way. Seriously, just run the other way. Melvin Manhoef has a 96% KO ratio and he rocks a skirt. Maybe I should flip that around. Melvin Manhoef rocks a skirt because he has a 96% KO ratio. You're not going to make fun of a dude that has the force to punch a hole through time and space. The coolest thing about Melvin Manhoef's entrance (besides the fact that he comes out with a smile that would make the Kool-Aid Man jealous) is that he always he includes his hype man that incessantly screams in his face. We're not sure what he says (we're not Dutch) but whatever it is, it must be hilarious since Manhoef always turns around with a smile on his face and skips to the ring like he just found out the universe was made of candy corn.

How can anyone not remember Dave Kaplan from season eight of The Ultimate Fighter and the infamous 'sushi sperm incident'? Phillip Nover complained about having his food munched on so he got fellow contestant, Kyle Kingsbury, to…drop his unborn kids on Nover's sushi and place it back in the fridge like a sperm filed Trojan horse. Dave Kaplan raided the fridge, grabbed Nover's sushi and devoured it. They eventually told him that he just ate little Kingsbury juniors wrapped in seaweed and Kaplan threatened to poop in everyone's food. Dave Kaplan and Phillip Nover eventually fought and Kaplan caught an L due to an RNC. To celebrate his lost, Dave got astronomically drunk and ran around the house claiming he couldn't be knocked out. In a moment of drunken decision making that only makes sense after 12 shots of Jack Daniel's, Kaplan forced Tom Lawlor to give it his best shot. With one punch to the jaw, Dave Kaplan collapses, stumbles back to his feet and claimed he was never unconscious. Only in America.
Bob Sapp is like a marketing God in Japan. Seriously, this dude pushes gummy candy, Japanese pizza joints, fabric softener and loves to rip the tentacles off of weird plush Japanese squid creatures on live TV with his shirt off. Bob Sapp could sell chlorophyll to a forest of evergreens. He also tries to sell the fact that he is a fur covered egg that hatches on a musical cue. That's the best way to describe Bob Sapp's infamous entrance which is accompanied by the same theatrical music in Stanley Kubrick's 2001: A Space Odyssey. It's a little hard to buy into the fact that a 6'4", 330lber could hatch from a fur egg but it's even harder for us to imagine an egg with fur (so the level of unbelievability between the two cancel each other out making it completely believable).
Marius Zaromskis is the only guy you know named Marius Zaromskis. If you know another guy named Marius Zaromskis that isn't Marius Zaromskis then I bet that Marius Zaromskis can still left high kick the rain out of the atmosphere. After Zaromskis' two victories at Dream 10, the entire internet dubbed the guy the next Anderson Silva (which is completely understandable if you've seen those two KOs). The MMA world was also flipping out that Marius came out rocking full Akuma regalia. For those that haven't played Street Fighter IV, Akuma is the guy everyone picks when they want me to slam my controller against my fireplace out of sheer frustration. Just like Akuma has that impossible to block combo in the game, Marius Zaromskis has that high kick followed by a jab combo that usually makes his opponent time travel three minutes in the future asking the referee 'What happened?'. Check out 'The Akuma Show' starring Marius Zaromskis.
One day, archeologists of the future will discover Mayhem Miiller's Tweets and inscribe them on a tablet in a museum somewhere (yeah, they still use tablets in the future, it is the future). Visitors of the museum will be greeted to snippets of Jason 'Mayhem' Miller philosophy like:
Currently driving "raw dog." can't find my fuggin sunglasses.
John and Kate are on all the tabloids. I should crap out 8 kids then have my husband cheat on me.
When my puppy, Gator, licks my face I don't worry, because he's only licked his butthole 20 times, max.
Just discovered "Mmm bop" on my iTunes. Don't know if I am gay, a pedophile, or a gay pedophile.
I like to leave a legacy, even if it doesn't last that long. Yeah, I fart in the elevator.
The thing about chicks is, no matter how awesome a dude you are, they still have the vagina.
Eventually, they will uncover Mayhem's entrance video and will unanimously say 'Hot Japanese chicks in school girl outfits ftw!'

By now, you all know who King Mo is (and if you don't you should really read our interview with him). This entire list would be invalid without including Mo Lawal somewhere in the top five. He comes out to a posse (never thought I would use that word past 1995) of unbelievably hot Asian chicks in tight pants dancing like they were just hired at Cheetah's (the holy land of strip clubs). Dude told us that one of his 'queens' that comes out is named 'Kun-Kun' and she's the #1 reggae dancer in Japan. We didn't know what that meant until we saw this video of her and instantly added her to our mental slot of chicks to fantasize about at 2am in the morning (sorry Jessica Alba, shouldn't have given birth. That's a definite party foul). He also wanted to give a shout out to 'Ace, the fastest rising pimp in Dallas'. If you're out there Ace, continue your meteoric rise throughout the ranks of pimpdom.
.
Welcome to the top three wildest entrances in MMA. If you've made it this far, you've seen a potpourri of flamboyant entrances by fighters that have lived lives far more exciting than yours. Now you'll see what separates awesome entrances from rawesome entrances. Akihiro Gono, known for rocking a jheri curl with zebra hot pants, has an entrance that may have David Hasselhoff suing for copyright infringement. This is why everyone loved old school Pride FC. An entrance like this in the UFC would be aborted faster than [insert Michael Schiavello impression here]. Luckily, Gono has a home in Sengoku which tolerates entrances that include back-up singers and dancers. Check out his entrance from Pride FC that will leave you saying 'Why didn't I think of that?'.
Yoshihiro Akiyama (otherwise known as 'Sexyama' by school girls and Mets fans) is like the Brad Pitt of Japan. The only difference is that Akiyama can throw a mean spinning back kick and Brad Pitt…has Angelina Jolie. Most people would choose Angelina Jolie over the ability to submit someone in less than a minute until you see Akiyama's jaw-dropping entrance…then you realize that it's good to be Sexyama. It's like the dude took half of Japan with him and implanted cybernetic remote controlled sensors directly into their brains. If the Olympic committee ever accepted MMA as an official sport, they should also recognize synchronized walkouts as a sanctioned event…Akiyama would be like the Jesus of it.
Ok, so remember how you saw Gono's entrance followed by Akiyama and told your imaginary friend sitting next to you 'There's no way any MMA entrance can top those'. Well in about 30 seconds all those entrances you've watched are going to be dwarfed like mini-me in a grappling match with Hong Man Choi. Genki Sudo's entrance is light years past anyone else in MMA. It's like he's some type of MMA prophet who traveled from the future to teach us exactly how to spend your entire fight bonus before you've fought. This entrance is from Genki Sudo's last fight, he wanted to go out with a bang and instead, dude with went out with a supernova. And yeah, he did win this fight (you pretty much have to after this). You are about to watch the wildest entrance in MMA history. Enjoy.