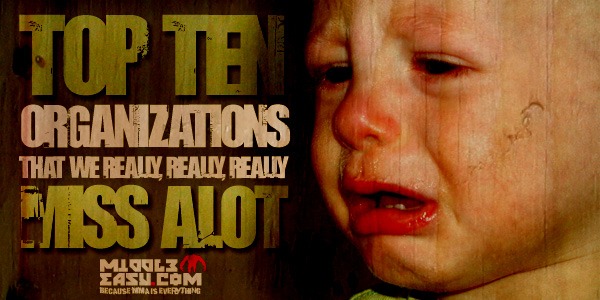 Take a voyage through time and space (and then realize halfway through your journey that you left the oven on). After weeks of starting, stopping, slamming my laptop against the wall and telling my functional alcoholic neighbor that I can't babysit her cats this week (or ever) 'The Top Ten Organizations That We Really, Really, Really Miss Alot' list is finally up and now I can finally get back to the finishing off the second season of The Golden Girls (they taught me what a 'confidante' was). A massive amount of work went into composing this list but I do realize that when you spend until 4am culling the internet for extinct websites and impossible to find press releases, things can get a little muddy. If you see an error or would like to add something to this list, feel free to contact me and drop some knowledge my way.
Check out 'The Top Ten Organizations That We Really, Really, Really Miss Alot' only on MiddleEasy.com – Because MMA is Everything.

Caged Fury Fighting Championship otherwise known as 'that organization where you can see that Youtube guy fight'. Before there was EliteXC and The Ultimate Fighter: Season 10; CFFC was the first promotion to extend an invitation to Kimbo Slice when he was still taking out neighborhood bullies in the backyards of Florida. Back when his old high school frend "Icey Mike" was holding a camcorder screaming 'Get 'em Ferg!'. This was vintage Kimbo, back when you thought that not even Galactus could knock him out (leave it to Seth Petruzelli to urinate on that illusion).
CFFC premiered June 30th 2006 in New Jersey and featured a 13 fight card headlined by undefeated Carmelo "The Fury" (after defeating Cheick Kongo at UFC 64 he then went on to a 10-4 record with his most recent loss coming in the Vendetta Fighting Championship in Aruba. Probably more information than you even wanted but hey, knowing is half the battle). Besides guys like Tamdan McCory and Dan Lauzon making the occasional appearance, CFFC just couldn't quite climb over the other side of the talent hill like that other organizations (refer from 9-1) enjoyed. Screw it, the CFFC prowled on Youtube and found a dude that appeared to be born on the Planet Kypton: Kimbo Slice.
At the time I lived in Europe (yeah, I really did have a life) and I would get drunk and show my French roommates Youtube clips of Kimbo pounding on some dude in a backyard and then spend roughly about 45 minutes telling them the various ways in which America could kick France's ass in a grappling match. When CFFC announced that Kimbo Slice would be banging away on Ray Mercer in a sanctioned MMA event (later changed to a MMA exhibition match), people were doing synchronized back-flips in anticipation for this match. Sure it wasn't top level competition (for some reason everyone on Youtube wanted Kimbo to fight Paul Buentello) but it was something inside a cage with 4oz gloves that vaguely resembled MMA. It was good enough for us. CFFC 5 went down, Kimbo came out to 'This is why I'm hot' and within a couple of minutes he submitted Ray Mercer with a guillotine. Yeah, submitted Ray Mercer. Granted Mercer isn't known for his Brazilian jiu-jitsu but the MMA world was surprised Kimbo even knew how to execute any submission. Fight was over in the first round, Kimbo jumps on top of the cage and points to the crowd and then friggin Tank Abbot comes out of nowhere and sort of calls Kimbo out. Boom. The CFFC promoter's head just flew to the ceiling and they instantly had their next headliner for CFFC 6.
CFFC announced Kimbo Slice vs. Tank Abbot was going to headline CFFC 6 in October 12th 2007. I started working overtime at the European 80s club that I bartended at (it was an interesting time in my life) just to gather enough loot to snatch a cheap planet ticket to make it to Atlantic City for this bout. I just couldn't miss this. Late September I book my ticket, October 4th rolls and I hop on my 12 hour flight back to the US. Eventually I arrive at my destination (MiddleEasy interviewer, D**k 'Starscream' Grayson's parent's basement), I check the CFFC's site to map out the venue on Google and I'm smacked in the testicles by this:
The entire collapse of an organization all while I was 30,000 feet in the air listening to some guy tell me how he makes industrial cameras and sells them to some German brothel. I would give him a plug but I'm afraid he'll track me down and tell me about camera apertures and sexually transmitted diseases for nine more hours. It was over, CFFC was done and so was the point of my $890 plane ticket. Unfortunately this will not be the last time I was financially screwed by an MMA organization (refer to #2). No one really knew the true story on the collapse of CFFC, some even claim the promoters had severe gambling debts and they used the promotion as a means to pay back a few East coast bookies who really needed their loot. Two years after the collapse all we have is speculation (and nonrefundable plane tickets) but don't listen to me, let two guys from Jersey talk about how the CFFC went down.

Some of you may remember how Club Rubber completely dominated Las Vegas around 2001-2003 with their cleverly titled 'Pimps n Ho' parties. I know I remember it because my friend, let's just call him 'Crackhead Brian', tried to drag me along to that orgasm of spiked hair, vampire eye contacts, guys with Cadillac tattoos and cracked glow-sticks. If you didn't come up for breath every once in a while you would drown in testosterone. Created by John Huntington of Club Rubber, the World Fighting Alliance operated by their slogan 'Where the fight club meets the night club'. DJ Beej spun after every fight along with Las Vegas strippers (temporarily turned go-go dancers) hopping in the cage and doing what they do best (take my last $20). Actually, the WFA was probably 80% scantily clad chicks and 20% MMA. They literally had chicks dancing everywhere, on the ceiling, in the cage, by the cage posing in the audience, backstage, coming off the steps, in bathrooms, on ladders. A couple of events even featured girls dangling from the ceiling in cages and to top it all off…Ice-T even performed during a fight. It was more like 'Where the fight club meets the $30.00 cover Las Vegas Strip Club' (they even press released their own after-fight parties).
The first sanctioned fight was November 2001 held at the Hard Rock Hotel and Casino which featured an impressive line-up including Frank Trigg, Antonio McKee, Rich Franklin, Marvin Eastman and Shaolin Riberio (even had Bruce Buffer announcing). The rules were pretty much the same as every MMA organization at the time…but, you know the whole 'hot chicks everywhere thing'.
Here's an excerpt from their old website about their second MMA event:
"Wherever one turned, there was no chance of missing the action that was about to unfold. As the lights dimmed, spectators were enticed with a mesmerizing scene of psychedelic images, backed up by a spectacular light and laser show overhead. The WFA's in-house DJ, microphone in hand, got the festivities going with a march down the center aisle to the cage. Armed with a fresh rhyme and deadly beat, no one was impervious to its power- the standing-room only crowd was quickly grooving to the music. Followed by a bevy of delicious beauties and Master of Ceremonies Bruce Buffer, the DJ took his place at the turntables, spinning the hottest tunes and sounds well into the night. Gorgeous go-go dancers twisted and gyrated on raised platforms alongside and over the cage as more scantily-clad goddesses mingled their way through audience."

"With two fully-stocked bars at the back of each side of the house and ravishing cocktail waitresses roaming the floor, one did not have to go far for libations to wet the palette. Spectators upstairs in the WFA VIP Lounge, gazed down through a web of green and orange neon light to the commotion below. From their perch above, they could take in all the action from plush sofas or private tables- equipped with over a dozen private viewing screens in addition to a private bar. There truly wasn't a bad seat in the house."
With chicks flooding the venue, comedians making regular appearances at events and a friggin snakeskin lined championship belt; the WFA seemed to be on it's way of being the premiere destination for strippers, MMA fans and guys that have an extreme longing to spike their hair with gel. There was only one blatant problem: The WFA focused entirely too much on the night club aspect and not enough on the whole 'fight club' thing (bet you didn't see that one coming). John Huntington and his financial partner decided to transfer ownership of the organization to two attorneys from the Las Vegas area, Louis Palazzo and Ross Goodman. These guys eyed the potential of WFA like some prophetic MMA cyclops and they started to sign the goliaths at that time like Rampage Jackson, Matt Lindland, Bas Rutten, Ricco Rodriguez and even some up and comers like Lyoto Machida, Mayhem Miller and Martin Kampman…all of which participated in the WFA's forth (and final) event: WFA King of the Streets which was held July 22nd 2006.
Everything was kosher, even Dana White admitted that the two owners "were working towards building a strong promotion". Of course Dana White said that just before ZUFFA purchased the World Fighting Alliance and acquired a stable of promising fighters including Rampage Jackson (ZUFFA would later lose Quinton to The A-Team. That's wild). On December 16th 2006, the WFA closed it's door for good and left an army of strippers out on the streets (and they pretty much stayed there to this day).

Alright, turn your oven off, close your eyes and imagine the world is about to come to an end. Now imagine the world made an exclusive deal with Japan and told them if they could come up with a single MMA event to rock the entire planet, the world would change it's mind and postpone the apocalypse. That's a pretty accurate summary of what went down late in 2007 and that one MMA event that saved the world was called: Yarennoka!
After we all wiped the snot from our nose after Pride FC collapsed, former Pride FC executives pitched an idea to FEG (Fighting Entertainment Group, the guys who own K-1) to promote just one big friggin MMA event jammed with an ample amount of rawesomite sticks and detonated on Japanese PPV (and HDNet in America for free). FEG dug the idea and Yarennoka! was born and billed as a farewell show to all Pride fans. Granted, Yarennoka! was more of a one time event and less of an actual organization but when everything was being assembled, the entire MMA world truly thought that Yarennoka! would be the substitute teacher equivalent of Pride FC. We all believed this was the resurrection of Pride. To make the card truly legit, Fedor Emelianenko was added and was slated to face a Korean behemoth (who was completely unknown at the time) Hong Man Choi (or Choi Hong Man if you're dyslexic…or from Korea). In an attempt to save the world (and MMA), Yarennoka! added Ricardo Arona, Joachim Hansen, Shinya Aoki, Gilbert Melendez, Mach Sakurai, Mitsuhiro Ishida, Yoshihiro Sexyama and Kawajiri all of which could have easily been main events (Hansen and Arona were later removed from Yarennoka!, Joachim sustained an injury and Ricardo Arona was too busy surfing). The former Pride execs, FEG and M-1 Global dumped tons of money into making this the biggest thing to hit Japan since Mechazilla (or Gameboy).
New Years Eve 2007 rolled around and it was time to do some Yarrennokian. There were no undercards, just eight eloquently assembled and equally impressive fights all leading up to a massive New Years party that would be held entirely inside the Saitama Super Arena. Yarennoka pulled a record attendance of over 27,000 and gave the MMA community one of the most photochopped pictures on the internet: The Fedor Armbar over Hong Man Choi (which has been replicated and posted on every MMA message board out there). It was an absolute success, such a success in fact that the former Pride executives and FEG held hands and jumped into a think tank. When they eventually hopped out, Dream was their cute little offspring.
This was a good one. Internet gambling extraordinaire, Calvin Ayre, started the Bodog Fight sector of his already insanely popular Bodog brand (they even sponsored the Scarface game that came out a couple years ago). Bodog Fight had a pretty interesting formula to present fights to the public. Every fight was accompanied with sort of a cross between The Ultimate Fighter, The Real World and that HBO special 24/7. The pre-production was surprisingly high (perhaps the highest at that time for any MMA organization) and in an attempt smack everyone with a 'Look what we can do and you can't' glove; nearly every fight went down at some exotic location. In fact, in there 12 fight history only one event even took place on American soil (and it was in New Jersey which is about 90% armpit, 10% America…you know it's the truth). What's that you're mumbling over there in your Wal-Mart discount desk chair (don't worry I have one too), 12 fights in a year? Yeah. Bodog friggin pulled off 12 fully stacked events in one year. Calvin Ayre was at the top of his game from 2006-2007. Dude organized a card in Costa Rica that was so huge, that Bodog had to split their thirty scheduled fights into three consecutive days. If you lived in Costa Rica from February 16th-18th then we hoped you used protection in that orgy of MMA that was Bodog Fight – Costa Rica Combat. Eddie Alvarez, Trevor Prangley, Big Country Roy Nelson, Chael Sonnen, Rosi Sexton, Jake Shields, Nick Thompson, Tara LaRosa, Shayna Baszler…the cards were more stacked than [insert Michael Schiavello metaphor here]. Besides be adorned with ridunkulous looking ring card girls, chicks just hung around to get rear naked choked by Chael Sonnen. If you ever wanted to know what happens when you get a hot chick in a step-over armbar, Bodog Fight has you covered. Hot chick arm barred from the guard? Don't worry, that can be instantly arranged. Need a new wallpaper to fill that landfill of mess you call your desktop? Blam. You just got Bodogized. In short, Bodog Fight made being a heterosexual guy almost effortless (even though you rocked your box set of Sex in the City like Conan the Barbarian rocked a double handed battle-axe). Of course, wherever there's another rising MMA organization expect Dana White to be firmly resting in the cut practicing his verbal kung-fu. White had a new target, and his name was Calvin Ayre. Check out this excerpt from a press release from Bodog regarding Dana's comments towards Ayre:
White's unfortunate public diatribe included slanderous comments about the Canadian billionaire, referring to the online gaming mogul as a "criminal". The notoriously bald UFC promoter goes on to liken Mr. Ayre to a Richard Pryor character, stating "he's like that guy in Brewster's Millions who is trying to spend all his money in 48 hours."
Leave it up to a guy that owns 9,000,000 online casinos to come up with an offer that Dana White 'couldn't refuse'…but eventually did anyway:
"Sources tell me Dana's a big Bodog Fight fan," said Ayre. "He must be. He can't stop talking about us. Personally, I love it when he keeps mentioning my organization in the media. He doesn't seem to realize that each time he does, it only makes me more money, which is why I want to repay him by allowing him to experience the luxurious lifestyle I am fortunate to enjoy for 48 hours."

"Since, regrettably, I am unable to attend the upcoming Bodog Fight event in New Jersey, I will offer to send my private jet – complete with an assortment of beautiful Bodog Girls – to pick up Mr. White, wherever he may be. I will then fly him to the east coast where he will enjoy a front row seat to our next event, followed by a VIP evening including a comfortable five-star overnight stay in a nearby Atlantic City hotel. After hitting the poker tables, Mr. White can retire to his lavish suite, sip the finest champagne and relax in the knowledge that all amenities and services are complimentary as my way of saying 'thank-you' for all the money he keeps making me."
Despite putting on a PPV show with The Last Emperor headlining the card, being a premiere destination for women's MMA and even sponsoring a Strikeforce card inside The Playboy Mansion…things were never the same when 100 Costa Rican police raided the 3.5 million dollar mansion of billionaire Calvin Ayre during the filming of the Bodog Fight reality show. Note: If you ever have a mansion in a third world country, always remember to pay off authorities…or they'll just ninja it up inside your house and take your stuff. A few hundred employees were laid off at Bodog and literally overnight, Bodog Fight collapsed in 2008 after losing an estimated $37,000,000 in 2007. That's huge. If I lost $37 million the first presser I would release to the media would be titled 'Why the hell didn't you tell me I had $37 million?'. Calvin Ayre is still a billionaire doing what billionare's do and somewhere in this entire debacle, Matt Lindland still claims Bodog owes him loot from his fight with Fedor. Bummer.
So it was pretty cool that Cage Rage housed a stable of studs like Anderson Silva, Vitor Belfort, Masakazu Imanari, Shaolin Riberio, Semtex, Michael Bisping and Bigfoot Silva. And it was pretty sweet how Proelite (the same company who owned EliteXC) bought them out in 2007 making them somewhat of a (short lived) force in international markets. But the real reason why Cage Rage placed #6 on MiddleEasy's 'Top Ten MMA Organizations we really, really, really miss alot' is for one primary reason. One fight that unequivocally is the greatest slugfest in MMA history. If you're at a bar and you happen to see John 'the compulsive liar' and his Frank Shamrock tattoo and he tells you the best MMA fight in the history of MMA fights (don't worry, he'll probably say UFC since he doesn't know anything about MMA) was Stephan Bonnar vs. Forrest Griffin; you snatch his pink laminated card that proclaims he's a blackbelt in muay thai and tell him that Melvin Manhoef vs. Evangelista Santos is hands down the greatest, dirtiest and sloppiest slugfest in history. It's like these dudes met back in 5th grade and Melvin said 'Look man, screw you for stealing my last Lunchable today. Don't worry, 15 years from now all debts, grudges, smack-talk, bs and stolen property will be settled on February 4th 2006 in London, England…and you better replace your chin with a solid piece of adamantium'. Manhoef has the highest KO ratio in all of mixed martial arts. There's a reason why people call him the Dutch Mike Tyson (and it's not because he stars in a hilariously funny movie about Las Vegas). Since I've hyped this fight to mythical proportions, I feel obligated to show you guys what the first nuclear detonation in London, England looked like:
Cage Rage was a solid organization and undoubtedly the UK's biggest promotion to date (they press released a movie based on the organization). They also had something called 'The Open Guard Rule' which was a pretty sweet addition. To prevent guys flopping on their backs in hopes of baiting their opponent into open-guard (Thales Leites style at UFC 97), Cage Rage instituted a rule that if an opponent was on his back and at least a meter from the cage/net, the referee could raise his arms and announce 'open guard' which would allow the guy standing up to use soccer kicks to the head, head stomps and flying knees straight to the skull. Essentially, 'The Open Guard Rule' really means 'Ok, you can pretend like you're in Pride FC for a little bit'. It was a pretty unique twist but it really never changed the outcome of any fight but hey…soccer kicks are always a good thing. Just ask Alistair Overeem.
On September 6th 2007, Proelite (sort of like the American FEG. They owned EliteXC, Spirit MC, Icon Sport, KOTC and Rumble on the Rock) announced they have gobbled up yet another organization: British behemoth Cage Rage. They would use this acquisition to share fighters with their new alliance with FEG. Everything looked good on paper, British fighters coming to America, American fighters being swapped with Japanese guys. It was like some weird multi-cultural lego set. Except, Proelite never really completed the purchase of Cage Rage.
The plot thickens in the ProElite debacle with a new slant on the situation not yet revealed… a conversation with Andy Geer following the inaugural Ultimate Challenge show this past weekend revealed that although Cage Rage had been purchased by ProElite, they hadn't actually paid for it before going under.

Geer explains the situation, "To all intents and purposes, ProElite had entered into an agreement to purchase Cage Rage. A deal was struck with a deposit accepted. Then they had a cut-off date to make a balloon payment; they never completed the purchase."
Yeah, if your name was Andy Geer (promoter of Cage Rage) then your life pretty much started to suck at the end of 2008. Dude tried to get ownership of his organization back from Proelite but by this time, Proelite collapsed and all that's left on Proelite.com is one giant image of what the site would have looked liked if it were still functional. Creepy stuff. Last year marked the end of the only premiere MMA organization left in the UK. Bummer…or as they would say in the UK: Gutted. There is a Scottish promotion entitled 'Cage Rage' that just had their third event sometime in late September of 2009 but the two organizations are unrelated, or are they…
Egh, just a coincidence, or is it…
Yeah probably.
Or as everyone knows it by: Pride FC Lite. Where else could you see Lyoto Machida vs. BJ Penn, Joachim Hansen vs. Caol Uno, Genki Sudo vs. Ramon Dekker, Sam Greco vs. Heath Herring, Jerome LeBanner vs. Sexyama (with Bob Sapp, Gary Goodridge and Valentijn Overeem riding shotgun) all on one friggin card. At Hero's 1 (which was actually Hero's 2), Jerome LeBanner was nearly 100lbs heavier than Yoshihiro Akiyama but it's Japan, and they gave us Mothra vs. Godzilla so sometimes you just have to let stuff slide. Akiyama did and LeBanner served up Yoshihiro's only lost in his MMA career. But if Jerome LeBanner vs. Sexyama was the measuring stick for freakshow matches then Genki Sudo vs. Butterbean sort of took the entire freakshow match metric system, urinated on it and then repackaged it and put it back on the shelf.
Heroe's first show titled 'K-1 Hero's Premium Dynamite 2003!!' (which won the award that year for 'MMA event most likely to pass off as a level in Super Contra') was a blend of kickboxing (friggin Ernesto Hoost was in the house) and mixed martial arts. Just for the hell of it, Genki Sudo accepted a fight against Butterbean. If Butterbean is an accurate depiction of genetically modified vegetables…then we're screwed. Besides having a 260lb weight advantage over Genki Sudo, Butterbean was known for his…oh wait, it was the dude's first MMA fight. Genki cleaned him up with a heel hook in the second round and went back to knitting his 'We are all one' quilt.
The matches produced in Hero's represented what most consider the golden age of MMA. Dudes were in their prime and they were willing to just completely wild out. Maybe I'm having some serotonin re-uptake inhibitor flashback (thank you Earthdance 2005) but things just seemed magical back then. UFC wasn't the frate trane (UG shout-out) that it is today. Kid Yamamoto vs. Caol Uno, Bobby Olgon vs. Akebono, Heath Herring vs. Gary Goodridge, Semmy Schlit vs. Min Soo Kim, Calvancante vs. Nam Phan, Sakuraba vs. Royce Gracie, Sergei Kharitonov vs. Alistair Overeem, Sexyama vs. Dennis Kang, Zuluzinho vs. Minowaman…even Brock Lesnar was doing his thing in Hero's. Every event was like some MMA grab bag and it always was on point.
Hero's was another sacrifice to the leviathan known as FEG. They decided to can Hero's (as they did with Pride and Yarrenko!) and merge them all into the MMA Frankenstein we've all come to known and love: Dream. Still, with Hero's and Pride FC operating independently we could expect well over 10 fights a year…but hey, we'll take what we can get. RIP Hero's.

The International Fight League. The only place that Jay Hieron was never entirely screwed at. The IFL was started by the founder of Wizard Magazine, Gareb Shamus, after he watched 'The Smashing Machine' which is actually a crazy interesting documentary on the life of Mark Kerr. Shamus partnered with real-estate developer Kurt Otto and the International Fight League was magically formed on January 7th 2006.
Instead of the fight to fight paychecks most fighters were getting at the time, every IFL athlete was on salary and the organization provided fighters with a pretty beneficial health package. We asked Jay Hieron about the IFL and the dude has some pretty positive things to say about it:
"It was actually good. They definitely treated the fighters right. It was a little different, they had the team concept. I was on salary with them so I was getting a check every month which was great for being a fighter because you fight pay check to pay check when you fight so that definitely keeps your mind at ease that you know you got money coming in it makes everything smooth with training, you get your bills paid and stuff. They were always professional. They definitely treated us right. They may not have made the best business decisions but they always treated the fighters good."
The IFL revolved around a team concept (sort of like the M-1 Global Challenge) which pitted a five on five fighter format (not at the same time, that would just be way too cool). The initial teams were the San Jose Razorclaws, Toronto Dragons, Tokyo Sabres, Los Angeles Anacondas, Southern California Condors, Nevada Lions, Chicago Red Bears New York Pitbulls, Quad City Silverbacks, Portland Wolfpack, Tucson Scorpions (coached by Don Frye) and the Seattle Tiger Sharks (if your team wasn't represented in the above mentioned list then we suggest you take it up with, oh yeah…the IFL is friggin dead. Necrophilia ftw.) You can still nab some authentic IFL fight jerseys on eBay if have absolutely nothing to do on a Tuesday afternoon. In 2008 the team format was later replaced with camp vs. camp and the 5 vs. 5 matches were reduced to 3 on 3 (the equivalent of an MMA half-court game).
The IFL can also claim they won the sweepstakes to be the first MMA organization to be regularly broadcasted on a major television network. In 2007 they made a deal with Fox Sports Net and MyNetworkTV (formally known as The WB and UPN) and IFL Battleground premiered March 12th 2007 on Fox with just about 1.2 million viewers (which was a MyNetworkTV record high for the 18-34 male demographic). Roughly a year after their network premiere, the IFL signed a deal with HDNet to air the first three episodes of their 2008 season live and, to no one's surprise, Fox pulled out of the their television deal with IFL.
I know what you're probably wondering: Where the hell was Dana White during all the IFL festivities. Well he was busy threatening to sue Fox if they inked a deal with the International Fight League, or at least that's the reason why the IFL sued the UFC.
The IFL alleges that it was about to sign a major deal with Fox Sports to televise its fight league when White and the UFC baselessly threatened to sue Fox Sports if the TV network inked a deal with the IFL.

According to the IFL, Fox balked when threatened with the lawsuit and chose to put the deal on "hold." The IFL, alleging that White and the UFC set out on a course to "crush" the fledgling company, said the UFC also threatened major fight managers that if they dealt with the IFL their fighters would be barred from the UFC.
But, as you probably expected, the UFC had a little countersuit up their sleeve:
The Las Vegas-based promoter alleges that problems with the IFL started when the IFL illegally hired away a UFC employee, Keith Evans, and a former UFC employee, Steven Tornabene. Tornabene had, according to the UFC, signed a non-competition agreement when he left the company despite the fact that he previously had a relationship with the IFL.

The UFC alleges that Evans and Tornabene took valuable confidential information and trade secrets belonging to the UFC and gave them to the IFL. Moreover, the UFC contends before Tornabene left the UFC he fraudulently obtained all-access passes to UFC 55 and gave Shamus and Otto those passes to scope out the UFC production truck and get even more proprietary UFC information.

The UFC claims that the IFL has been using the misappropriated confidential information and trade secrets to illegally compete against it.
Despite having all the comic book money in the world, the IFL couldn't financially get it together and by June 2008 rumors of an impending bankruptcy was already looming over the International Fight League and on July 31st 2008 the organization officially went bankrupt. So what do you do when your MMA organization is financially hanging off a cliff by a little piece of skin attached to it's eyelid? You try to get the company that allegedly contributed to your bankruptcy to buy you out and save your ass…ets. Still to this day we really don't know who or what owns the IFL. They're still a publicly traded company (if you act fast you can buy a share of their stock for $0.01) and we do know the UFC started using their clips last year but recently stopped and if you visit HD Net's site you can buy official IFL DVDs (which sort of means HD Net acquired the IFL or at least a portion of it). The loser in all of this is the guy on eBay that has like 800 IFL posters he just can't seem to sell.
Elite X friggin C. Damn. You guys have no idea how bad the MMA world wanted you to survive. EliteXC was voltroned into existence December 14th 2006 through a unique alliance with the Showtime Network and the MMA conglomeration known as Proelite (now defunct of course).
Their first event was held in the MMA hotbed of Southaven, Mississippi. EliteXC caught everyone's attention with their unexpectedly stacked card featuring Las Vegas ODB impersonator, Krazy Horse vs. KJ Noons (which actually surprised the hell out of everyone and is a blatant lesson on why should not call out your opponent during a press conference), Joey Villasenor vs. David Loiseau, Gina Carano vs. Julie Kedzie and Renzo Gracie vs. Frank Shamrock headlining EliteXC: Destiny (Bigfoot Silva , Mike Pyle and Bo Cantrell were also thrown in the undercard mix). Oh, and Vanessa Wade was an EliteXC ring card girl. Matter of fact, the EliteXC ring card girls were kind of money. Between fights they wouldn't just sit down, these chicks would get up on the podium and dance until the next fight started…and nothing is wrong with that.
Within months, Showtime announced that it would partner with Elite XC to broadcast a challenger series entitled 'ShoXC' live on their network (after EliteXC's collapse this transformed into ShoMMA and then eventually manifested into it's current incarnation 'Showtime Challengers'). It took EliteXC less than a year to nail out a contract with CBS that enabled them to broadcast a live MMA event every other month in a primetime slot on a Saturday night. At the helm of all of this MMA goodness was former boxing promoter (and soon to be reality show star) Gary Shaw. When the CBS deal with down, Gary Shaw stated:
"The sport of MMA airing on CBS is the single biggest thing to happen to the sport,"

"I've said all along I think the UFC is great."

"I like the Fertittas and Marc Ratner (UFC vice president of regulatory affairs) is like a brother to me. But the problem is no fighter can be bigger than Dana White or the UFC. For us, the fighters will always be the biggest stars."
Little did Gary Shaw know that he just entered The Dana White Zone (whatever that's supposed to mean). Here is how Dana reacted to Shaw's comments:
"Gary Shaw is (an expletive) loser…We beat our pay-per-view numbers from last year. Do you hear that? We beat our pay-per-view numbers from last year. We just don't brag about it because we don't talk about our business in the public."

"And if we were getting competition, it's not coming from EliteXC and both of the people who are watching their shows. This guy is a low-level bottom feeder. He didn't like MMA a few years ago, but when he finally couldn't make money at boxing any more, he came over to this sport to try to leech money out of it."
Things just went from worse to 'wtf?' when Gary Shaw responded to Dana White's comments:
"Dana white is a jerkoff. That's what Dana White is, he's a f—ing idiot, and you can quote me. If he cared about mixed martial arts as a sport instead of caring about his swimming pool and his own personal gains …"
While words were being exchanged, EliteXC chose to a dip in the Youtube talent pool and came out with the only dude in MMA that can simultaneously rock a santa clause beard and gold teeth: Kimbo Slice. Trained by Bas Rutten (at least we think), Kimbo was mowing through competition at EliteXC. Dude submitted Bo Cantrell in 19 seconds with a flurry of fists aimed directly to his brain. His next fight only took 43 seconds to KO UFC legend Tank Abbot. Kimbo's third fight went all the way into the third round before Slice popped that alien creature James Thompson called an 'ear'. Everything was good in EliteXC land until that fateful day on October 4th 2008.
Originally, EliteXC scheduled a match between Ken Shamrock and Kimbo Slice. Just 5 hours before the fight was about to go down, Ken Shamrock claimed an injury he sustained in training would keep him out of his much-hyped bout with Kimbo Slice. EliteXC scrambled to find a replacement and they grabbed Smoothie King operator, Seth Petruzelli. Seth was an ex-UFC guy that went 0-2 in the octagon. Bell rung and within 14 seconds, Seth Petruzelli knocked out Kimbo Slice. The world was stunned…and so was Seth. Petruzelli later told reporters that he was instructed to stand-up with Kimbo Slice and not shoot for the takedown. This resulted in perhaps the most entertaining video Dana White has ever made:
And that was a wrap. EliteXC never fully recovered from having their golden boy knocked out by a no-namer with pink hair. Investors pulled out, sponsors didnt want to drop the kind of cash they once were and on October 20th 2008, just 16 days after the fight, EliteXC closed their doors for good.
What a friggin Greek tragedy…for all of us. Affliction was a long time sponsor of the UFC. Everyone rocked their threads (even Dana White) and the universe was perfectly in order. Tom Atencio (CEO of Affliction) decided that he wanted to check off the 'promotion box' on the resume of his already wildly successful clothing line. Dana White gave Affliction the ultimate ultimatum: if they created their own promotion, Affliction Clothing will be banned from the UFC. A light bulb appeared over Atencio's head (from some dimensional portal the creates lightbulbs just above eye-level) and a few weeks later Affliction: Banned was announced (accompanied with a 'thank you' email sent to Dana White for naming Affliction's first MMA event).
Affliction: Banned was an absolute friggin MMA spectacle. Funded by Golden Boy Promotions, Affliction Clothing, Mark Cuban and Donald Trump; Affliction flexed it's fiscal muscle by doing things no other MMA organization ever dreamed of at the time. Fighter payrolls topping $3.3 million (Andrei Arlovski pocketed $750,000), Megadeth performing live in front of a crowd of 14,382, Mike Buffer announcing, confetti dropping from ceilings…it was like the New Year's office party that you always thought you would go to after you landed your first job right out of college. Fedor KOd the former UFC Heavyweight champion Tim Sylvia in 31 seconds and he was crowned the first WAMMA Heavyweight. Affliction pulled over $2,100,000 at the gate alone (with PPV buys being well over 100,000). It was considered a monumental success.
Affliction Entertainment's second fight, Day of Reckoning, went down January 24th and many still consider it to be the most stacked card of 2009. Fedor, Arlovski, Barnett, Gilbert Yvel, Lindland, Vitor Belfort, Babalu, Sokoudjou, Buentello, Kirill 'Baby Fedor' Sidelnikov, Dan Lauzon, Matyushenko, Lil Nog, LC Davis, Jay Hieron, Jason High and Brett Cooper all flown first class to Anaheim and under the dome of the Honda Center. Advertising was amped up, production quality was dipped in sexy, and even Vadim Finkelstein (president of M-1 Global) invited Dana White to attend Affliction: Day of Reckoning but that meant Dana had to take time out of his day from ripping into Affliction. The fight went down, Fedor pulled off another spectacular knock out on behalf of Andrei Arlovski (who made a record $1.5 million for the fight) and Affliction's second card was in the history books. And then there was Affliction: Trilogy…
Late in May of 2009 it was announced that Affliction would have it's third card titled 'Trilogy'. Immediately everyone put up their 'wtf?' flags claiming that anything named trilogy usually denotes the end of something (except if you're George Lucas, in which trilogy means you can make three movies that will completely ruin your franchise). But Affliction assured us that this would not be their last card and there indeed will be more. Fights started to shape up like Mousasi vs. Babalu, Buentello vs. Tim Sylvia (later replaced by Gilbert Yvel after he got KOd by Ray Mercer), Chris Horodecki vs. Dan Lauzon, Jay Hieron vs. Semtex and of course the most anticipated heavyweight bout in MMA history: #2 ranked heavyweight Josh Barnett vs. #1 ranked heavyweight Fedor Emelianenko. Tickets went on sale to the end of the world June 4th, a LOT of trash talk flew between Tom Atencio and Dana White and even Joost Raymond, the CEO of of M-1 Global challenged the UFC to watch Affliction: Trilogy to "come watch a real championship fight." Everything was going as planned, MiddleEasy even scored press credentials for the event and…everything just sort of collapsed.
The CSAC caught Josh Barnett with anabolic steroids from a drug test he completed in June of 2009. Even though he appealed the CSAC decision, dude was tentatively out of the fight. CEO of Affliction, Tom Atencio, began the frantic process of finding a replacement to take on the best fighter in the entire world with only two weeks notice. Everyone threw up their 'Possible Barnett Replacement' lists and Brett Rogers seemed to be the collective front runner…even Fedor's camp wanted a piece of The Grim. It was reported that Rogers would take the fight but wanted a cool $800,000. Rumors were flying everywhere, smacked a few people in the face, caused a couple concussions and then out of nowhere; BJPenn.com confirms Vitor Belfort will be fighting Fedor in Affliction: Trilogy. Yes, a middleweight stepping up two weight classes to fight the best heavyweight in the galaxy. Something wasn't right. After a couple of frantic conference calls with Tom Atencio, Affliction Entertainment collapsed Friday, July 24th at 1:27 ET and instantly made a deal to become an official clothing sponsor at UFC once again. It's like some dysfunctional loop that left a lot of fighters with bills to pay. Thank you Josh Barnett. The day he was scheduled to fight Fedor, dude read a comic book instead.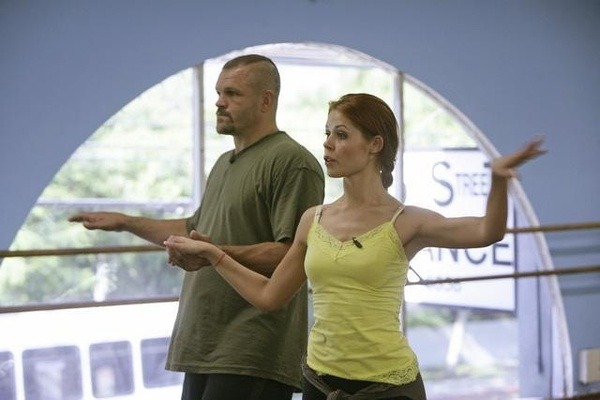 Get the tissues out dude, get the friggin tissues out man. I don't even want to do this so I'll keep this very brief. Talking about Pride FC is like talking about your ex-girlfriend that gave you the most amazing sex but died in a freak motorcycle accident. Everything that you ever wanted to know about MMA already happened here. Seriously. Pride FC will go down as the best MMA organization that ever was and ever will be. Pride FC will also go down as the organization with the most shady behind the scenes dealings. We had a conversation with Bas Boon a few weeks ago and the dude allegedly claims a lot of stuff about Pride FC:
"Cro Cop was paid to not fight on NYE at the [Inoki] Bom Baye show (Pride arranged this he was paid to get injured) and this was the reason for me trying to save the show by getting Fedor to fight even with an injured hand. I had no other options left in Japan. I arranged for him to fight a pro-wrestler at almost 4 times more money than he ever made with Pride. The contract was for four fights."

"We were unlucky with the "war" in Japan as all three promotions/ companies K-1, Pride and Bom Baye were doing a New Years Eve show at the same time (this never happened before). Behind the scenes in Kobe, Japan that 2003 NYE fight night I had many Yakuza threats as well as Miro Mijatovic. Finally the Yakuza was pressing [Seiya] Kawamata [the promoter] to pay one million [We're assuming US Dollars] for Fedor to fight in Pride and another million to the Yakuza."

"The result was that the promoter, Kawamata, left Japan and took whatever money he could get with him mainly because of the Yakuza threats."
Could the Yakuza collapse the greatest MMA organization in history, yeah they could. Did they? Who knows man, all that we have are relics in the form of Youtube clips and late night/mid morning memories of live PPV events. That's it. That's all we have. I'm stopping right here, there's no way I'm going to cry on MiddleEasy…again.
Everyone pour a little sake out tonight for Pride. RIP Pride FC. You will forever be missed.