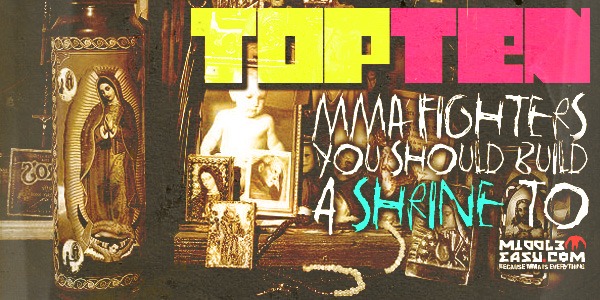 Somewhere deep within an ashram in Tibet, a corner of a room has been sectioned off to pay homage to a handful of truly unique MMA fighters. We're not talking about the obvious here. Guys like Anderson Silva, BJ Penn, Georges St. Pierre and Fedor already have their respective cult following. They no longer need our spiritual guidance. This section of the room in this undisclosed ashram is dedicated to a group of guys (and girls) that took the MMA world by the scrotum, gave it a firm yank and then raided our fridge as we all rolled around our living room floor in excruciating pain.
Only a select few deserve their own effigy constructed out of spare plywood, leftover Christmas decorations and half-empty cans of spray paint. I present to you 'The Top Ten MMA Fighters You Should Build A Shrine To' only at MiddleEasy.com – Because MMA is everything.
Whatever you do, try not to let your girlfriend know Michelle Waterson exists. If you have bikini photos of her, don't hide them in a folder on your desktop called 'Work'. If you do have a potpourri of Michelle Waterson pics under a folder on your desktop called 'Work', don't hand over your laptop to your girlfriend and disclose your Windows login password. If your girlfriend finds these photos, she will threaten to smash your laptop against a hampster cage and kick you out of her apartment. You will then have to hop on the nearest train and book a hotel for the rest of the night (everything about that story is true).
We can all agree that Michelle Waterson is beyond hot. That's already an established fact humanity has come to accept like…the Lakers are the most dominate team in the NBA history or Kimbo Slice is already a UFC champion. It's not even debatable. The only thing the world needs to see is more of Michelle 'The Karate Hottie (that's her real nickname)' Waterson. She holds a record of 6-3 and she trains out of Greg Jackson's camp, the same guy responsible for the equally hot Julie Kedzie (yum) and Georges St. Pierre (hot only if you're a chick…or a Mets fan). Her last fight, she chalked up an 'L' to Elena Reid last April which inevitably turned out to be the hottest fight in MMA history. Before that, Waterson grabbed a 'W' against Tyra Parker (she's cute too, they're all cute).
I woke up in a frenzy this morning thinking about Michelle Waterson. If aliens landed on the White House lawn right now it still wouldn't be as exciting as knowing that Michelle Waterson mounts other chicks in the cage…with hot pants on. If you're still not convinced that you should raid your local Home Depot to build a shrine to Waterson, just Google her and make sure your girlfriend isn't standing over your shoulder (double check just to make sure, trust me).
Here's a little blueprint to get your shrine started. No, that wasn't some sexual innuendo.

Ah man, the story of OMA. If you were alive on July 21st 2009, you probably remember waking up to the news that Kimo Leopaldo died of a heart attack in Costa Rica. TMZ picked up on the report and the New York Post quickly followed. Within a couple of hours, the entire MMA world gave their condolences to the Leopaldo family in a variety of blog posts, news articles and guys that still proclaim if Royce Gracie fought Kimo again, Royce would lose. It took Kevin Iole of Yahoo! Sports several tries to eventually get a hold of Kimo Leopaldo on the phone in which he replied with:
'I knew I wasn't dead, so when I was reading this I wondered if I was jinxed or something was going to happen

'It was really strange. I was surprised at how nasty it was. I guess it wasn't a good thing. I've always had strange things written about me but nothing this bizarre. I couldn't believe it when I searched for my name and I wrote in 'Kimo Leopoldo' and it added the word 'death.''
His publicist press released a statement that Kimo was in fact not dead, but just sleeping. The next day, dude even held his very own 'Look people, I'm alive' press conference.
And the guy behind it? Undefeated mixed martial artist Beau 'One Man Army ™' Taylor. Hold up, it gets even more bizarre.
Shortly after the incident happened, Beau Taylor spoke with TheSmokingGun.com about how he duped the entire MMA world. Everyone needs to read this TSG report in its entirety because it will be the funniest thing you will read today (regardless of current time or location).
JULY 22–The fabricated claim yesterday about the purported death of a former Ultimate Fighting Championship star was the handiwork of a self-described "Internet troll" with a "weird mind." Beau Taylor, a 31-year-old Oklahoma man, created a thread on a popular mixed martial arts (MMA) web site reporting that Kimo Leopoldo had died in Costa Rica of a heart attack. Taylor told TSG that he selected Leopoldo as the subject of the hoax in light of the fighter's arrest earlier this year on drug charges. "I thought it would be a good fit," said Taylor. The fabricated account of Leopoldo's death leapt beyond MMA web sites and bulletin boards when TMZ.com reported yesterday afternoon that it had "confirmed" the 41-year-old athlete's demise (this confirmation was presumably delivered by one of the gossip site's paid sources). The erroneous story was later yanked from the site, which is now batting .500 on recent death exclusives. For his part, Taylor's eventful week has also included a public intoxication arrest. He was busted early Sunday morning after security officers at a shopping center found him passed out in his car with the engine running, with "an open container of beer in the center console," according to a Tulsa Police Department report. Cops noted that Taylor reeked of alcohol and had difficulty standing. "Taylor said that he had left his house intoxicated in order to buy cigarettes," noted cops, who reported that Taylor said he had consumed three glasses of wine and six beers. Asked about his beaming mug shot, seen below, Taylor spoke of trying to strike the right booking photo balance: "You know, I didn't want to look like Nick Nolte," he said. "Or that I was too happy to be arrested."
For his antics, Beau Taylor was banned from The UG (the forum in which he created the hoax) but his account was later reinstated just for the sheer rawesomeness of his trolling ability. OMA even created a parody of Kimo Leopaldo's press conference where he claimed Kimo was still deceased and the previous Kimo press conference was just a hoax. Besides becoming an internet legend over night, OMA also claims he is the World Champion of the American Southwest (dude does have a belt) and is currently recovering from an injury that has sidelined him for much of 2009. You can find Oma/Beau Taylor still doing his thing on The UG to this day. Have fun with that.

Raise your hand if you've operated an unsanctioned, underground fight club entirely in your gym in Palm Springs, Florida. If your name isn't Din Thomas then you should slap yourself in the face and give me everything in your kitchen (including that six-pack you bought for this weekend). Din Thomas is the friggin man. I know that expression is used more than 'Machida is elusive', but it's true. Din Thomas is the friggin man. Who else has a DVD where they teach you 1,001 submissions in a 52 volume set. I bet you didn't even know the human body was capable of 1,001 submissions (it's cool, I didn't either). When Chris Brown was accused of assaulting Rhianna earlier this year, Din Thomas got on the mic after his win over Gabe Lemey and called out Chris Brown. Dude announced in front of an audience of drunk fans that it was wrong to beat chicks and if Rhianna ever needed his assistance, he would readily be available. See, I told you Din Thomas is truly the friggin man.
We ran into Din when we covered The Ultimate Chaos, we even took pictures of him in his undies. His opponent was supposed to be Javier Vasquez but due to some incompetent confusion, he wasn't allowed to fight (matter of fact, no one really knows exactly what happened). But let's get back to the underground fight club Din Thomas operated in his gym in Florida…
Din Thomas constructed a full size UFC octagon at his American Top Team gym and charged admission to a crowd of over 150 heads. Din Thomas was later arrested and managed to post a $10,000 bail to be released from prison.
Shine Fights has signed Din Thomas to an exclusive contract along with the former WBC and WBA welterweight champion, Ricardo Mayorga. When Din got word of Mayorga's signing he issued the following statement:
"Ricardo Mayorga just signed to fight in Shine. I think he is afraid of me. If he does accept the fight I will put him into retirement and send him back to his fruit stand in Nicaragua. He will be wearing a straw hat, smoking cigarettes, and selling bananas once and for all. This is MMA and I will beat him standing or on the ground. I will let him pick how he wants to lose his first MMA fight."
Dude got his wish. Shine Fights has slated Ricardo Mayorga's first MMA bout to be against the same guy who defeated Clay Guida, Matt Serra, Rich Clementi and Jens Pulver. Good luck Ricardo.
Out of the many people that have crossed Nick Diaz's path (in or out of a hospital in Las Vegas), Koji Oishi definitely gets the award for being the most desperately inventive. Dude had a plan unlike any MMA fighter out there. He was a visionary. Koji Oishi was ahead of his time. If we went back 300 million years, Koji Oishi would be that one fish who tried to walk on the beach but failed miserably and died of suffocation. Charles Darwin would have been proud of Koji Oishi. To avoid getting punched in the face, most MMA fighters would either dodge or block with their forearms. Not Koji Oishi. In fact, if Oishi got a hold of your gameplan he would urinate on it and right hook it into the ground.
Koji Oishi gave the saying 'a good defense is a strong offensive' an entirely new meaning. On June 4th 2005, Oishi's trainer convinced him to execute the most awkward and impossible defense in UFC history. Instead of blocking and dodging strikes, Koji Oishi was instructed to intercept Nick Diaz's fist with his own. Koji Oishi believed that if he were to punch Nick Diaz's fist as Diaz threw a strike at him, he would create enough force to break Diaz's hand. We're serious.
Needless to say, it led to one of the biggest one-sided beatings in UFC history. Apparently, blocking a punch with your own fist is a lot harder than it looks on paper (and whoever wrote that on paper should be slapped in the face). Koji Oishi now fights exclusively for Pancrase and since his UFC 53 fight against Nick Diaz, he has racked up seven wins (one over Nate Diaz), four losses and three draws. Koji Oishi is the future…in some weird alternate universe.
On January 24th 2009, the world was introduced to a guy from Riverside Submission Camacho MMA team that had an impressive record of 7-1 (with all eight fights occurring in 2008). On two weeks notice he made his PPV debut on one the biggest cards of 2009: 'Affliction: Day of Reckoning" (RIP). While you were contracting a staph infection from training your Brazilian jiu-jitsu, Bobby Green was busy thwarting gang turf wars with his fighting style. The fact that Bobby Green's fighting style is categorized as: "Hood" should be enough for you to sacrifice a few goats in his honor.
Just before Bobby Green walked out to the ring, dude was so preoccupied with jumping in the stands and dancing amongst the crowd that he missed his walk-out cue. Affliction ended up announcing his name before his intro video was shown on the monitors at the Honda Center in Anaheim, California. Bobby hopped down from the stands, ran back-stage to redo his entrance but it was too late. Everyone was going nuts and Bobby Green had already premature ejaculated his entrance. It's ok, we've all done it before.
Once Bobby Green's bout with Dan Lauzon ensued, we all realized what fighting style: 'Hood' entailed. Essentially it meant kicking a guy in the testicles three times in the first round. Big John wasn't officiating the fight but he said the first groin shot didn't even land but the other two were fair game. After the first testicle punt, Bobby Green rested on the ropes, looked at the crowd and the camera caught Green saying 'Oh sh__ it's Oscar De La Hoya…and Donald Trump'.
Unfortunately 'Hood' couldn't keep Bobby from being submitted by Joe Lauzon's brother. With five seconds left in the first round, Bobby was caught with a rear-naked-choke that forced him to tapout. Bummer. Dude still pocketed a cool $4,000 which he probably used to further improve his 'hood technique' (compared to Andrei Arlovski who made $1,500,000 for not listening to Freddie Roach's gameplan).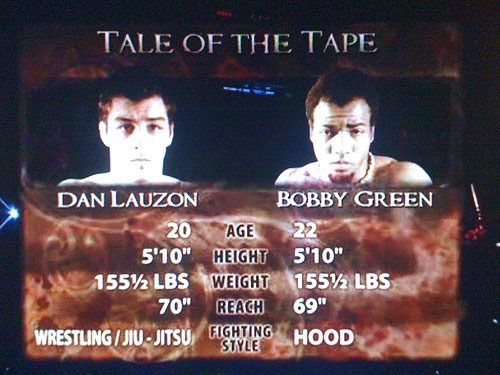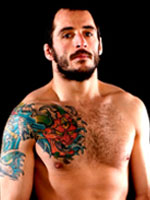 Krazy Horse is better than your favorite MMA fighter. Alright, maybe not better but astronomically more entertaining. If the entire MMA world were condensed to Marvel comic cliches, dude would undoubtedly be Deadpool. Damn, that was pretty friggin nerdy. I hope that chick I met at [insert name of Gentleman's club I was too drunk too remember] didn't just read that. If a place is called a 'Gentleman's Club', it really just means that you're going to be searched at the door and charged $15 for a Bud Light. Watching Krazy Horse's old Pride Bushido fights is stuff of legends. Dude plays to the camera, loves his audience and is known to never train prior to any MMA match. 21 of his 40 fights have occurred at King of the Cage so it's safe to say he's like a demigod over there. His knockout of KJ Noons (and subsequent freakishly high back-flip) at EliteXC earned him a spot on CagePotato's Eight Most Insane Victory Celebrations of All Time. In an interview with MMAJunkie (via Fightlinker), Krazy Horse says that he had to change his name to 'Kid Khaos' in order to calm his image and be a role model.
Long known as one of the more unusual – and, at times, skilled – fighters in MMA, Bennett is looking to reinvent his character. He's a father now, he says, so he needs to be a role model.

He's training, committing himself to the sport, cleaning up his image and hopefully heading into the best part of his career….That includes a move from Krazy Horse (and all that character entails) to Kid Khaos, who, despite the name, is meant to be calmer and more controlled than his former incarnation.
Yeah, we didn't think it made sense either which, of course, makes it exponentially better. If Krazy Horse isn't one of your favorite fighters, then you're just lying to yourself.
Looking up Krazy Horse's arrest record is like opening up one of those little Russian Matryoshka dolls. Every account of Krazy Horse being arrested usually has 'again' in the title. As of June 27th 2007, Krazy Horse has amassed a collection of twenty separate mugshots. We're not sure whether Krazy Horse immediately stopped doing illegal activity in 2007 or perhaps he just stopped getting caught. Maybe this Kid Khaos transformation is working after all. But before you start building your shrine to Krazy Horse, you need to check out this video of him rushing Cristiano Marcello, a member of the Chutebox Academy, after an entire evening of ragging on Wanderlei Silva. Dude gets some good blows in but Marcello eventually triangle chokes Krazy Horse into the next dimension.

Harold Howard lived in a different time. If this were the 1400s, dude would be pillaging villages and sloppily drinking wine from the skulls of lions. The general population just couldn't fully understand Harold Howard. He was too raw for his own good. On December 22th 2009, Harold Howard intentionally drove his flatbed truck directly through the entrance of the Fallsview Casino in Niagara Falls, Canada. Police have now charged Harold with two counts of attempted murder, two counts of assault with a weapon, attempted break and enter, fail to remain, flight from police, dangerous operation of a motor vehicle, mischief and two counts of breach of recognizance. Dude racked up 11 charges in one nutty vehicular escapade (luckily nobody was severely injured or killed).
People shouldn't be surprised at this behavior. Back in 1994, Harold Howard issued a general warning to anyone that dare venture in his vicinity: 'If you're coming on, then come on!' (but be sure to take off your sunglasses before you do).
But let's get to the meat of exactly why Harold Howard is ranked number four on our Top Ten MMA Fighters You Should Build A Shrine To. It's not his 2-3 career MMA record and it's not the fact that he was 'technically' the first person to beat Royce Gracie. It's because of the friggin scissor kick that refuses to go away after over 15 years of endlessly being replayed. In the UFC 3 finals, a fresh Steve Jennum replaced the worn and highly discouraged Ken Shamrock. Apparently Ken wanted to avenge his UFC 1 loss to Royce but upon hearing the news that Royce's corner actually threw in the towel at the beginning of his Harold Howard bout (due to exhaustion from fighting Kimo Leopaldo), Ken Shamrock decided to drop out of the UFC 3 tournament.
To open up his final UFC 3 match against Scott Jennum, Harold decided to do something that has still puzzled virtually everyone who has ever watched the footage. In short, Harold does a scissor kick that completely misses his opponent. Realistically, if he would have landed the kick, the damage would have been minimal and left Howard vulnerable on his back. Maybe he was just in the moment or just ecstatic that he made it so far in the tournament. Whatever inspired Harold to execute this infamous scissor kick has inspired a new generation to basically bite and perfect Harold's style.
Check out this rendition of Harold Howard's scissor from DW composed entirely by Microsoft Paint.
And of course Tom Lawlor's UFC Fight Night 20 weigh-in entrance where he pulled off the scissor kick garbed in authentic Harold Howard regalia.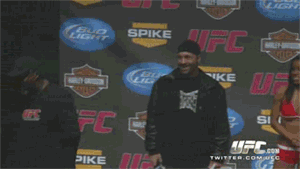 Jason Statham is like a substitute teacher version of Lightning Lee Murray. In 2006, dude kidnapped a bank manager and forced his way into what was supposed to be a high-security bank. Not like Bank of America or Well's Fargo…we're talking about the ones that have red lasers everywhere and can only be penetrated by Catherine Zeta Jones doing backflips in tight spandex. This bank was like one of those you would see in a cartoon with a 600lb diamond guarded by Elmer Fudd. Apparently, they hired Warner Bros security because Murray, along with a few of his buds robbed the bank of $96,000,000.00. $96,000,000.00! The dude must have been drinking whatever Bernard Madoff had that morning. It was the biggest bank heist in history. After knocking off the bank, the dude fled to Morocco and claimed citizenship because his father was born there. Authorities couldn't do a single thing about it. Dude just masterminded and got away with just about enough money to satisfy my ex-girlfriend. He was enjoying a ballerish lifestyle until the police arrested him for having bricks of cocaine in his pad which (probably) broke local laws. Note to anyone stealing $96,000,000.00…try not to give a reason for the police to arrest you and take your loot. Don't trespass, look both ways when you cross the street and try not to litter. The cops recovered all but $50,000,000.00 of his bank heist profits (which is practically like not recovering any) and threw him in jail. Lee Murray was somehow was released from prison on the claims that he was 'a citizen of Morrocco'. What? That makes about as much sense as Clay Guida pretending to be human. We're assuming the dude threw some cash their way and, as you read this, he's sipping dirty martinis on a bear skin rug in his villa. War Lee Murary.
Now the director of Pi, Requiem for a Dream, The Fountain and The Wrestler is slated to direct a movie based on Lee Murray's life. Besides the above mentioned rawesomeness, Murrary also had open heart surgery that took seven hours to complete. Dude had no heart for seven hours. Of course this was due to a knife puncturing his left lung, coming out the other side and lodging right into his heart. Oh, and on top of all that…he was knifed twice in the head on a separate incident and survived. Breaking news, the role of Lee Murray is going to be played by Shia Labeouf. Just kidding, let's not let 'suck' enter this movie.
You can't call yourself a true MMA fan if you're not familiar with Wallid Ismail and his beef with Ryan Gracie which has perhaps given the MMA world the greatest sound bite ever. In a time when the Gracies were running things in the jiu-jitsu game, Wallid Ismail stepped up and defeated Royce Gracie, Ralph Gracie and Renzo Gracie. Then in 1999, the feud began. In November of 1999, Ryan Gracie agreed to fight Wallid Ismail in WEC on Janurary 2000 so he moved to New York to train with Renzo Gracie. Wallid Ismail had to pull out of the fight because he was on the verge of signing off on another fight with Pride FC sometime early in 2000. The Pride FC contract fell through and Wallid signed on to the WEC fight with only six weeks notice but Ryan Gracie suddenly dropped out of their bout. In December of 1999, both fighters unexpectedly met at PePe beach and nearly scrapped on the sand and a few days later Ryan came to Wallid Ismail's gym to confront him. Dude constantly reached into his fanny pack (yeah, 10 years ago people still rocked fanny packs) and threatened to pull a gun on Wallid (later it was discovered dude didn't have a gun in his fanny pack). Wallid Ismail backed down and Ryan Gracie eventually left the gym.
On October 2000, Wallid Ismail and Ryan Gracie crossed paths at the after party for the Bad Boy fashion show in Brazil. The reports are a little cloudy, but the general consensus is that Ryan Gracie and a few dudes snuck up on Wallid Ismail and caught him off guard. Wallid's boys eventually jumped in and the fight ended with Wallid Ismail guillotine choking Ryan Gracie.
The next year, Wallid Ismail and Ryan Gracie agreed to fight on a WEC card that was planned for April 2001. Everything was good until Ryan Gracie was arrested after stabbing a man in a bar fight in February, needless to say…he dropped out again from the Wallid Ismail fight. Unfortunately, Ryan Gracie died in a jail cell in Brazil from an apparent overdose so the MMA world will never get to see an official Wallid Ismail vs. Ryan Gracie showdown (one that didn't happen in a bar at least).
However, we are blessed with two of the greatest interviews of all time…both of which belong to Wallid Ismail. If you're drinking milk, be warned that it will immediately eject out of your nose after listening to these interviews.
If your neck hasn't exploded in laughter at the previous interview, check out Stephen Quadros bringing up the one name that is guaranteed to get Ismail heated. Got to love it.
However cool you think you are, Genki Sudo has exceeded everything you've ever accomplished in your life and he did it with a synchronized team of Japanese dancers riding shotgun. Genki Sudo is the living embodiment of everything you've ever wanted to accomplish in your life manifested in the body of a 16-4-1 fighter. Genki has only been stopped once in his career and it was by the stand-up of Kid Yamamoto. That was back when Kid was pound for pound the best in MMA, since he left his wife…dude can't get a win.
Genki Sudo retired at the age of twenty-seven solely because he wanted to transition to the 4th dimension. Genki said that he was finished fighting in the 3rd dimension and his next 'fight' would take place on a mental/spiritual plane in the 4th dimension. However, Genki stated that he would have to reside in the 3.5th dimension in order to effectively get his message across. His message is simply: We are all one.
It's actually not as simple as you may think. In his documentary, Genki Sudo breaks down his message and says that we all exist in exactly the same moment. The perception of past and future is merely an illusion. If one makes too many plans in the future, a portion of their present 'self' is lost in an unobtainable moment. Of course, if one chooses to focus on their past 'self', their present 'self' will never be fully realized. Genki stresses living in the moment and to rely as little as possible on material objects. In fact, the physical world prevents Genki Sudo from fully transitioning into the 4th dimension.
Genki has said his greatest accomplishment in MMA was his K-1 – Premium Dynamite!! submission of Butterbean back in 2003. Despite being outweighed by 260lbs, Genki managed to dive in Butterbean's general direction and grab a heel hook only forty-one seconds in the second round.
Call him the 'Neo-Samurai' or the the 'Transforming Trickster', Genki Sudo is by far the most shrine worthy person who has ever graced the MMA world. He's the author of eight philosophy books and even manages his own amateur baseball league for players over thirty. Genki Sudo also has a role in the pseudo sci-fi film entitled 'The R246 Story' and that is why you should raid your garage for spare materials to construct a shrine for Genki Sudo.
Check out the first part of Genki Sudo's documentary just because I love all of you so much. We are truly one.