There is no definitive explanation for what a meme is, some say a meme is a moment in time that is captured by video or photography, later taken by 'the internet' and morphed into a Frankenstein's monster of it's original self. Topical, thought provoking, controversial and always funny, memes are part of the reason why the internet is as great as it is.
Below we have a collection of the best of the best MMA memes. They are the top ten fully realized and researched from top to bottom for the MMA novice to the bitter vet who watched UFC 2 on a pirate cable box. Dozens of classic MMA moments were reviewed for this list, and we could've easily made this a top twenty or even thirty list, but for the sake of our link at the top of MiddleEasy.com that says 'Top Ten Lists', we whittled it down to ten, and it wasn't easy. This is The Users Guide To The Top Ten Memes In MMA History.

Origin: UFC on Fuel TV 1: Ellenberger Vs. Sanchez. February 15th, 2012
Key players: Diego Sanchez, Jesus Christ, One cross made of pure silver, A seemingly healthy lifestyle.
After cleaning up his drug and women fueled life, Diego Sanchez turned back towards the powers of the church in his return to the octagon in 2012. This was made clear by his brandishing of a crucifix on the way to the cage at UFC on Fuel 1: Ellenberger Vs. Sanchez. Diego made his way out of the tunnel with a cross made of pure silver that may or may not have held supernatural powers within it, warding off all the possible evil in the arena.
Here are a few Photoshop jobs from the UG.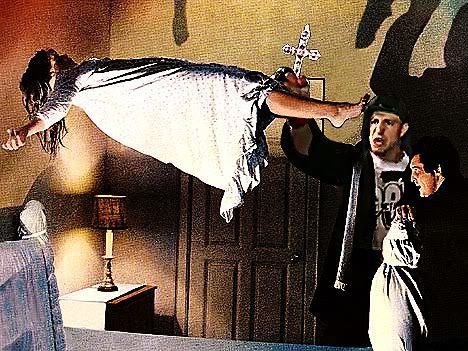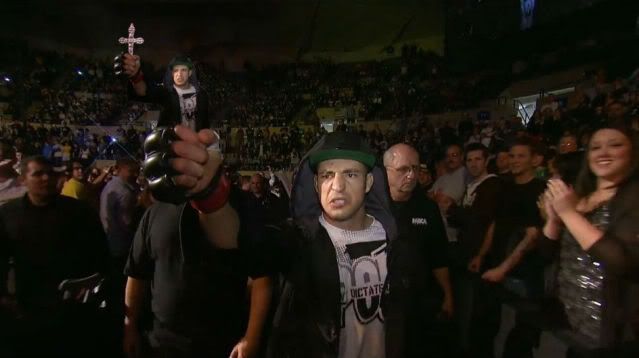 Origin: Strikeforce: Henderson Vs. Shields, April 18th, 2010.
Key players: Gus Johnson, Jake Shields, Mayhem Miller, CBS, The 209
These famous words uttered by Gus Johnson on that fateful night in the Strikeforce cage has entered the MMA lexicon of memedom as the go-to observational remark whenever something goes awry or (spectacularly awesome) during anything MMA related.
Situational uses for 'Sometimes these things happen in MMA'
Positive examples of the usage 'Sometimes these things happen in MMA'
Negative examples of the usage 'Sometimes these things happen in MMA'
Explaining to your casual MMA viewing friends why 'The Natural Born Killer' is leg kicking Nick Diaz so much: 'Sometimes these things happen in MMA'
A fighter fails a drug test for too much testosterone: 'Sometimes these things happen in MMA'
When announcing in front of millions of people on national television and a post fight brawl breaks out, you can explain: 'Sometimes these things happen in MMA'
Non-MMA related uses for 'Sometimes these things happen in MMA'
You stare down your roommate as you take the last beer and the last slice of pizza: 'Sometimes these things happen in MMA'
You get disconnected from your online gaming match of choice: 'Sometimes these things happen in MMA'
You get 5 nuggets instead of 6: 'Sometimes these things happen in MMA'
Struggling college athlete that needs to make some quick money so you make gay porn for money? 'Sometimes these things happen in MMA'
Origin: May 4th, 1948, Van Nuys, California.
Key players: Cecil Peoples, Lyoto Machida, Shogun Rua, California, Karate's possible jealousy of MMA and the spike of popularity of BJJ, thus exhibiting an extreme yearning to return to the 'glory days of Karate' in the 1980's.
After a long and fruitful career as a Karate and 'full contact fighting' champion, Cecil Peoples found a post fight career in training many fighters over a series of disciplines. UFC champ Maurice Smith being one of the more notable names under his tutelage. Eventually, 'Champion Cecil' became 'Judge Cecil' and 'Ref Cecil'. MMA they would say, was never the same (Or: Sometimes these things happen in MMA).
Exhibiting a number of unique moments as a referee or judge, Cecil Peoples the human has become a living, breathing meme. We have compiled some of the most memorable instances of Cecil's memedom below:
Cecil Peoples' Wild Dance Moves:
Cecil Saves The Day:
Most famously Cecil stated 'Leg kicks don't win fights' in reference to his (in)famous judging of Machida/Shogun. Currently Cecil is continuing to confuse fight fans everywhere with his own unique brand of MMA authority. Props to him.
Origin: The UFC 107 countdown show, the week of December 12th, 2009.
Key players: Diego Sanchez, Jesus Christ, Stevia
Diego Sanchez has been known for his spirituality and intensely focused and driven personality since his introduction on The Ultimate Fighter season 1. In the following years it became common for the fighter to scream/chant 'Yes!' as he would train, or walk out to the cage for his fights. Some said this was a result of his idolization of inspirational speaker Tony Robbins mixed with a heavy dosage of marijuana and deliciously sweet energy giver Stevia. The end result was the 'YES!' cartwheel. It was debuted in preparation for his championship bout against BJ Penn as seen on the UFC 107 countdown show.
Popular offshoots:
Appropriate times to use the 'YES!' cartwheel in every day life:
When you find out you don't have cancer.
When you win the lottery.
To warm up before a workout.
There is a chance MiddleEasy coined this term, but no one is 100% sure. As you can tell by this list, 2009-2010 was a wild time in MMA, almost a 1962-67 San Francisco in feeling and tone. Firstly, one must explain 'sprawl training'. The crux of MMA at it's core root is Grappler Vs. Striker, with the sub category in: Can the Striker stop the Grappler's takedowns to keep the fight on the feet? Therein lies one's ability to stop the takedown or at a very rudimentary level, negate one fighter's 'shot' with the technique described as a 'sprawl'. This is when the fighter defending the takedown kicks out his back legs and 'sprawls out', balancing his body weight and keeping his opponent below him. That's the best explanation I can give you, as I have not been trained in the ways of the sprawl.
To use the phrase 'With six months of sprawl training', one must see an awesome act of athleticism or potential fighting ability in a person that may be a martial artist (but not necessarily in MMA proper, a 'stand up' only fighter), or maybe an athlete not trained in the fighting arts.
Good examples of the usage of the phrase 'With six months of sprawl training':
Upon viewing the brawl at The Palace at Auburn Hills (Detroit Vs. Pacers fight that went into the stands) one could say: 'Wow, with six months sprawl training, Ben Wallace or Ron Artest might be able to do something in MMA'
When you first saw Kimbo Slice on Youtube: With six months sprawl training this guy could defeat Houston Alexander!'
Looking back on sports heroes of the past: 'With six months sprawl training, D**k Butkus could have etc'
'With six months of sprawl training' also works well with almost any Street MMA scenario.
'With Six months of sprawl training' refuses to die. Here are just a few example of headlines containing those keywords from The UG:
Origin: UFC 4, December 16th, 1994
Key players: Keith Hackney's fist, Joe Son's crushed genitals
MMA was still 'No Holds Barred' back in 1994, and Keith Hackney took full advantage of the lack of rules by repeatedly slamming his bare fist into the genitals of future convicted gang-rapist and part time Austin Powers villain Joe Son. If you were a fan of the sport back in the old days, this clip is familiar and one of the most famous from the original UFC broadcasts. Many will remember it being a favorite viral addition to the tape trading scene of the 90's and completely unforgettable once witnessed.
Origin: Elite XC: Return of the King. June 14th, 2008

Key players: KJ Noons, KJ's dad, The 209
KJ had defeated Diaz seven months prior via a doctor stoppage to win Elite XC's inaugural lightweight championship. In typical 209 fashion, Diaz with blood pouring out of his face disputed the doctor's opinion on his fight stopping cut to all who would listen. Fast forward seven months forward and Karl James defends his title in Hawaii by defeating Yves Edwards in devastating fashion at Elite XC, Return of the King. The powers that be then decided it would be a good idea to usher Nick Diaz into the cage to challenge KJ. Instead, Nick would proceed to throw a bottle of water at KJ's Dad and proclaim 'Don't be scared homie'.
The origin of 'Don't be scared homie'
Although 'Don't be scared homie' was used fairly often in the MMA messageboard's of the world post 2008, the phrase didn't truly catch fire until Mayhem Miller and Nick Diaz were caught in a confusing and bitter feud over the summer of 2010. Mayhem, calling out Diaz once again, wore this shirt baring the phrase to an EA MMA event:
The saying then went on to bear a ton of merchandise, most of which were manufactured by Cesar Gracie.
Popular offshoots: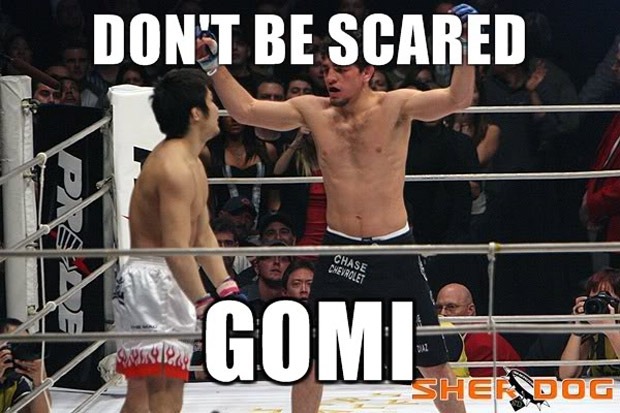 Proper usage of 'Don't be scared homie' in every day life:
Contemplating the last taco, maybe you over-ate? Don't be scared homie.
Thinking about staying in tonight and playing Xbox but your girlfriend wants a date night? Don't be scared homie.
Your favorite basketball team is down by one and they have the ball with 8 seconds on the clock. What do you yell? 'Drive the ball, draw the foul! Don't be scared homie!'
Origin: Early July 2008, Affliction: Banned press functions.
Key players: Fedor Emelianenko, M-1 Global, Affliction, Tim Sylvia, Sherdog Forums,The UG et al.
Fedor was at his most mythical proportions in 2009, heading into Affliction against ex UFC champ Tim Sylvia and with the entirety of the MMA community behind him in force. Fedor, who at the time was the undeniable and definitive GOAT, decided to wear a pastel horizontally stripped sweater to the Affliction press conference. This sweater further cemented his reputation as the 'baddest man on the planet' and spawned hundreds of quality memes.
And here are a few more from the guys at the UG, massive props goes out to them.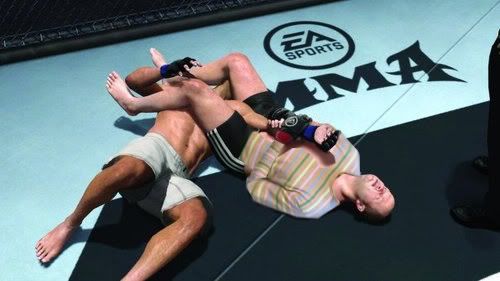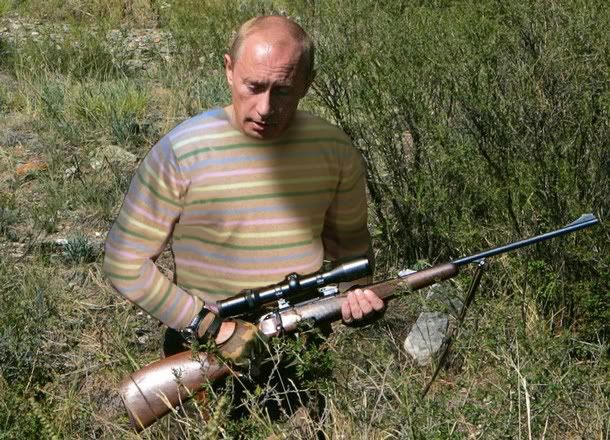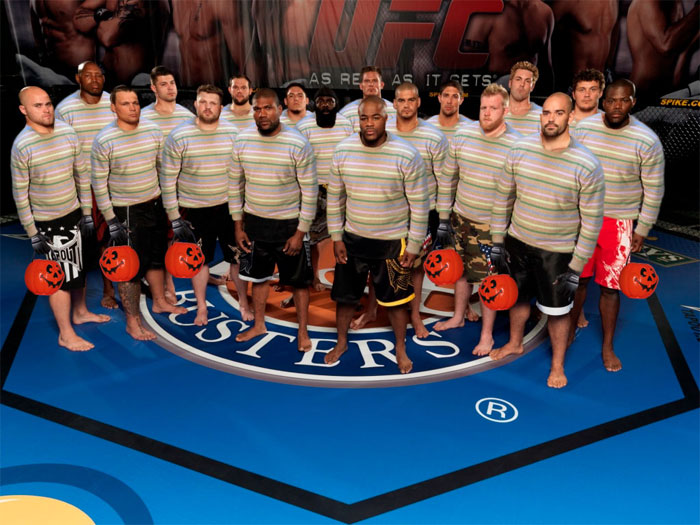 Fedor details his love for the sweater:
Origin: UFC 100, July 11th, 2009.
Key players: Dan Henderson, Michael Bisping, Adobe Photoshop, deep seeded roots of possible malcontent still harbored over the Revolutionary War.

Going into UFC 100, Dan Henderson had put up with an entire season of Michael Bisping's 'bad guy' antics on TUF: season 9. All of this came to a head when they met at the Mandalay Bay events center at UFC 100. Hendo would go on to famously KO Bisping in the second round with such savage ferocity it spawned one of the largest collections of MMA memes in history.
A collection of Bisping KO Photoshop jobs:
Origin: UFC 98, May 23rd, 2009
Key players: Rashad Evans, Lyoto Machida, the Sherdog forums, The UG

Rashad Evans went into UFC 98 the undefeated light heavyweight champion against fellow undefeated light heavyweight and number one contender Lyoto Machida. In the second round of the championship affair, Lyoto would knock out Rashad giving birth to the famous 'stanky leg' and more importantly: Rashad's legendary knocked out facial features, which will live on in history as one of the most versatile MMA memes in existence.

Animation spawned:
The images:
A meeting of the meme worlds: