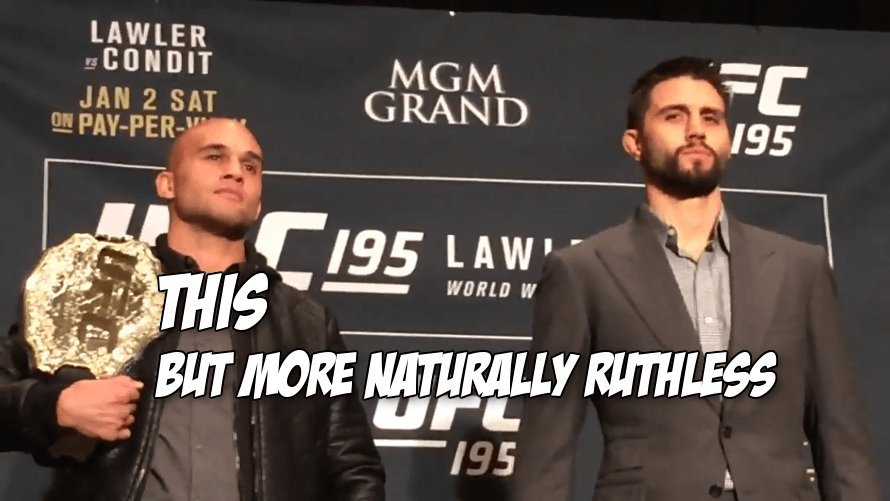 Like unpaid college football players and restaurant workers where there is a really good breakfast/brunch menu, UFC fighters have to work on New Year's weekend. Before the fighters competing at UFC 195 can legally work and fight one another they have to weigh-in.
UFC 195 is headlined by a welterweight title fight between walking human wood chippers Robbie Lawler and Carlos Condit. Lawler's last eight UFC fights have all been near classics while Condit's history of violent acts inside a cage have earned him a title shot despite just a one fight winning streak to his credit. Someone will bleed and or be knocked from a conscious state in the main event of UFC 195.
The UFC 195 weigh-ins take place at Marquee Ballroom inside MGM Grand Hotel and Casino in Las Vegas. The first fighter steps on the scale at 7 p.m. ET (4 p.m. PT).
But what is the first UFC card of 2016 without some form of expert analysis? And what better place to go for in-depth fight breakdowns than where the true UFC fans hang out; the UFC YouTube channel comment section!
ZeT: hey guys
ZeT:can you please subscribe to my chanal?:D
TheOriginalLuffy: no
Артем Долгоносов: Lawler weel bee VIN!
Zet Fury: PAIGE NORTHCUT GOAT
KevinBBB9: All hail Lord Pendred. King of Kings!
UFC Highlights HD: stipe waaaaaaar
rapirjan: duffy vs poirier good irish slugfest
Bubba D: Lawler's gonna be kiss canvas
Bubba D: Flying knee to the jaw bone
Bubba D: Robby better bring a pillow
Bubba D: some of those no snore strips
Patrick Bateman V.P: Robbie "THE GOAT" Lawler
Rafael Henriques: true happy new year!
Daniel Poursasan: im going ti wait here 6 hours
Ayup Meducks: If Jesus saves, we could do with him at Spurs
Brian Kinane: whats hatnin
Love those UFC 195 hot takes.
UFC 195 weigh-in results:
UFC 195 Pay-per-view 10 p.m. ET)
Robbie Lawler (170) vs. Carlos Condit (169)
Andrei Arlovski (246.5) vs. Stipe Miocic (241.5)
Lorenz Larkin (171) vs. Albert Tumenov (171)
Diego Brandao (146) vs. Brian Ortega (145.5)
Tony Sims (156) vs. Abel Trujillo (156)
FOX Sports 1 8 p.m. ET
Masanori Kanehara (135) vs. Michael McDonald (136)
Alex Morono (170) vs. Kyle Noke (170.5)
Nina Ansaroff (116) vs. Justine Kish (116)
Drew Dober (155.5) vs. Scott Holtzman (155.5)
UFC Fight Pass 6:30 p.m. ET)
Joseph Duffy (155) vs. Dustin Poirier (155)
Joe Soto (135.5) vs. Michinori Tanaka (135.5)
Edgar Garcia (170) vs. Sheldon Westcott (170)