Polish MMA is the new Japanese MMA.
In some eclectic way that statement actually makes more sense than you could ever imagine. When you watch a KSW show, you're not only watching it for the fights. Not at all. KSW provides a full-range of entertainment, from insanely hot Eastern European chicks singing synth-pop to thugged-out Polish hip-hop artists getting on the microphone to scare every man, woman and child listening. KSW is like a grab bag, folks. You really don't know what you're going to get — but you don't want to be the person not watching it live.
After a few mildly confusing conversations with KSW, we've finally secured the rights to bring you KSW 23 live from MiddleEasy on Saturday (June 8th) at 11am PST/2pm EST!
Some of you have already noted that ordering the KSW 23 PPV is somewhat confusing, so we've created a handy seven-step guide for all of you out there.
Go to the top right of the page and click the British Flag to change to English.

Click the 'Sign In' tab and enter your information.
Check your email for an email from KSW titled 'Link confirming identity.'
Click the link in the email.
Click 'Buy' on the KSW website and sign in with your user/pass here.
Now click the Paypal button, order the PPV and you're ready!
If you're a fan of MMA, then we don't even have to tell you this card is stacked more than a guy that's bad at Tetris.
As we've told you on MiddleEasy a number of times, Melvin Manhoef vs. Mamed Khalidov is the greatest middleweight match-up that can be held outside of UFC. We also get to see Mariusz Pudzianowski take on the UG's own, Sean McCorkle (the only UFC fighter aside from Junior dos Santos to ever defeat Mark Hunt). Heck, even TUF vet Kendall Grove is even on the card. KSW 23 will also host a fight between Karolina Kowalkiewicz and Marta Chojnoska, two undefeated chicks that you don't want to miss. Check out the full fight card below.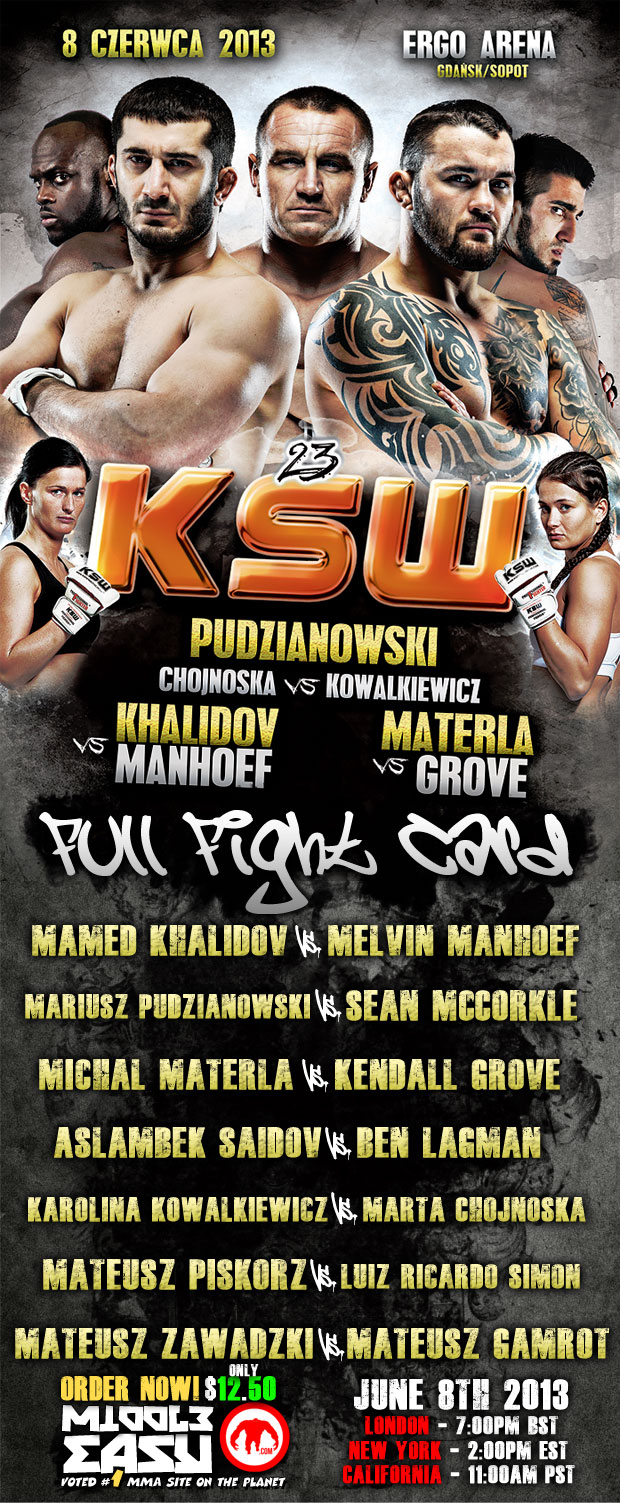 Still not convinced? Well, damn you and your apathy. Check out the official KSW 23 trailer below.