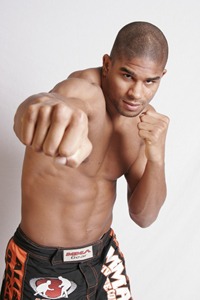 If you were still taking your anti-depressants after the outcome of UFC 104, we understand. Last night was one of those times that regardless of the amount of beer, vodka, rum, tequila and cosmopolitans you consumed prior…everyone's buzz immediately ended when the judges announced the decision of the Machida vs. Shogun fight. However, if you were one of those 'LA douches (another Joe Roganism)' and went to bed after UFC 104, then you missed a small part of Japanese MMA history unfold right before your tired and drunk eyes. When the cage was finally unveiled, we were presented with a white (really white), six-sided cage that surprisingly wasn't made out of metal. It's Japan so they had to take the metal grate, reverse engineer it and produce something of a higher quality for a cheaper cost. Instead of iron, Dream incorporated a thinly weaved nylon-elastic blended material and wrapped it around each side of the cage. Essentially, it was a massive net fishermen used to illegally catch Dolphins and indiscreetly throw them in your tuna salad sandwich.
The last four fights of Dream 12 justified taping your eye-lids open and getting your roommate to slap you in the face with a pair of wet jeans for. Sakuraba proved why he will go down in history as one of the most exciting fighters of all time. After taking a Pride FC Ricardo Arona like beating from Zelg Galesic (probably about 30 consecutive punches went unanswered), Sakuraba positioned himself and kneedbared Zelg to win a first round submission. Sakuraba then got on the mic, said a lot of stuff in Japanese and then bowed to his downed opponent Genki Sudo style. Next up was the White Mare who fought in the White Cage and cliche experts everywhere patted their self on the back. Dude opened up the round with one of those Ryu spinning back kicks and…well, that was pretty much it. Myeon Ho Bae was knocked out and Marius Zaromskis proceeded to wipe the one bead of sweat off his forehead.
In the co-main event, Katsunori Kikuno opened up by getting Eddie Alvarez in this weird under-hook neck crank that lasted for nearly half the first round. Eventually he let go and Eddie Alvarez started to spaz out a little in the middle of the cage. Call it lack of blood to the brain or a small tribute to the King of Pop, Eddie Alvarez was definitely doing some sort of dance after Kikuno released him from the neck crank. The rest of the round went down as expected, both lightweights constantly trading punches all within the confines of a giant fish net. In the second round, both fighters seemed gassed…Kikuno constantly front kicked Alvarez's torso while Eddie shrugged his arms and quietly said 'What did I do to deserve this?'. The fight eventually went to the ground and Alvarez scored the arm-triangle nabbing him the much deserved W. Main event was finally here and whenever your opponent is singing your walk-out music, you know things are going your way. Ubereem eventually stepped in the ring and started the round off by turning on his gamma radiation and flying over James Thompson when he tried to go for the knee. Literally, the dude flew over Thompson and had to grab the top of the cage to pull himself back to orbit. It only took Ubereem 33 seconds to grab the W via a standing guillotine. Dream 12 was over and I spent the rest of the morning on the UG reading all 933 threads that started off with 'WTF! Shogun got robbed!'.