as dasd s
Rewind your memory cortex to the briefly-lived era of Shine Fights. We're not going to retell the story of how Don King intervened in court to literally drop a duffel bag of one million dollars to prevent Ricardo Mayorga vs. Din Thomas from happening. However we will tell you about the moment in the pre-fight press conference in which some people in the MMA community were absolutely convinced Din Thomas was rocked by a 'chi punch' from Ricardo Mayorga.
At one point in the conference, Ricardo 'karate chops' Din in the neck and then security quickly jumps in to prevent any further — karate chopping I guess. If you check out the clip, Din falls back and seems to stumble to get back on his feet. Of course, this led to UG conspiracy theorist, AngusWilson, to come up with his own scientific breakdown of the ordeal:
You see, a blow to the neck works differently. If you get hooked on the jaw, there's an instant effect, but if you receive a hook on the side of your neck, the arteries get compressed and the effect only happens a second or two later.

He manages to put his hands up but then starts stumbling. Fits with a neck knockout, delayed reaction. The one thing here is that there was a table right behind his leg, and the bouncer was possibly blocking his other leg so Din may have stumbled backwards for these reasons.

Next he appears to start a takedown. This is what most people are saying, but it's not what really happens. Look at his face. It's slumped, looking downwards, motionless for about a second and a half. He's not totally out, but he's not there, and the bouncer's holding him up. Then Din starts pushing for that takedown and the bouncer pushes him back. Now is when Din really wakes up, but he's still very slightly (but noticeably) wobbly.
Here's the clip in question in all of it's animated .gif glory
It seems like somewhat of an unbelievable premise, until you methodically look at the clip to see what transpired. Sure I can see how he was possibly rocked, perhaps if Ricardo Mayorga trained in a Shaolin Temple to perfect his 'qi energy', but the entire thing feels like you need to have your tin foil hat on to fully buy into. After the incident we met up with Din Thomas to see what actually transpired during the pseudo-altercation.

Ah, the Magic Mystery Puffer Conspiracy of Strikeforce Houston — perhaps the strangest show in all of MMA history. That event was like free roam mode in Grand Theft Auto. Jorge Gurgel was knocked out like five times in one fight, the Texas commissioners were frightfully bad (as usual), and perhaps the most shocking thing of all, fighters were allowed to use oxygen inhalers in-between rounds.
Alright, so it was mostly us spearheaded this conspiracy theory on MiddleEasy. We're the saps that bought into it. However, our suspicion was not without merit. We managed to capture two fighters on Strikeforce: Houston using these mysterious inhalers: King Mo and KJ Noons.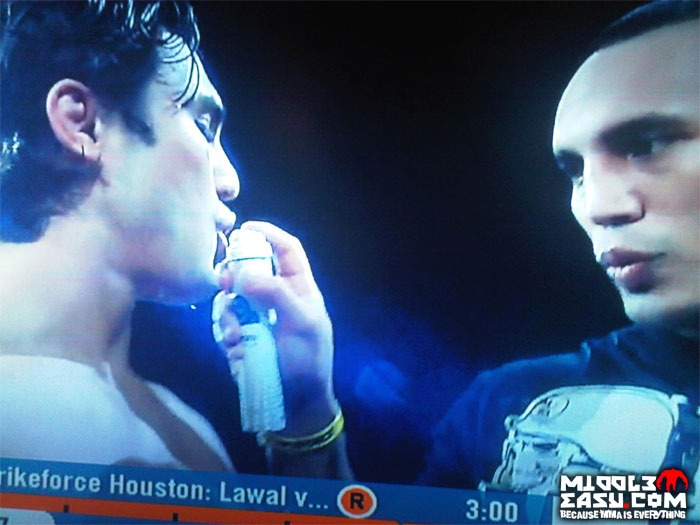 With a little research we discovered that theoretically, these oxygen inhalers did grant a fighter an unfair advantage based on solely on their product description:
MiddleEasy writer Bauzen visited the Texas State Athletic Commission's website and found what corner men were allowed to bring to the cage.
(i) A second shall be responsible for a contestant's corner supplies.

(1) Approved supplies are ice, which must be in an ice bag or Department approved container, water, cotton swabs, gauze pads, clean towels, Adrenalin 1:10,000, Avitene, Thromblin, petroleum jelly or other surgical lubricant, medical diachylon tape, Enswel, and electrolytes. Electrolytes must be brought to the ring in the manufacturer's sealed container. Electrolytes must be opened for the first time in the presence of a representative of the Department. All coagulants shall be in a container with the proper manufacturer's label and not contaminated by any foreign substance.

(2) All containers shall be properly labeled with the manufacturer's label and not contaminated by any foreign substance.

(3) The use of an unapproved substance may result in disciplinary action.

(4) Only water and electrolytes shall be permitted for hydration of a contestant between rounds. Honey, glucose, or sugar, or any other substance may not be mixed with the water.
As you may have already noticed, oxygen inhalers were not on the approved list. The real question that remains is if these things weren't illegal, then why haven't we seen them in the cage since Strikeforce: Houston? If inhaling direct oxygen doesn't give a fighter a boost in between rounds, then why were KJ Noons and King Mo using them in the first place?
The conspiracy still remains.

A few years ago we tried to come up with a list of the top ten meta-physical and temporal anomalies of MMA. The title is admittedly ridiculous and it yielded only a handful of vague stories told by people that were most likely under the influence of a number of illegal drugs. However, the one story that seemed to be more legit than most was the accusation that Rickson Gracie had a visible, occult aura around him and some fighters actually turned down opportunities to fight Rickson because of it. A few fighters claimed that Rickson's aura gave him an unfair advantage and thus enabled him to amass an omnipotent record of 400-0.
Helio Gracie publicly disputed Rickson's 400-0 record claiming most of Rickson's wins were obtained in practice bouts and that if he tabulated his wins like Rickson did, he would have over a thousand.
Rickson left the MMA world in 2000 after snatching an 'official' record of 11-0. After his retirement, he stated that he would not come back to MMA, despite having a seven-figure payday thrown in his face.
In an interview with Gracie Magazine, Rickson Gracie claimed that a promotion (most likely Pride FC) offered him five million dollars to fight Sakuraba, an offer that he turned down.
"That fight would have been the biggest payout of all times. They offered me five million dollars, it would have put me on easy street. He beat a number of Gracies, and it would have been a good fight for me, perhaps the best fight. He really was a thorn in the side of all the Gracies."
At the EA Sports MMA launch party in 2010, I asked Kron Gracie about the aura his father had and he told me that a number of students still claim Rickson has a visible aura that's visible in the sun. Apparently his students claim this aura 'drains' their energy and slows their movement on the ground, thus giving Rickson a highly unfair advantage while grappling.
Of course, by the end of that EA MMA party I, along with Kron Gracie said a number of things due to something called an 'open bar.' The story of Rickson's unstoppable aura still lives on in the MMA world, and no one has even dared to confirm it.
If I had a dollar for every time I typed 'Silva' minutes after UFC 112, I could probably pay off one of the many parking tickets I owe the city of Los Angeles.
The unifying Anderson Silva conspiracy theory in 2010 (prior to UFC 117) was that his gloves were not taped up at UFC 112.
Usually fighters have either red or blue tape in order for judges and officials to know which corner each fighter belongs to. An official from the athletic commission is normally required to observe a fighter as his hands are wrapped and once the glove has been applied, tape is wrapped around the bottom of the glove and the official literally signs the tape to denote that everything has been inspected. Here are a couple examples of taped gloves at UFC 112: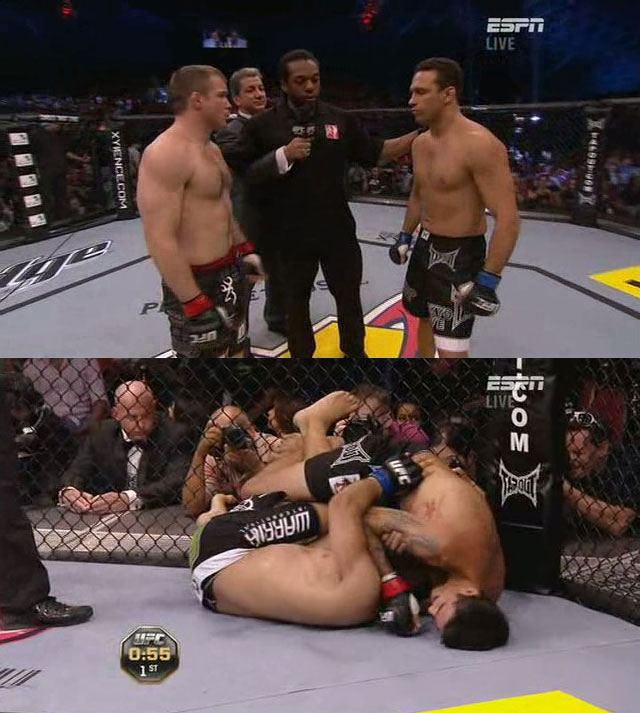 Now for some reason, Anderson Silva's gloves were not taped at UFC 112. I didn't believe it myself until I actually watched the bout again. Anderson Silva was supposed to have red tape around his gloves — and nothing is there. The white material you see at the bottom of his glove is his hand-wrap which extends well into his palm.
People believed that due to the ambient heat of UFC 112 being held outside in Dubai, Anderson Silva would need an advantage to defeat Demian Maia, a fighter that people believed (at the time) had far greater endurance than The Spider. Of course this led to the speculation that Anderson 'loaded' his UFC gloves with a plaster-like substance — similar to what Antonio Margarito did against Shane Mosley back in 2009.
If the conspiracy theorists are true and Anderson Silva did in fact load his gloves at UFC 112, then it was perhaps the greatest waste of a loaded glove in combat sports history. We're not sure what happened during UFC 112 — perhaps an improvised dance party on the part of Silva. However, some people actually believe that something was afoot with Silva's gloves not being wrapped at UFC 112.
Where were you on December 16th 2010 for the most extraordinary kick in MMA history? Or could it be the main event at WEC 53 was the most extraordinary premeditated sequence of events in MMA history?
Just seconds after Anthony Pettis pulled off what is now known as the 'Showtime Kick' to win the WEC lightweight belt, Ben Henderson raised his left foot as his back was against the cage and tapped the cage. Henderson then started backing up near the cage, which enabled Anthony Pettis to pull off his infamous kick.
The conspiracy here is that Ben Henderson and Anthony Pettis planned this move, and that Bendo tapping the cage with his foot was a signal for Pettis to execute the kick. Another version of this conspiracy theory goes that ZUFFA instructed both fighters what to do during the fight in order to market Anthony Pettis as he entered the UFC. However the Maynard vs. Edgar trilogy halted Pettis fighting for the UFC lightweight championship belt.
Here's a .gif of the kick and the foot tap in question.
I think it's best that we hear about this strange UFC poster conspiracy from the originator of the theory himself, Peteyandjia.
It started, as all great stories do, with a BJ.

In April, he lost his belt to some guy from New Jersey. If that sounds impossible, it is because supernatural forces were at play.

Then in May, only one month later, The Dragon also fell victim to the Unholy Power of the Poster, when he lost to a guy who doesn't even have any working knees.

I trembled as the reality of the curse began to set in.

Could it be?

Then in July, Brock was on the brink of defeat against Shane Carwin – but he somehow pulled it out. "This is it!" I thought. "The curse has been defeated by the Vanilla Gorilla!!"

But then… Brown Pride happened.

The Poster Gods manifested their angry wrath in the form of an undefeated HurriCain which barreled illegally over the southern border of the US, and straight into Brock's face.
According to this conspiracy theory, that means Anderson Silva is the next champion to lose his belt. It's also important to note that while Anderson Silva is champion, Georges St. Pierre will never lose his belt.
We also couldn't find a single copy of this UFC poster aside from the one in the picture. Is the UFC telling us what they're doing before it's actually done? The world may never know.

The infamous head nod to end all other head nods.
At UFC on FX: Belfort vs. Rockhold, Belfort proved that TRT is real — and so is the side of his left foot when properly applied to a jaw. Now give that beautiful .gif one more look.
See it?
Seconds before Luke Rockhold takes a spinning back kick of doom to the face, he subtly gives a nod to Vitor Belfort. Conspiracy theorists claim that this was Rockhold's way of denoting that it was 'time' to throw the finishing strike of the match, thus Belfort executing a remarkable spinning back kick moments later.
I guess the question is why exactly would Rockhold agree to such a brutal punishment by the foot of Vitor Belfort? Well, theorists state that it wasn't there choice, but the choice of the UFC in order to establish a certain set of events that need to take place in the future.
Oh internet conspiracy theorists, we love you.
First we have the repeated triangles being thrown just before Ben Henderson fights.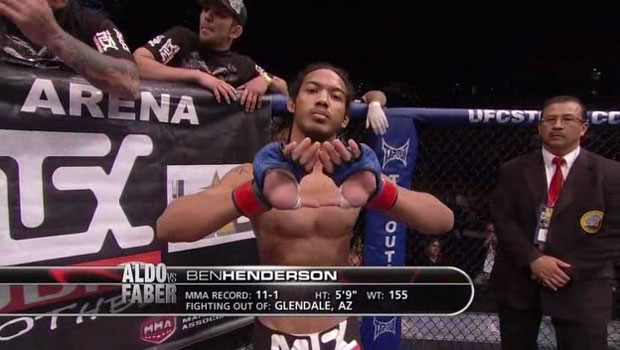 Then, we had this questionable walkout shirt made by Dethrone.
If you're wondering what's so special about the triangle, conspiracy theorists claim it's actually a symbol of the Illuminati and if you're a member, then you're forced to show your allegiance to the 'dark side' whenever you're in the public spotlight. Here's a picture of Jay-Z throwing up the same hand gesture — and yes, conspiracy theorists believe that he's in the Illuminant as well.
If you're still confused, perhaps you should look at this video on YouTube dedicated to exposing Ben Henderson and his alleged links to the Illuminati.
All you MiddleEasy readers out there, throw on your tin foil hats and dive deep down the rabbit hole of Strikeforce Fedor vs. Werdum.
The primary conspiracy theory going around after Werdum submitting Fedor in Strikeforce back in 2010 was that Fedor intentionally fell in to Werdum's guard in order to get his forst loss in MMA. As incredible as this may sound, the reasoning behind this theory was Fedor reached an uncomfortable level in his career in which people considered him a 'God,' something that goes against his Russian-Orthodox values.
In this post-fight interview, Fedor essentially confirms that this loss was 'necessary' to show that 'he is not a god.' Strange stuff — especially for tin foil hat wearing conspiracy theorists.

Oh, and there's also perhaps the most confusing version of this MMA conspiracy theory from UGer armbartender:
Get your tin foil hats everybody and put them on. There's gonna be some fun SPECULATION going on here. Could it be possible that Fedor and Werdum agreed with Strikeforce and M-1 to have a predetermined outcome in this fight where Werdum wins in some sort of Matt Serra-esque fashion in order to create a huge buzz around the Strikeforce brand making the organization, and by extension its fighters, that much richer?

First and foremost, I noticed a couple of irregularities in Fedor's demeanor during the walk in. He did not appear as calm as he did in his previous fights. Pacing back and forth in the cage, slapping himself on the ears/face. He was definitely not displaying his trademark stoic, unemotional body language. What made this fight different? Was it because he was doing something he'd never done before: a fixed fight?

During tonight's fight, the knockdown did not seem to have fazed Werdum that badly at all. And to see Fedor fervently jump in the guard of a fresh, top-level jiu jitsu player seems very atypical of a seasoned and intelligent fighter such as Fedor. He has done this with Big Nog, but only later in the fight when the sweat has already accumulated on both fighters, making submissions noticeably harder to achieve. Granted, he did stay in his guard for a good minute or so in their first fight, but only because Nog pulled guard and was not threatening from bottom. During the fight with Werdum however, Fedor seemed happy to oblige Werdum in a ground fight and jumped right into his guard. Fedor also had the opportunity to pass, but decided to slip back into Werdum's guard. It was interesting to see that the announcer guy make the same observation. Hm…

So why take a dive? Fedor did not want to have to fight Overeem. If he were to win, the only fight that would make sense to the fans would be the fight against Overeem. He and his management know that Fedor will lose that fight. At least I think he will (in devasting fashion). It cannot be redeemed, unlike the Werdum fight, where I think Fedor would beat him in a rematch. With only two fight left on his contract, Fedor will duck Overeem, and instead choose to do a rematch against Werdum, followed by a superfight against Randy Couture (a fan can dream, right?).

So why would SF encourage a dive? Fedor is a legend and to have a legend defeated in the Strikeforce cage would DEFINITELY get the fans screaming, ranting, and raving about this epic fight for who knows how long. Great way to get the SF brand out into the general public by having a monumental event like this occur within their cage. The rubber match, which I guarantee will happen, will be HUGE. Fedor's defeat will lead to SF's first and massively popular introduction to the world of TELEVISED ppv mma events. They will make an awesome ppv debut and put themselves a little closer to the behemoth of a promotion that is the UFC.

Werdum was already talking about a rematch right after the fight of course. And so was Fedor in the post-fight presser. So, did M-1 and Scott Coker cook up a shady (but brilliant) scheme to build up their golden boy Fedor for an opportunity for a big step up in the MMA world? Is that why they copromoted?

Oh yeah, the look on Overeem's face after the fight was priceless!

Alright guys, have at it.
Personally, I don't believe Anderson Silva let his UFC 117 title defense pan out five rounds only to win by a seemingly miraculous but meticulously planned triangle. However, a large portion of you have been rocking your tin foil hats ever since the end of UFC 117 so I'll take a voyage in your world of potentially outlandish jiu-jitsu conspiracies, title preservation theories and general MMA nuttiness and hopefully return back to reality just in time for dinner.
If Anderson Silva planned to hesitate until the very last moment of the fight to pull of a victory, perhaps this clip of Ando securing a kimura on Chael Sonnen late in the second round only to voluntarily release it may be the shred of evidence needed to polish off that conspiracy theory you've been constructing over the weekend. Here we see Anderson Silva securing an almost Sakuraba-like kimura. The wrist control is there, leverage seems to be adequate, Silva even appears to have Chael Sonnen wedged against the cage in such a manner that if Chael tried to spin out of the submission, he would undoubtedly be impeded by the wall.
In a moment of sheer 'WTFness', Anderson Silva lets go of the kimura and casually transitions to somewhat of a heel hook. Is this the smoking gun needed to establish Anderson Silva as the Andy Kaufman of MMA? Probably not. Most of you don't even know who Andy Kaufman is. 80s n00bs. Regardless, securing a kimura only to voluntarily let it go just adds to the never ending intrigue of the only guy you've ever known from Curitiba, Brazil.
Conspiracy theorists also claim that Anderson Silva made a promise to Big Nog to defeat Chael Sonnen by a triangle as a homage to the former Pride FC heavyweight champion — something that is also confirmed in Anderson Silva's documentary 'Like Water.'