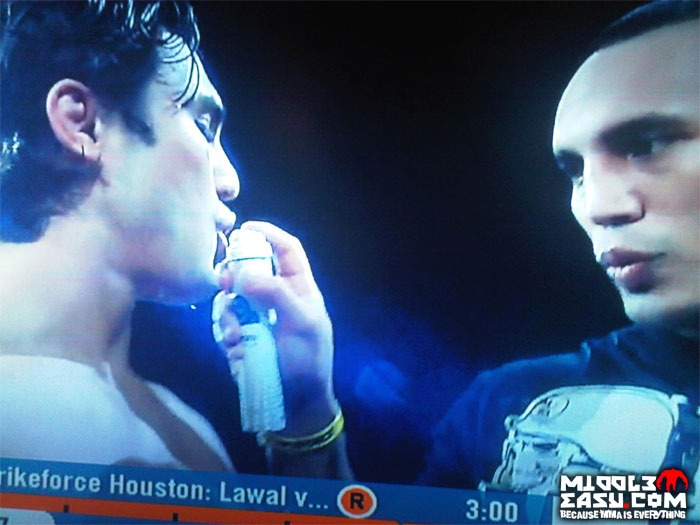 Most of you watched Strikeforce Houston and had to manually pick your jaws up off the floor at the tail-end of some considerable upsets. Between Fedor earning his first loss back in June, and Bobby Lashley & King Mo both earning their first L of their professional careers last night, it seems that the organization's most marketable fighters have all reminded us why betting on MMA is probably the most irresponsible thing you could do with your rent money. I woke up this morning (broke) and the first thing I did was line my baseball cap with tin foil so my brain waves would be safe from government intruders. In fact, I didn't even wear my usually Yankees cap, I'm actually wearing a tin foil-lined Phillies cap just to be even more incognito as I write this article in my bathtub. It's one of those mornings where I've confirmed a sizable conspiracy, and as it unfolds, I have to be secretive so that Texas State Athletic Commission doesn't send journalistic-assassins after me.
Sometime between yesterday and today, a new foreign substance allegedly went into play for select fighters of last night's Strikeforce card. These screenshots below show a substance being ingested by King Mo and KJ Noons (coincidentally betting favorites) before their respective bouts.
Both containers appear to be the same substance and were ingested similarly by both fighters. They also resemble bottles of pure compressed oxygen like these that when ingested, could considerably improve an athlete's stamina & cardio. What makes this interesting is that compressed oxygen is a substance banned from nearly every endurance sport, including MMA; in every state, including Texas. Check out what we found on the Texas state athletic comission's website that outlines the rules of what supplies are allowed to accompany a fighter to the ring/cage:
(i) A second shall be responsible for a contestant's corner supplies.

(1) Approved supplies are ice, which must be in an ice bag or Department approved container, water, cotton swabs, gauze pads, clean towels, Adrenalin 1:10,000, Avitene, Thromblin, petroleum jelly or other surgical lubricant, medical diachylon tape, Enswel, and electrolytes. Electrolytes must be brought to the ring in the manufacturer's sealed container. Electrolytes must be opened for the first time in the presence of a representative of the Department. All coagulants shall be in a container with the proper manufacturer's label and not contaminated by any foreign substance.

(2) All containers shall be properly labeled with the manufacturer's label and not contaminated by any foreign substance.

(3) The use of an unapproved substance may result in disciplinary action.

(4) Only water and electrolytes shall be permitted for hydration of a contestant between rounds. Honey, glucose, or sugar, or any other substance may not be mixed with the water.
A complete list of rules can be found here.
The first thing you'll notice that whatever that substance was, it's not on the approved list above. For those of you wondering what the big deal is, the concept of breathing pure oxygen can help a free-diver double submersible time. It also helps climbers breathe at high altitude so that they can continue to ascend mountains at an normal pace, despite thin air. The entire concept behind the compressed-oxygen spray is to keep an athlete from tiring out, which would be OK, except when one person has this cardio-boosting puffer while his opponent doesn't. Even if both sets of fighters in last night's Strikeforce card were utilizing the oxygen supplement, it didn't seem like there was any way to regulate how much either fighter ingested. Plainly, the more pure oxygen you consume, the better your cardio will be for the duration of the fight, and this introduces a significant variable in last night's performances that we've never seen before.
Let's suppose it was an asthma inhaler, the same concept holds true about its potential benefits to a fighter should he/she ingest it before competing. There's a long documented history of asthma tablets being crushed up and mixed into sports drinks & water bottles of combat athletes in boxing matches. These boxers all got a second wind during their illegally contested bouts. The most notorious trainer to be accused of spiking his fighter's water was Panama Lewis, who was banned from cornering boxers for his alleged role in removing an ounce of padding from Luis Resto's gloves in a fight that ended up costing William Ray Collins Jr. his eyesight, boxing career, and eventually his life.
Although no deaths were caused last night (phew!), modifying safety equipment, or utilizing substances that give one fighter a clear advantage have legal and sometimes lethal ramifications. In King Mo's case, it was a title fight, but he lost and it's doubtful that Feijao's camp will protest the outcome. However, in KJ Noon's already controversial win (due to a haymaker that landed after the first round bell and an illegal knee to a downed opponent after the fight was waved-off), this may or may not become a problem should Jorge Gurgel decide to protest. We hope you to gain some transparency on the subject, all I know is they can't pin this one on Lee Harvey Oswald.
Update: It appears that both fighters were using a TRUO2 Portable Oxygen Can. According to their official site it can "Maximize Power and Explosiveness! *Do More Reps or Sets in the Gym! *Increase Endurance and Stamina! *Dramatically Reduce Recovery Times! *Get more out of your Sports and Fitness Training! *Reach Your Goals in Less Time! *Improve Mental Focus and Clarity!". Here is a picture of the spray from their site.