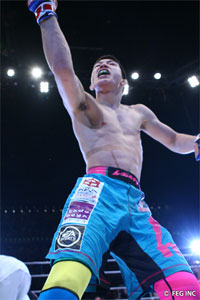 What did you say? Shinya Aoki doesn't fight at welterweight? Well he does, but whenever Mach Sakurai is slamming his knee into Aoki's head, Shinya has not been that successful. In 84 days, we will see Shinya Aoki return yet again to the welterweight division and participate in Ultimate Glory 2010's welterweight tournament held in Amsterdam and promoted by all those suave guys at Golden Glory. Other participants include Strikeforce's newly signed Siyar Bahadurzada, Diego Gonzalez, Tommy Depret, Jucau Carneiro, Paul Daley, Nick Thompson and Marius Zaromskis.
According to their website, this eight-man tournament will take place over the course of three events with the first one kicking off on October 16th in The Terminal (the same place that held last year's Glory 11). If this Glory event is anything like last year's, expect ridiculous gorgeous Dutch ring-girls accompanied by R&B singers that will rock the crowd during every intermission.
If you're into kickboxing (and there's no reason why you shouldn't be), a heavyweight tournament will simultaneously take place at Ultimate Glory 2010 which will feature Errol Zimmerman, Ruslan Karaev, Mourad Bouzizi, Gokhan Saki, Stefan Leko, Brice Quidon Ashwin Balrak and Anderson Silva. No, not that Anderson Silva but the other, much larger version.
The tournament will wrap-up April 2011 and we just may see a bout between The Baka Survivor and The guy who punched that other guy after the bell. In retrospect, I guess Paul Daley was right in all those promos he cut for UFC 113: 'When he feels my left-hook, the fight will be over'. [Source]