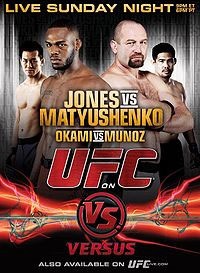 You shouldn't be amazed that Shane Carwin made our picks. You should be astonished that he found a keyboard large enough to accommodate his gargantuan hands. Dude could squeeze orange juice out of gravity. You could fit the meaning of life in those things.
Carwin may be half Frate Trane, half Paul the Octopus but the only way we can verify any of these claims is to see who he has in the main event of UFC Live: Jones vs. Matyushenko. Here's Shane Carwin's official breakdown, only on MiddleEasy.com.
Jon Jones vs. Vladimir Matyushenko – I suspect Jon Jones will be too much for Vladi. Jones has an attacking style and he needs to be aware of Vladi's counter-striking, but I predict Jones by round 2.

Yushin Okami (No. 8 MW) vs. Mark Munoz – I expect Okami to win this fight. Mark is a tough fighter and the fight could be won by either fighter in many different fashions but I expect Okami to win the UD.

Jake Ellenberger vs. John Howard – I think Jake wins this fight, his wrestling will be the key to victory.

Takanori Gomi vs. Tyson Griffin – I think Tyson will be too big and powerful for Gomi.
There you have it, from The Engineer himself. If somehow you lose money on these picks, you're going to have to take it up with Shane Carwin and his straight jab. Good luck with that.
To fill in the rest of the preliminary card is Cat Von C. Three authors in one article. Sort of like two-in-one shampoo, but it's…three-in-one and not a hair product. From this moment on, the words will not belong to me. I did not go for a Brazilian wax appointment nor will I ever (unless someone pays for it).
Today just isn't going my way. First, Zeus tells me Shane Carwin is doing picks for UFC on Versus 2, then I miss my Brazilian Wax appointment. Sure that doesn't sound so bad, right? I mean getting trumped by Shane Carwin is actually pretty rad. Just means I don't get to fully express to you guys the epicly epic Damarques Johnson shrine-worthy material I composed. That's too bad because knee socks were involved…
Missing a Brazilian wax appointment wouldn't normally be terrible for most people, but I attempted to take matters into my own hands and tried out something called 'Magic Cream'. It doesn't sound that bad but, let's just say falling asleep with this Magic Cream stuff on your 'hooha' is not recommended. I'll be walking around with a strap-on bag of ice between my legs for the next three days. FML. I guess Zeus felt sorry for me and he's least letting me do the prelims for this event.
Steinbess V Kimmons
I'm picking Kimmons. I'm in too much excruciating pain right now to explain why.
Oliveria V Elkins
Elkins is decent and Oliveria is only 20, but he's being called the 'Brazilian Jon Jones'. Since I am a believer in the absolute baller that is Jon Bones Jones, I'm going with the YTM or 'Young Tender Morsel' on this one.
Masse… V Stann
I'm picking Stann because the searing burning pain I just experienced after trying to put cocoa butter on my injury won't allow me to even begin to know how to spell the other guy's name. Someone pass the hydrocodone, please.
Pokrajac V Irvin
Irvin is badass. I'm picking him.
D-Zilla V Riddle
I just read this description: 'initial notes of burnt sugary sweet caramel give way to mouth watering saltiness…' and thought according to that, Damarques Johnson was between my legs and not this carton of ice cream. Oh the things I could do with Damarques Johnson and this ice cream. Of course you know I'm picking the Dzilla to win, he's too delicious not to win.
Volkmann V Kelly
I'm really stuck on my 'Damarques Johnson/ice cream' fantasy now so I'll just say Kelly takes this one so I can get back to my thoughts of putting ice cream in places Damarques' mom doesn't want to know about.
While I'm looking for some duct tape to attach some ice packs to my panties, you should go and make sure you're following the whole MiddleEasy crew on Twitter. We'll be tweeting during the event!