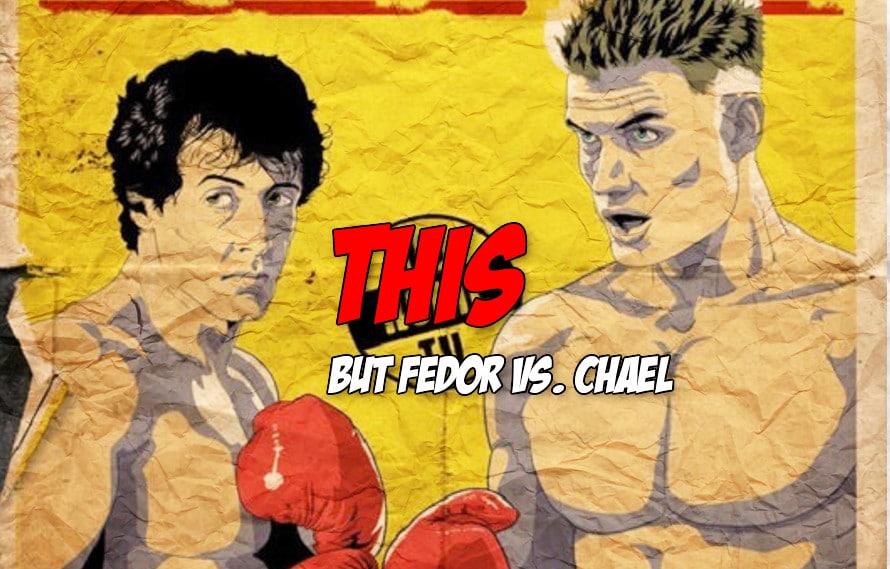 Does anybody want to tell Chael Sonnen that Apollo Creed dies in Rocky IV? 99% sure he has never seen the film. Fedor versus Sonnen is really happening in 2018.
What a time to be alive.
After seeing this new poster that Chael and Bellator dropped today, we're going to be kind of bummed when the "American Gangster" doesn't walk out to 'Living in America' by James Brown. Also, can Scott Coker reanimate the corpse of Brown for this one night, one walkout only? Animatronics and puppets have come a long way since the 1980s.
This is what we would blow Bellator's budget on. Important MMA stuff.
Here's the other thing about the whole Fedor vs. Sonnen is Rocky Balboa vs. Ivan Drago comparisons; Chael is a straight up heel here. Ain't nobody wants to see Sonnen playing the sympathetic figure.
Emelianenko is out here eating ice cream cones, petting geese and wearing fashionable men's outer wear. Our GOAT isn't running on treadmills, breaking punching machines, injecting Russian vitamin gummy bears into his veins or open mouth kissing Brigitte Nielsen.
Plus did we mention Apollo Creed dies in Rocky IV and yet Chael Sonnen is dressed as Creed in this poster? Can't get over that.
On paper, Fedor vs. Chael is the most fun match-up Bellator can make. No matter the outcome our jaws will drop on October 13th. Sonnen wrestles the hell out of The GOAT for 15 straight minutes? Damn. Fedor knocks Chael senseless in the first round? Damn!
Need this fight, need this poster right now.
The greatest and most decorated fighter in the history of martial arts will finally face Fedor. October 13th, live on @ParamountNet. #BellatorMMA pic.twitter.com/VvdUi8TZ6W

— Chael Sonnen (@ChaelSonnen) August 22, 2018