We call shenanigans on this one, want to know why? There's no way Rampage Jackson could be so engrossed in a game on the Vita that he would put the blinders on and play it through today's UFC on FOX press conference, because the Vita has no games. The library is anemic. We know Rampage loves COD, but the Call of Duty on Vita is awful, it really is. So this game that Rampage is playing that's taking all of his attention away from the conferring that's going on around him better be Uncharted or a PS1 classic, or we don't know what to say. Maybe this is his way of contract negotiation, or he's just really into Hot Shots Golf.
We may never know.
*UPDATE: It has been confirmed by Travis Mcpherson that Rampage Jackson was playing Call of Duty Black Ops: Declassified, the worst reviewed Call of Duty in history at a 32 MetaCritic score. The horror. Where is Rampage's head?
*Update 2: MiddleEasy's official stance on Call of Duty games. COD, COD 2, COD: Modern Warfare (AKA COD 4) then the rest. Battlefield and Arma II are better.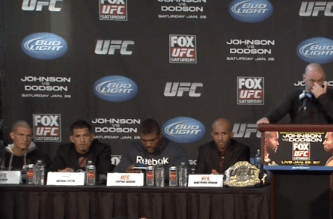 Thanks to the UG for the pics!