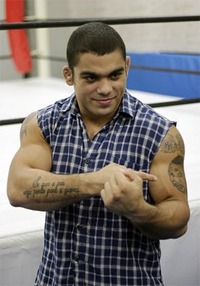 Let's face it, the only reason why you're reading this is because Paulo Filho is involved. The dude has now elevated into your list of relevant fighters that you persistently follow, and you can't do anything about it. Bas Rutten says MMA is 90% mental, 10% physical but for Paulo Filho it's 8% mental, 2% severe depression and 90% cut-off flannel. According to Tatame Magazine, Paulo Filho will face Hector Lombard for the Bellator middleweight title on May 20th. Well, that's if Paulo Filho doesn't sporadically drop out and get his mother to cover for him. Here's what Conan Silveira, Lombard's Jiu-Jitsu trainer said about the potential bout.
"We're ready for anything. I just came from Australia, I didn't know if Paulão had signed it yet"

"This fight is on and will probably happen at June or July. Paulão signed with Bellator to fight for the title, so we decided to postpone the event"

"That's a sad situation because Paulão comes from the same school that I came, from Carlson's, he's my friend, but this it professional".
Bellator has been delivering the goods in 2010. They've been the MMA equivalent of the Domino's Pizza delivery driver that shows up exactly when Heroes is about to come on NBC. [Source]