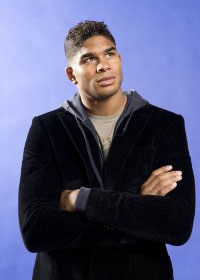 In a moment of pure WTFness, Allistair Overeem nearly lost his hand in a fight that escalated in a…dance club bathroom?! Alright, follow me on this one…it gets wild. So Overeem and his brother 'Valentine' (apparently all Dutch people have names that could rule third world countries) were chilling in a club, taking a break from reducing the human population with their right fists and, hey, they needed to relieve theirselves. So they strolled to the bathroom but they didnt have enough change to pay the bathroom lady, who I'm assuming is in charge of toilet to urinator matchups. She's like the restroom Joe Silva. But there's a small fee that needs to be paid to this chick everytime she finds you a clean toilet. Overeem was like, 'look lady, I dont have the money right now but I'll pay you some euros when I come back to the bathroom'. Urinator match-up lady wasnt having that so security guards got involved.  Normally, one security guard could handle the situation but as you already know, Overeem is the end result of Voltron. What hasnt already been said about Allistair Overeem that hasnt already been said about Hiroshima. Dude is destructive. So six security guards started surronding them. Allistair decided to leave but his brother Valentine was still in the club arguing. All of a sudden Valentine started throwing blows, Allistair ran back in and well here is the direct quote from the story: "Three security guards dived onto Valentine and brother Alistair wanted to go back inside to help his brother. This resulted in five security guards in the hospital."
Not to self: Never tell Overeem he has to pay to use the toilet. Read more of the story here.
Join our list
Subscribe to our mailing list and get interesting stuff and updates to your email inbox.