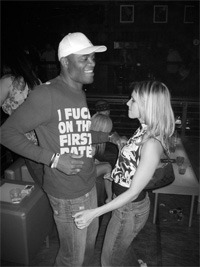 Personally, I don't see how you tag a dude with your fists at will and still piss off Dana White. I guess the 'at will' part was the issue tonight. It's like Anderson Silva's abilities premature ejaculated in the middle of the third round and for the remainder of the fight, he was just 'shooting blanks'. Damn, how many times have I heard that before?
Despite a dominate performance by Anderson Silva, Dana White has activated that little switch in the back of his head enables him to wild out…at will. According to Joe Rogan, at the end of the 4th round Dana White walked up to Ed Soares and 'had a few words' regarding Anderson Silva's UFC 112 performance. Whenever Dana White has 'a few words' with anyone, about 80% of them begin with 'F'. After the fight, Kevin Iole from Yahoo! Sports and Mohammed N Al Khan (the announcer for the UAE) reported that Dana White threw down the title belt in the fourth round and left the arena. Another report from Ariel Helwani of MMAFighting states that Dana White said the fight 'was an embarrassment to the UFC' and that 'he promises to make it up for the fans'.
Ariel Helwani covered the press conference and tweeted (twatted?) that Dana White continued to discuss Anderson Silva's performance and said 'If you're that talented, be Mike Tyson. Go in there and finish'. When someone asked about whether this Anderson Silva fight was worse than his UFC 97 performance against Leittes, Dana said 'This one took the cake. I'm blown away, disgusted and saddened'. When asked about Silva's potential match-up with GSP, Dana said 'I don't want to see GSP vs. Silva after tonight. Silva might be the first champion fighting on a prelim. I don't want to see that [expletive]'. He then said 'I wouldn't come here [to the press conference] if I was [Anderson]'. Dana White then spent the rest of the press conference apologizing to first time MMA reporters for the Silva vs. Maia fight. Wow.