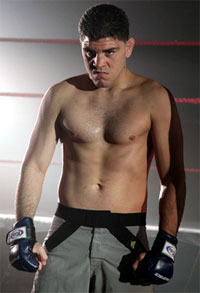 After Nick Diaz essentially defeated KJ Noons in a boxing match, he then challenged him to a boxing match. There has be some unique level of gangsterism in that. A level so high that we've never seen it in professional mixed martial arts. As I was typing this, Nick Diaz walked by my table and gave me a fist pump as if to say 'You're next, homie'.
According to the Compustrike numbers, KJ noons landed approximately two times more — well, as I was writing that, Nate Diaz just passed by and was mobbed by a crowd of hairy dudes that tried to grab his shoulder. It must be tough being an MMA fighter. Dudes will touch you and there's absolutely nothing you can do about it. Compustrike numbers had KJ landing 300+ strikes to Nick Diaz's 140ish. Still waiting for the Compustrike numbers to be handed out, but from my brief view of the jumbo-tron at the HP Pavilion, I believe those are the approximate numbers.
Many are going to play the MMA math card and claim that KJ landed more strikes to Nick Diaz (which he did), therefore he won the fight. Just another one of many reasons why letting a fight going to the judges is not that trendy. I think it was the great Don Frye who said 'Judges are your enemy'. He also said 'The Armenians are tough. They come from a war-torn homeland'. Not sure how that previous statement would be used in the context of tonight's fight — but it's entertaining nonetheless.
Props to Nick Diaz on defending his title and an even bigger props to Layzie the Savage for not losing the bet he made on The UG. Buttocks tattoos were involved.