I wish I was as good at anything in life as much as Justin Lawrence is good creating spectacular violence. Unfortunately, very few people are as blessed as the white dude in Black House, but fortunately for us, the violence he's skilled at is really, really entertaining to watch. Justin Lawrence is now 4-0 and Anderson Silva just did a little dance of joy; tonight at the TUF Live finale, Lawrence added yet another highlight to his rapidly expanding reel all over John Cofer's head.
After a back and forth first round, Justin Lawrence did exactly what you expect someone who trains at Black House to do, and it was met with not a walk-off KO, but a walk toward KO…A walk on KO? I don't even know. These are the kind of time and space fabrics this kid is tearing here.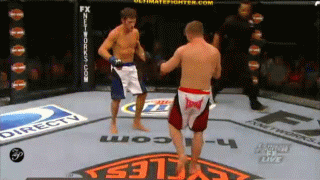 Thanks to the Zombie Prophet for the gif. It's nice to know he's making .gifs not eating the faces off any bums, but then I guess an act like that is only something he would create a prophecy about, not actually carry out.